In the summer of 1950, fresh from conquering South America on their skis, boyish small-town 21-year-olds Jimmy Griffith and Brooks Dodge were ushered to the best seats on Broadway in New York City to watch the best musical of the era, "South Pacific."
They felt like the toasts of the town, swooning to their own version of "Bali Ha'i." No one knew them—they were just alpine skiers at the dawn of the 1950s when entire neighborhoods had just one television. But they had their own special hopes and special dreams.
Two of America's best skiers, Griffith and Dodge were poised to become members of the 1952 Olympic team.
Griffith never made it to Oslo, Norway for the VI Winter Olympics in 1952, although he was potentially one of the greatest ski racers ever to be developed in this country. He was one of the America's top Olympic hopes 50 years ago.
Fate doesn't discriminate.
It didn't matter that he was the grandson of one of Ketchum's founding fathers, miner Albert Griffith. It didn't matter that he was modest, sincere, hard-working and the most All-American of young men.
The grove of trees at Utah's Alta ski area wasn't forgiving.
On Dec. 2, 1951, Griffith was training for the Olympics and skiing down Alta. He was planning to join his teammates in New York City a couple of days after Christmas and they would then travel to Europe for more pre-Olympic training.
Then, he hit breakable crust near a cat track and skidded into the trees. Jimmy collided with a tree and suffered a compound fracture of his right leg. Others heard his cries for help, found him and evacuated him.
Three days later, Jimmy's condition worsened at Salt Lake City's St. Mark's Hospital. "All of a sudden, he was in a coma," said his older sister, Mary Jane Marin Conger of Ketchum. A blood clot had developed due to the accident.
Sun Valley Resort's general manager W.P. "Pappy" Rogers received a phone call and acted at once, aware of the seriousness of the situation. Ketchum was a small town. The Griffiths were important people.
Conger has said, "Pappy, that wonderful man, lined up a driver for my parents. They drove through the evening to Salt Lake City, so my mother was with him when Jimmy passed away the next morning.
"They treated him for a blood clot, but he died of an undiagnosed fatty embolism."
Jimmy Griffith, first native-born Sun Valley male ski racer to earn a berth on a U.S. Olympic ski team, was 22.
Funeral services were on a Sunday afternoon at Sun Valley Opera House. Serving as pallbearers were fellow members of the 1952 Olympic ski team. He was laid to rest in Ketchum Cemetery.
There he remains younger than springtime, forever.
A strong, powerful and self-taught skier who also commanded respect because of his modesty and sportsmanship, Griffith was inducted into the National Ski Hall of Fame at Ishpeming, Mich. in 1972.
He never had a formal ski lesson in his short life.
"Everybody who knew Jimmy was very fond of him," said his Olympic teammate, Brooks Dodge. "When we went to the Olympics in Oslo that year, 1952, everybody missed him, in their own way."
The Griffiths in Ketchum
In the fall of 1879 Albert Griffith was a mining superintendent in Philipsburg, Mont. east of Hamilton.
Exploring, he traveled south to Idaho and found a solitary prospector named David Ketchum building a cabin on the side of a hill in Trail Creek.
When the snow melted in the spring of 1880, Griffith joined Isaac Lewis and others and became the founding fathers of the mining boomtown Ketchum.
Griffith's son, Albert R. Griffith, was born in 1887. He was 38 when Albert R. and his brother Oscar opened up the Griffith Grocery in the brick building at Main and Second Street that had served as the Ketchum Post Office from 1911-25.
The general store offered tourist supplies, fresh meats and fishing tackle. That's what the faded Griffith Brothers lettering says on the still-standing Second Street building, one of Ketchum's surviving treasures.
Mary Jane Griffith, first of two children of Albert R. and Helen C. Griffith, was born the first year the store opened, 1925.
The family lived on the second floor of the store the first year, then moved two blocks up Second Street to what was known as the Shaw house.
Two blocks was too far away in those early days, when snow plowing was a manual exercise.
So Mary Jane's father built a house that still exists at Second and Leadville, across from Esther Fairman's house, on the same block as Main St. Market.
On Valentine's Day 1929, James Albert Griffith was born in Boise. He would have been 91 on Feb. 14, 2020.
It was a hard, good life.
"There were only 250 people in town," recalled Mary Jane. "Living here was very carefree for children. I was an outdoor person, played in the snow and just loved it. When Sun Valley came and brought the plow in, I used to meet all the trains at the station."
The Griffith brothers ran the general store for 12 years, before they sold it to the Glenns of Hailey. Albert R. worked for Sun Valley during the war and then, suffering from rheumatoid arthritis, he retired. He died in 1965 at 78. His wife lived until 1986, when she was 87.
Mary Jane enjoys telling the story of when Union Pacific chairman and Sun Valley founder W. Averell Harriman went to her father and asked him if the people in Ketchum would consider changing the town's name to Sun Valley.
Albert R. Griffith politely declined, saying they liked the name of Ketchum.
The first to ski was Mary Jane, an athletic girl who benefited from ski lessons.
She graduated from Hailey High School and went off to the University of Colorado in 1942, where she raced for the Buffaloes. Mary Jane Marin won the Harriman Cup women's slalom title 10 years later, in 1952.
About the time his sister left home for college, Jimmy started taking up skiing seriously.
Barely 13, he started chasing around the slopes with the Sun Valley Ski Patrol, a hard-riding group of men who inspired him and offered casual instruction.
Jimmy had to learn to ski well in order to keep up with the men. As he began to develop, he caught the eyes of veterans of the Sun Valley Ski School. But he never had a formal ski lesson.
Deep and thoughtful, Jimmy watched and learned and put what he saw into action. Physically, he began to grow.
He worked hard as a caddy and mowing grass on the Sun Valley Golf Course in the summer with friends like Kenny Zimmerman. He climbed Baldy to ski in the winter.
"We did all the normal things kids do," said Zimmerman. "He was a very pleasant person, much like his sister."
Jimmy, 6-0 and 175 pounds, played football and basketball at Hailey High School. An excellent student, he graduated from high school a year early, as a junior in 1945, and went off to join his older sister at the University of Colorado.
"My mom felt a lot more comfortable knowing we were both at Colorado," said Mary Jane.
Having competed for the Buffaloes and become one of their best female ski racers, Mary Jane was somewhat surprised at her brother's rapid progress as a skier.
"I was four years older, and just wasn't aware he was taking it up seriously," she said.
Colorado news articles bragged that Mary Jane and Jimmy were two of the best skiers the university had ever produced.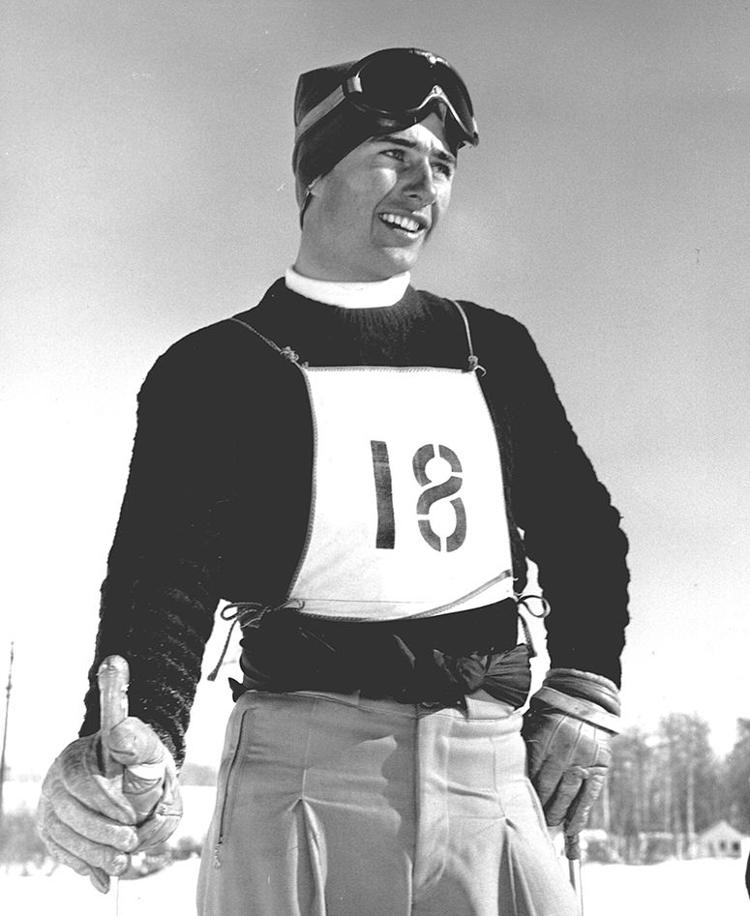 Quiet and self-effacing, he was described as brilliant, hard-nosed and aggressive on skis. Jimmy was declared to be one of the 10 best athletes to ever attend the Boulder school, rising to become captain and co-coach of the ski team.
Yet it was the attitude and character of the dark-haired, stocky lad that really stood out.
In Griffith's U.S. Ski Hall of Fame Class of 1971 induction profile, Dean Harry Carlson of Colorado University was quoted as saying about the remarkably even-handed young man,
"Some young athletes are inclined to think that the little puddle of fame they are sitting in is an ocean. Jimmy Griffith was more likely to hail the puddle sitters than to think himself worthy of notice."
When all was said and done, he might have been proudest of officially joining the Sun Valley Ski Patrol in 1947.
National downhill king
Almost always the high-point man for Colorado during the three years he competed for coach Steve Bradley at Boulder, Griffith had a rapid climb on the international stage.
In 1948 he placed seventh in the national amateur combined ranks. In 1949, he was third in the national Open downhill, third in the national slalom and third in the Harriman Cup DH down the Olympic course behind the great Toni Matt.
Always one to learn by observing and doing, Griffith attributed his improvement as a racer to the techniques he picked up watching the great "French flier" Emile Allais performing at Sun Valley in 1949.
It led to his greatest year, 1950—a year when Jimmy overcame a couple of hard-luck disappointments and pulled off his greatest victories.
Griffith not only made the FIS World Championship team that competed in Aspen, Co., he won the national downhill championship in Sun Valley and traveled to South America with New England's Brooks Dodge in the summer of 1950.
He was the first University of Colorado student to ski for America in world competition.
But the FIS race at Aspen wasn't a happy one. Griffith, headed for a bronze medal, spilled 50 feet above the finish line and clawed and crawled to 18th place.
The fact that Jimmy was that close to a bronze medal was significant.
Brooks Dodge from Pinkham Notch, N.H., an international team racer in 1950, 1952, 1954 and 1956, said, "In those days it wasn't the medals we were after, not like today.
"The Austrians, Swiss and French were so dominant. And there were over 100 racers in these big races. What we were shooting for was to place in the top 10. That was our goal, and there was an awful lot of pressure to place in the top 10."
In the 1950 Harriman Cup Jimmy missed his line at the top of Exhibition. But he never let disappointment upset him.
Griffith rose to the occasion March 25, 1950 when the national downhill was held on Baldy.
From Baldy's summit, the course screamed down Ridge through Rock Garden and around the big turn into Canyon. They said Griffith won the race with the time he picked up on the Roundhouse corner into Canyon. The racers cut off from Canyon into the lower part of Exhibition to the finish.
Griffith's time was two minutes and 15 seconds, best of 66 men, a fifth-of-a-second faster than Open combined champ Ernie McCullough of the Sun Valley Ski Club and several places ahead of Toni Matt and 1950 amateur combined king Jack Reddish.
"I was happy I grew up in those days," said Dodge. "None of the courses were prepared like they are today. We had to boot-pack the slalom courses and prepare the downhills. We raced for the enjoyment of racing, and for fun. It doesn't seem like it's that way anymore."
Visit to Broadway
Jimmy's successes led to a great trip to South America with Dodge, also a member of the 1950 FIS team.
"Jimmy and I were chosen, one from the West and one from the East, to go down to the Argentine National Championships and the Chilean National Championships," said two-time Olympian Dodge, 72, who lives in Jackson, N.H.
Dodge and Griffith came from small mountain towns. They got along very well.
Dodge lived in Pinkham Notch, 11 miles from the nearest town. His father, the famous Joseph Brooks Dodge, was well known in New England for being the hut manager of the Appalachian Mountain Trail.
"Jimmy and I had the same values and same interests in life. We were both very serious about what we were doing. And I'd have to say we were both young and naïve," Dodge said.
They were very successful in South America, winning nearly everything they entered.
If the Argentines and Chileans thought they were being smart inviting two fresh-faced Americans to their "Kandahar of the Andes" races, instead of the powerful Europeans, they were sadly mistaken.
"We did pretty well," said Dodge, who had first met Griffith in 1949 in western qualifying when both were trying out for the 1950 FIS team.
Griffith returned from the summer trip with the title "Combined Ski Champion of South America."
"We won 18 of the 20 races we were in. Jimmy won all the downhills and I won most of the giant slaloms and slaloms. He was by far and away the better downhiller.
"You know, in Argentina it seemed like all the pretty senoritas would try to get us to drink and have a good time. But we decided to be patriotic Americans and do our job and make the best out of it.
"By the afternoon of our last race in Chile, those senoritas wouldn't have anything to do with us—but we were so naïve we didn't understand until afterwards that maybe they were trying to get us to drink so we wouldn't do so well in races."
There was one reward that was pure music to the Americans' ears.
Dodge said, "An American lady won both Jimmy and I in a Calcutta pool after the last race. She asked us, what would you be interested in doing? We said, any chance you could get us tickets for "South Pacific"?
"That Broadway show, with Mary Martin and Enzio Pinza, was the most popular of the time. She gave us the name of a person to see in the ticket office and when we flew to New York we went down to the theater.
"We thought our seats would be way up in the balcony. Imagine our surprise when the usher marched us down the aisle to the orchestra, right in the middle. It was just great."
Social chairman for his Phi Gamma Delta fraternity in 1949 and the "King of the Campus," in one of the winter carnivals,
Jimmy graduated pre-med from the University of Colorado in March 1951. He entered the U.S. Air Force in April at Boise and was stationed at Perrin Air Force Base in Texas, assigned to the medical group.
By the fall, he jumped through the hoops necessary to secure a leave from the service. On Nov. 12, 1951, Griffith was named by the U.S. Olympic Committee to the U.S. men's downhill and slalom team.
He was Ketchum's first Olympian, and only the second hailing from the Wood River Valley after Ann Jeanette Winn Albrethsen of Gannett (1948).
But only three weeks later Jimmy Griffith was gone.
Making the unbearable tragedy somewhat easier for Jimmy's mother was the fact that Mary Jane was living at home, while her first husband Dave Marin was serving in Korea.
And Mary Jane had delivered her first child, James David Marin, in April 1951, nine months before Jimmy's death.
"I ended up staying all winter and skiing," said Mary Jane. "And my mom had a grandchild."
Mary Jane Conger suspects that, had he lived, Jimmy would have finished his military obligation and found a way to return to Sun Valley and eventually go into medical practice with his mentor, Dr. John Moritz.
The 1952 trip to Oslo might have been his first and last Olympics. It's anybody's guess whether he would have cracked the top three Olympic downhillers at Oslo—Italy's Zeno Colo, Austria's Othmar Schneider and Austria's Christian Pravda.
"Jimmy had wanted to be a doctor from the time he was five years old. My mother was very interested in medicine, and he was very close to my mother," said Conger. "Dr. Moritz encouraged him. He wanted to come back and work with Dr. Moritz.
"Jimmy and my mother were very private people. He was very quiet. An Eagle Scout. And a straight-A student. But Jimmy worked very hard at his skiing and really liked it."
She added, "It's funny, Jimmy's good friend was Dick Buek, who was anything but quiet and sedate. They were very different, but they were very playful together."
Ironically, 1952 Olympian Buek of Soda Springs, Ca., known as "The Mad Dog of Donner Summit," also died young, in a 1957 plane crash at the age of 27. He was well known for tucking Baldy and flying his airplane upside down underneath the chair lift to celebrate his achievement.
That wasn't Jimmy Griffith's style. He was all about character, not show. Said his friend Brooks Dodge, "We considered ourselves lucky to be doing what we were doing."
It was also in 1952 that Jimmy's sister Mary Jane won the women's slalom title of the 12th Harriman Cup at Sun Valley. At the banquet, she presented the first Jim Griffith Award to Jack Reddish, who won the Harriman Cup downhill in 1948 and once more in 1954.
---
Editor's note: Jimmy Griffith was about eight years older and an early skiing inspiration of Jim Savaria, who is one of eight inductees into the Sun Valley Winter Sports Hall of Fame. The Express will profile Savaria in next week's edition.