Jim Savaria learned to ski with mail order equipment on the few sloped and frozen streets of Hailey. He graduated to Rotarun, earned ski passes on the Baldy packing crew, and raced in Sun Valley Ski Club junior events on Dollar.
After high school he made it onto the hard-working ski patrol, and in only a few years, he and other Hailey lads—on the basis of their excellent skiing—were promoted to the more prestigious ski school. They were known collectively as the Hailey Comets, and somewhere along the way, due to his Basque heritage, Jim picked up a nickname: "The Old Spaniard."
According to boyhood friend Butch Harper, Jim was a stand-out skier. "Savaria was wild…one of the finest skiers I've ever been around bar none. Amazing coordination with real cat-like reflexes. Even when Christian Pravda (an Olympic medalist who taught skiing in Sun Valley) was here…Savaria could do the same things…. He didn't have the name. He didn't have the reputation. But he wasn't afraid to try anything, and most times got away with it."
In 1966, Jim teamed with Jack Simpson and local parents to start the Sun Valley Ski Education Foundation.
I don't remember seeing Jim much that first year, but the next year when I was nine, fall dryland training was moved from the old Ketchum school gym out to the Sun Valley Golf Course.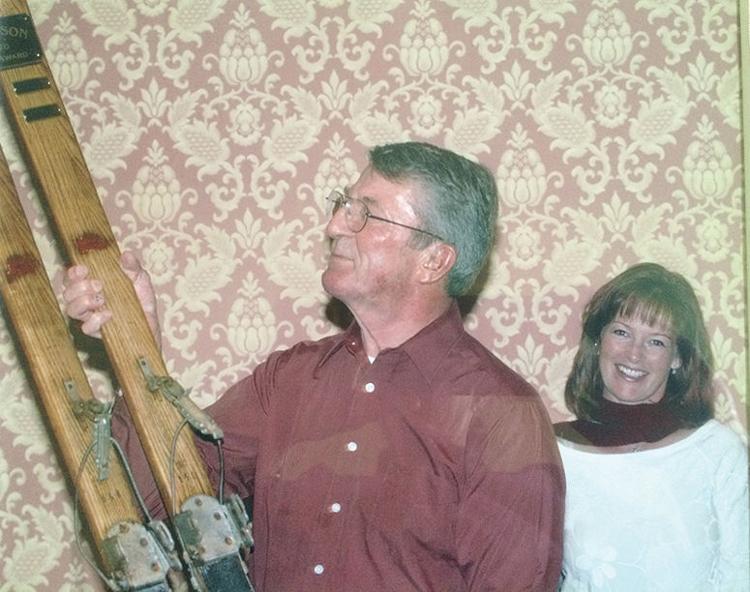 The first day we had instructions to bring a nylon skipping rope and meet at the hospital parking lot. Jim was coming off his day job as an excavator, wearing blue jeans, a tight white t-shirt, and steel-toed boots. He was tall, muscular, had his signature crew-cut, and was a little bit scary to us kids.
Jack Simpson believed rope skipping was good for skiing. And to get us started, he flipped a rope to Jim. Within seconds Jim had it spinning easily, like a hay swather, with mere inches between his work boots and the pavement. Soon it was a buzz saw, with footwork, double-jumps and crossovers. We all yelled and cheered. Later, at a certain age, we got to ski with him.
Jim was strict on certain points of conduct and good behavior for juniors on the hill and you didn't cross him. He kept us focused when running gates—it was serious business—but then would come a powder day. Some of the most joyous memories of my youth were of skiing powder on Baldy with Jim Savaria and my ski team friends.
He knew every inch of the mountain, every stash, every jump. Sometimes tooling along a cat-track he would look back to see if the group was paying attention, then just turn and bail out into space in his patented tip-drop. You'd follow, and upon landing, find yourself in yet another untracked glade.
He had three favorite jumps on the Lower College south slopes: The Kicker, The Tree, and The Rocks. He let us fly far and crash big. Many found new levels of confidence on those wild, "hot and dusty" days.
Later in our time with Jim, I remember a dryland session at the Elkhorn ice rink. Head coach Michel Rudigoz had arranged for access to skates and ice, and Jim laced up too.
After a warmup it was very simple, the game was tag and would last until everyone was "It" once. Except no one could catch Jim. For over an hour on a small rink, even cheating with group tactics, no one could touch him. He was cat-like.
Jim's athleticism and insight to technique were crucial to his success as a coach. He had uncommon snow sense and waxing intuition. Above all he had an attitude of fairness and support for all comers.
Jim and Lois Koonce had three kids in the program, Jack, Pam and David. Jim Koonce remembers that the coach never played favorites: "(With Savaria) it was…any kid who shows up on that mountain is going to get all the help I can give him right away, and we'll just let them sort themselves out further down the road…"
My sister Cathy was among a number of local kids who made Junior National teams with help from Jim, and she agrees: "He was stern but fair…shepherding everyone through wins, losses, falls, and faux pas, without leaving anyone behind."
Wrangling a group of high-spirited teenagers was no easy task, so Jim would take extreme disciplinary measures if needed. When the kids riding in The Pig (a van used to travel to races) got out of hand, arguing about whether to play Cat Stevens or The James Gang or the Rolling Stones, or just snipping and bitching, Jim would put his Johnny Cash cassette on the sound system. Cathy remembers groans of anguish followed by model behavior. "Worked every time."
Jim is a keen observer of things in the natural world, like weather and wildlife, and an accomplished archer and wing shooter. He also has an exceptional ability to read young people.
Olympic silver medalist Christin Cooper has high praise for her first coach: "My father died of cancer the year I joined the Sun Valley Ski Team. I needed a father figure. Here was someone to trust and fear in equal measure, to teach me things I needed to learn, who wouldn't stand for any of my B.S. With all the good things that have happened in my life thanks to skiing, Jim is right up there. He is part of a long and important tradition of great teachers—the ones who make all the difference."
From the streets of Hailey to coaching Olympians, Jim Savaria, played a remarkable role in Sun Valley skiing.
He challenged young people and helped them become the best that they could be. He contributed much to many, and usually did it with good humor. He remains cat-like, a little bit wild, and much admired.
---
David Butterfield is a documentary filmmaker and writer who grew up in Ketchum.