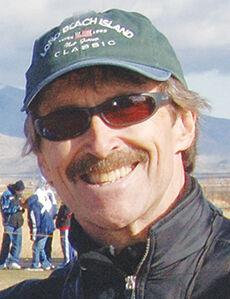 Retiring Idaho Mountain Express sports editor Jeff Cordes of Hailey has been honored by the Idaho High School Activities Association with one of only three memorial awards given each year by IHSAA.
The IHSAA Board of Directors selected Cordes as the 2020 recipient of the Duane D. Wolfe Memorial Award. It has been given since 1993 to those whose longtime contributions have significantly benefit high school activities programs.
Cordes, 70, has been the Express sports editor since 1977 and has reported on a wide variety of high school sports sanctioned by the IHSAA. He has been a newspaper reporter for 48 years, starting in 1972 after graduating from Cornell University in Ithaca, N.Y.
Other 2020 IHSAA memorial awards were the Dick Fleischmann Memorial Award established in 1986 that was given to Terry Beck of Eagle High School, and the Wes Lowe Memorial Award established in 1986 that went to longtime Bear Lake High School baseball coach Craig Culver.
IHSAA Hall of Fame inductees for 2020 were Bill Hawkins, the 29-year boys' basketball coach at Rexburg's Madison High School, and 35-year coach and administrator Tracy Leinen of Boise High School.
Safety concerns due to the global pandemic necessitated the postponement of the 41st annual Hall of Fame banquet in August where all the awards were due to be presented.