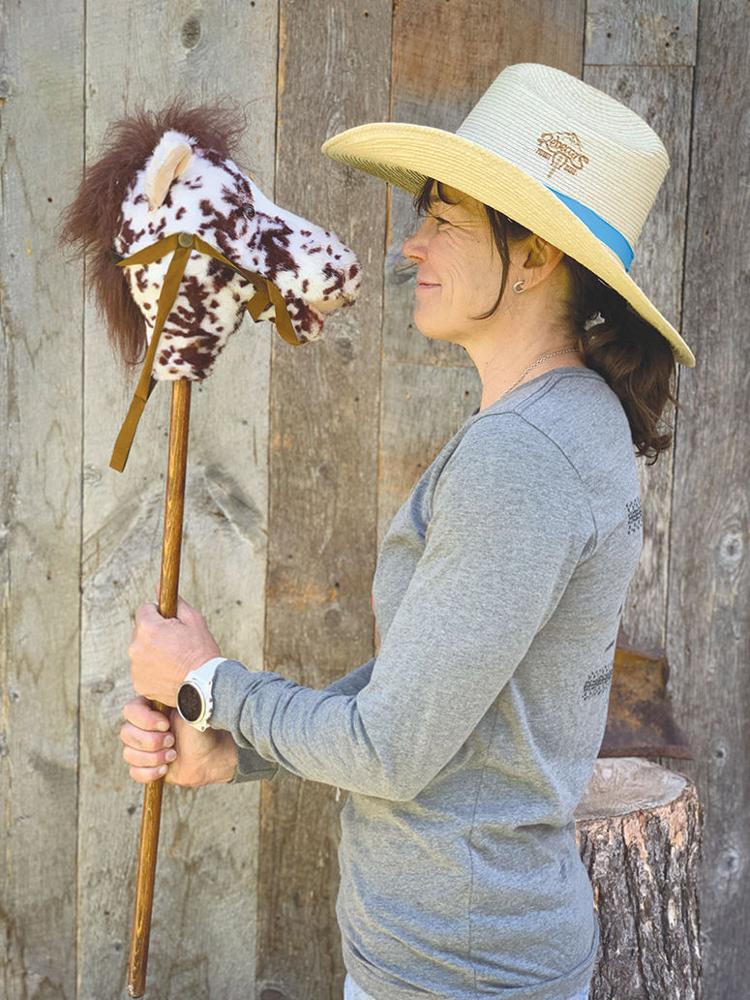 "I launched this event to motivate me and to motivate you. I challenge you to challenge yourself—and to 'giddy up' for good!" said Ketchum's Rebecca Rusch in a recent promotional video.
You can hike, bike or run. You can do it outdoors or indoors. But you have to complete the challenge in one attempt—continuous movement over the course of a day.
That's the gist of Rebecca's Giddy Up Challenge coming up May 23-25 to a steep mountain or an indoor location near you. It's a way to exercise over Memorial Day weekend in the difficult days of the coronavirus.
"Pick a day, pick a hill and pick a distance. Rebecca wants people to challenge themselves," said Allyson Davis, business manager for Rebecca's Private Idaho (RPI) mountain bike gathering held here each year over Labor Day.
Davis added, "Rebecca wanted to do something to support athletes who need some competition. She wanted to take the essence of this particular moment and give others an event to activate in."
World-class athlete Rusch is planning the bicycle, hiking and running test over Memorial Day, to be accomplished anytime between Saturday, May 23 at 12:01 a.m. and Monday, May 25 at 11:59 p.m.
Rebecca's Giddy Up Challenge features four different elevation challenges.
Categories (bike, run or hike indoors or outdoors) are The Queen's Everest covering 29,029 feet, Mashed Potato covering 15,885 feet, Twice Baked Potato at 10,590 feet and Baked Potato measuring 5,295 feet.
Giddy Up registrations have fired up over the past five days, from 179 on May 13 to 338 and counting Monday. Bike outdoors signups were 67 in Queen's Everest, 60 in Mashed Potato, 52 in Twice Baked and 99 in Baked.
Local athletes registered include Alan Jacoby, Karoline Droege, Susan Robinson, Muffy Ritz, Monica Catalano, Lauren Marziliano, Amanda and Steve Porino, and, from Victor, Jay Petervary from long distance biking note.
Rusch herself will do her "Everesting" in The Queen's Everest class this weekend.
Davis said Rusch will attempt her gravel bike ride up Trail Creek Summit for 29,029 feet, basically 20.3 times up and back, or essentially 21 times because she'll finally retrieve her car from the 7,900-foot Trail Creek Summit.
Rusch even convinced road biker Davis to do the challenge. Davis, from Sherman Oaks, Ca., will tackle the 15,885-foot Mashed Potato in the Santa Monica Mountains, for eight-plus hours, 15 times up and down the road.
"I know a lot of folks like to hike up and down Baldy," said Davis. "They can do Baked Potato, 1.75 times up Baldy."
After the Giddy Up Challenge is over, Rusch plans to give participants a "virtual high-5" over Instagram and also announce the winners of a long list of event prizes.
Giddy Up Challenge benefits COVID-10 relief via Rusch's Be Good Foundation.
Money raised through $20 entry fees, donations and fundraising will go to support the Center for Disease Control and Prevention (CDC) Foundation, World Bicycle Relief and People for Bikes.
They are organizations that offer public health, medical resources deployment, bikes for frontline health care workers and cycling infrastructure for transportation.