Over 900 mountain bikers replaced wagons and horses as the centerpieces of Ketchum's Wagon Days celebration Sunday during the seventh annual "Rebecca's Private Idaho" (RPI) gravel trail rides.
"The Gravel Less Traveled," as RPI organizers proudly proclaimed, was actually well traveled as terrific late-summer weather complemented Idaho's amazing mountain scenery.
Ketchum multi-time mountain bike champ Rebecca Rusch presented the race event.
Defending their 2018 championships of the Queen's Stage Race were Ketchum-based professional cyclist Joshua Berry, 28, of the Giant Factory Off Road Team/Velocio, and Kaysee Armstrong, 29, of Knoxville, Tenn., also of Giant Factory Off Road Team.
In total points for the three stages, Berry ended up in a 1,495-point dead heat with Seattle's Stephen Mull, 36, and Armstrong (1,500 points) edged Sarah Max, 44, of Bend, Ore. and Elizabeth McCalley, 36, also of Knoxville, Tenn.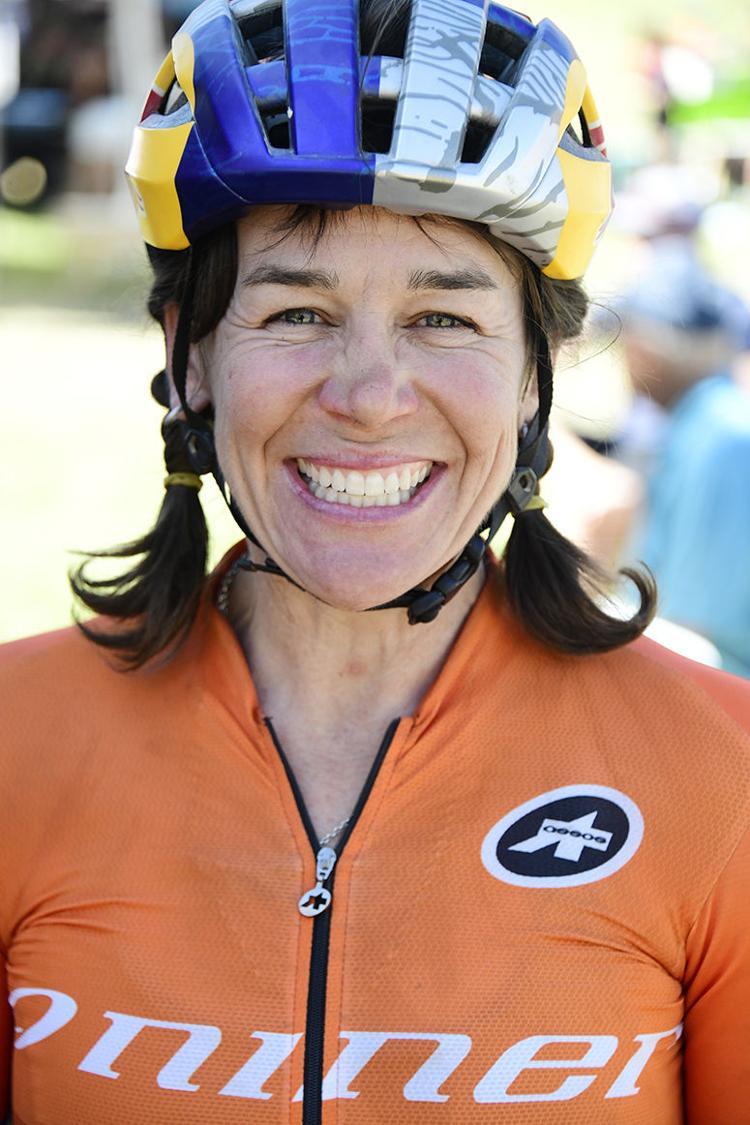 Top local Queen's Stage racers were Susan Robinson, 50, of Sturtevants/Limelight Cycling in ninth place among the women, and Eric Chizum, 40, of Sturtevants, Limelight Hotel and Hammer Nutrition in seventh place among men.
Besides Sunday's 102.67-mile Baked Potato, the stage race included Thursday's 43.3-mile Trail Adventure Stage out-and-back from Galena Lodge along Harriman Trail, and Friday's 49.65-mile Dollarhide Time Trial on gravel road west of Ketchum.
Thursday, Berry won Trail Adventure in a photo finish over Tristan Uhl, 31, of Austin, Texas, with Chizum sixth and Kyle Rafford, 51, in 17th place. He built enough of a point lead to hold off Dollarhide and Baked Potato winner Colin Strickland, 32, also of Austin.
Strickland (5.04:37) and Berry (5.07:41) clocked the fastest times in Sunday's 102.67-mile Baked Potato with its 5,295-feet of elevation gain.
Chizum placed eighth in the Baked Potato (5.20:17). Berry's total time for the 195.6-mile stage race was 8.10:54, the men's best by five minutes.
Baked Potato, French Fry and Tater Tot
Sunday's finale of the four-day RPI featured the 102.67-mile Baked Potato distance, the 56.63-mile French Fry and 18.76-mile Tater Tot.
All of Sunday's races launched from Festival Meadows in Ketchum along Trail Creek Rd., called the gateway into the Pioneer Mountains.
Baked Potato and French Fry racers climbed Trail Creek Summit and entered Big Lost River basin. They turned up Wildhorse Canyon to Fall Creek, and returned down the harrowing 2,000-foot descent from Trail Creek Summit to pavement by beaver ponds.
Longer than French Fry because of a 25-mile additional journey through the Copper Basin, the Baked Potato was lengthened this year with a short, technical El Diablito loop coming about Mile 81.
Tater Tot attracted 185 racers ages 8-76 and featured a trail ride along Corral Creek Rd. to the Pioneer Cabin trailhead, and back to Ketchum. Wood River High and Summit Bike Club teenagers dominated the Tater Tot.
Sixteen-year-olds Zane Lyon (54:58), Blake DeHart (55:01) and Elias Svennungsen (55:03) went 1-2-3 in the Tater Tot, with 14-year-old Paige DeHart (1.04:08) leading the women.
Sun Valley's Roger Miller, 76, placed 62nd in 1.27:48 and eight-year-old Jett Van Bueren (1.34:34, 84th) was the fastest and youngest along the route.
Among 300 racers finishing the French Fry, Jesse Thomas, 39, of Mountain View, Ca. (2.44:16) had the fastest time, with local Lee Roquet, 50, finishing fourth (3.04:20), Jimmie Vaughan, 57, in ninth place (3.13:19) and Griffin Connelly, 16, in 10th (3.15:03) ahead of Olin Glenne (3.15:42, 11th).
Remarkably, Jay Hagenbuch, 68, was 18th (3.21:17).
Female French Fry winner in 17th place overall was Caitlyn Vestal, 34, of Golden, Co. (3.19:06). Hailey's Alexa Turzian, 31, was the third of 116 females, timed at 3.26:00.
There were 353 cyclists (290 men) finishing the Baked Potato led by Trevor Wurtele, 40, of Kelowna, British Columbia, Canada in 5.18:36 and Alison Tetrick, 34, of Redding, Ca. in 6.03:14 (27th overall). The age range of finishers was 18-73.
Ketchum's Joel Brazil, 50, of the Sturtevants/Limelight team made the Baked Potato podium in third place overall with a 5.22:43 time.
Brad Walker, 37, was 16th in 5.52:14 and Mark Gilbreath, 52, of Sturtevants/Limelight finished in 18th place, 5.55:10.
Carl Bontrager, 73, of Ketchum was 296th (9.00:02).
In contrast to previous RPI editions, no hometowns were listed on the final results, which limited the ability of the Mountain Express to identify the local contestants and report their finishes.