How do you explain what baseball means to a summer's day?
It all seems so vivid, yet hard to imagine.
A spring without training in 2020 was stark reminder that everything good in the world can be taken away. Empty dugouts haunted baseball purists as COVID-19 locked the gates to the sandlots, barring this game out. Kids were left only dreaming of grand slams in the bottom of the ninth.
As we know, though, absence makes the heart grow fonder. With the cancellation of the beautiful game, the connection between America and baseball only grew stronger. Baseball—and the love of sport—would not be denied, and those sandlots would not stay locked for long.
And now, with the world staggering back to its feet, baseball has made its triumphant return to the Wood River Valley. If you're older, then you'll remember those sunny Saturday butterflies.
If you're still young, then you'll know the excitement and the anticipation.
If a hotdog with extra mustard replaces eggs and bacon as the first meal of the day, then you know it's baseball season.
The nation's pastime holds the keys to our American summers, the annals of the past merging into the current of the river of baseball's history.
Jump in, the water's fine.
Be a part of something that reaches beyond social media, for this is baseball and the diamond was the original social media where people gathered from town to town in a picnic-style sanctuary, a safe space where laughter and meeting new people is the norm.
Baseball in the Wood River Valley is blazing hot mid-mornings scrambling to find parking and wondering if you've brought enough water and shade.
It's a time and place where economic worries and social constructs cannot be touched. Cash only at the concession stands, but players eat free in between doubleheaders.
Mothers hand out candy, potato chips and soda pop. Fathers are on the grill making sure the hot dogs and burgers are just right.
As the baseball diamond, a home away from home, is filled with competitive spirit, those who once played are in the stands breaking open peanut shells or sucking on sunflower seeds. The smell of sunscreen and bubble gum compete with the drifting scent of dirt and freshly cut grass.
New generations of young hopefuls spring up each year. Some new to the game and some born with a mitt in their crib. They all congregate on Saturdays to honor a game that allows for memories of the past to catch a glimpse of the future.
It's the Nelsons and the Uhrigs farming the next crop of baseball hounds, ready to take these fields by storm.
It's about his grandfather that played here, then his father played here, then he played here and now his son plays here.
It's old buddies watching their children while talking business in between innings.
It's old coaches who remember what it was like when they were 15 years old.
It's about figuring out the scoreboard in the middle of the game.
It's a love-hate relationship between coaches and umpires. Arguing balls and strikes is as much of the game as actual balls and strikes.
With nearly 100 people at Founders Baseball Field in Hailey to watch the Wood River American Legion "A" Spurs take on Wendell for a doubleheader on Saturday, July 10, baseball's magnetic attraction brought together young and old to play a good old fashion twin bill.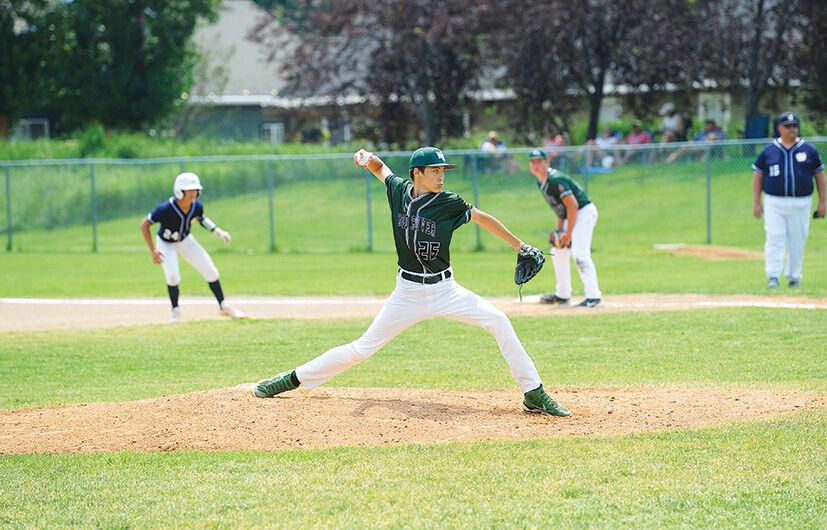 "It is about family," Spurs head coach Chris Carden said. "People come out and support their sons and their brothers. There were 15 family members in Kam Perron's family that made it out to watch. I had my wife in the stands. I have a son playing, my grandfather and my father right there also in the stands. It's about family."
With the age of the young Spurs team—many players are incoming freshman at WRHS—wins and losses don't carry the same weight with the crowds. The players are learning—and having fun—within the games.
Instead, it's a chance to remember where the purity began.
"It's about being grateful that you have a home over your head," Carden said. "You can put the glove on, you can play the game. You're healthy, you're strong, and you're vibrant and alive. You have parents who love you."
There's something about baseball in the summertime when it's warm and everyone can come outside and have their coolers and lawn chairs and sit in the shade, groups and pods of people out for the same allure.
It's about baseball, plain and simple.
Spurs valiant in doubleheader
As for the doubleheader itself, the young Spurs faced off against a seasoned varsity Wendell squad that didn't take it easy on Wood River. Many of Wendell's players had already graduated, so in many ways, this was a learning experience.
In game one, the Spurs lost 10-8, but made a valiant comeback in the bottom of the seventh inning. Down 10-3, the Spurs didn't allow the door to be closed and made it interesting by scoring five runs on four hits. The Spurs put up five RBIs in the last inning.
Luke Hebert had an RBI single to drive in Jacob Uhrig, who walked to open the inning. Sullivan Carter then hit a two-run single up the middle to make it 10-6. Dawson Speth then walked to load the bases, which brought up Tommy Nissan who singled in a run to make the game 10-7. Finn Wotcom then hit a single to make it 10-8.
Despite the late surge in the loss, Carden said this a learning opportunity.
"My job is to get them to varsity and teach them how to run to the base paths properly, to anticipate passed balls and know a situational play to left field," Carden said. "With time and with patience and a lot of grace, they'll figure it out. Right now, we have a long way to go."
In game two, Wood River and Wendell went back and forth. Wendell ended up winning, 15-11.
In the bottom of the fifth inning and down 9-6, the Spurs' patience at the plate got them right back in the game. There were six walks that resulted in five runs for the Spurs. Wood River only had two hits but took the lead 11-9.
In the top of the sixth, Wood River unfortunately gave up all of those runs to allow Wendell to come away with a six-run sixth inning.
Big hitters for game two were Trace Alley (1-for-1, three walks, three runs), Hebert (1-for-4, two walks, two runs) and Uhrig (1-for-3, two walks, three runs).
Next up for the Spurs is an away series at Buhl on Wednesday, July 14.