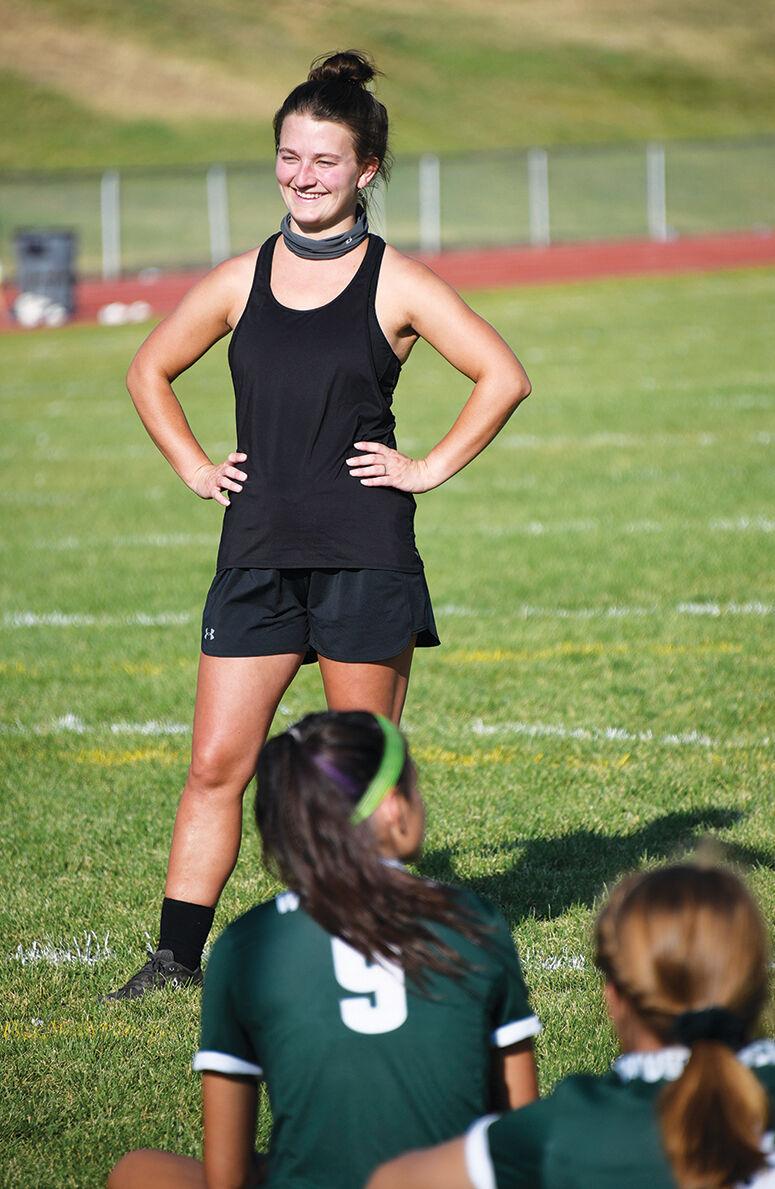 Second-year Wood River High School girls' varsity soc-cer coach Tanner Riley is con-tinuing to build her program with a turnout of 47 players this fall for varsity and junior varsity teams in Hailey.
Of that number, only 15 are seniors and juniors. So, there could be some rocky times this season but a bright outlook ahead for Riley's Wolverines.
Case in point were the sea-son-opening games, a 6-0 varsi-ty win at Burley Thursday and 6-3 home loss to a strong Sun Valley Community School side at Phil Homer Field Saturday.
"This game (with Communi-ty School) is one that always comes with a lot of nerves among the team," said Riley after the well-attended Satur-day rivalry game.
Standout Wolverines were sophomore Jasmine Santacruz at center back as well as soph-omores Josie Gilman and Kate Shafer at forwards.
Junior Maile Dorland equal-ized in the 14th minute on Shafer assist, and Gilman pro-vided the Wolverines a 2-1 halftime lead on a feed from Santacruz in the 33rd.
Dorland added a second goal for a 3-3 tie midway through the second half, assisted by Gilman. But the Cutthroats snapped off three goals in the final 12 minutes for a 6-3 victo-ry.
Riley said about Saturday's loss, coming after Thursday's season-opening 6-0 win at Bur-ley Thursday, "The team we fielded Saturday didn't even look like the same team we fielded against Burley.
"We're very fit and have more speed this year. It was an interesting dynamic because the Community School was quicker to step to the ball and faster on their toes.
"I'm excited to see what the next game brings."
Wood River hosted reigning Great Basin champion Twin Falls on Tuesday and goes to Mountain Home on Thursday, Sept. 4 for a 6:30 p.m. league game. The Wolverines swept the 2019 season series with Mountain Home, 2-1 and 2-0.
Thursday's game at Moun-tain Home will be the 500th varsity game in the 28 seasons of Wolverine girls' soccer.
Added has been a home var-sity game with 3A Sugar-Salem of Sugar City at 4 p.m. Friday, Sept. 4 at Phil Homer Stadium, after the 2 p.m. boys' varsity game there between Wood Riv-er and Sugar-Salem.
Sugar-Salem's girls have been a State 3A tournament power, going 18-2-1 last fall and placing second behind four-straight state champion Coeur d'Alene Charter (56-1-1 since 2017) in 2018 and 2019 at state.
Here are team rosters as Wood River begins its quest for a winning season and a 23rd state tourney visit. Position abbreviations are forward (F), midfield (M), defense (D) and goalkeeper (GK).
WRHS GIRLS' VARSITY
Head coach—Tanner Riley (2nd sea-son, 9-7-4 record, No. 5 of 10 seeds in Great Basin Conference tournament, 4th place tournament, 7-3-3 in last 13 games).
Assistant varsity coach—Aimee Evans.
Varsity assistant—Blake Jenson.
Volunteer coaches—Greg Gvozdas, Colter Brehmer.
Co-captains—Marcella Fisher, Daisy Buxton, Sayler Peavey.
Assistant captains—Maile Dorland, Lola Randolph, Zoe Bacca.
Seniors (4)—Sayler Peavey (M), Mar-cella Fisher (GK), Daisy Buxton (M), Anne-ka Thompson (M).
Juniors (5)—Zoe Bacca (F), Lola Randolph (D), Channing Curci (M), Oleanna Liaboe (GK/M), Maile Dorland (M).
Sophomores (9)—Kate Shafer (F), Devon McAvoy (D), Yasmin Vargas (D), Josie Gilman (F), Olive Gilbert (D), Svea Leidecker (F), Gina Greenberg (M), Jasmine Santacruz (M/D), Drew Willett (M).
Freshmen (4)—Ruby Gardner (M), Chloe Vogel (M), Alex Moya (D), Evelyn Kimball (M).
JUNIOR VARSITY
Seniors (1)—Carla Villanueva (F/D).
Juniors (5)—Mariyah Cueva (M), Brianna Palencia (F), Dianna Arevalo (F/M), Yohenny Gomez (F), Natalie Vergara (D/M).
Sophomores (7)—Parker Turck (M), Lucy Pietsch (M), Cindy Juarez (F/M), Jocelyn Guzman (D), Lucinda Frates (D), Amanda Silva (F/D), Allyson Orihuela (D).
Freshmen (12)—Bella Reeves (F/M), Ashley Casas (M), Leidi Castro Romero (F), Tatum Ware (GK/F), Antonella Campos (GK/D), Presly Watson (D), Isabella Die-drick (D), Isabella Keller (D), Bella Parke (F), Mariah Leos (M), Maite Ortiz (M), Ada-leni Romero (M).