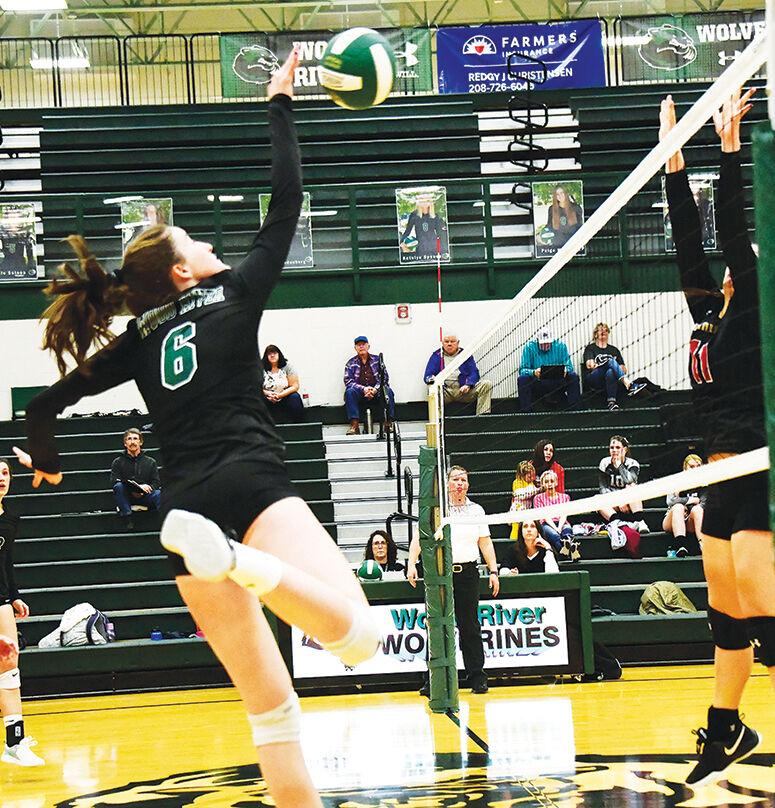 It wasn't easy, but the Wood River High School varsity volleyball team stayed unbeaten in "Great Basin 7" action Tuesday night with a very tough five-game win over the Minico Spartans, in Rupert.
Wood River persevered for a 26-24, 24-26, 26-24, 19-25, 15-10 triumph over host Minico.
Junior middle blocker/outside hitter Willa Laski (21 kills) and sophomore outside hitter Bella Hadam (12 kills) stepped up big time on the attack for the Wolverines (4-0 overall, 3-0 conference).
Providing steady play for Wood River were sophomores Sophie Vandenberg (8 aces, 9 digs) and sophomore setter/outside hitter Samantha Chambers (32 assists, 4 aces).
Wood River coach Kristyn Rutland said, "We won after a real shaky match for us.
"We had many rough patches that were difficult to recover from mentally. Minico was able to shift momentum quite a few times with their first energy, and we stopped back instead of punching forward."
The Wolverines had previously beaten Twin Falls and Mountain Home in the minimum three games. But Minico gave last year's Great Basin Conference tournament runner-up team from Hailey all it could handle on Tuesday.
Wood River was due to visit the Canyon Ridge Riverhawks Thursday in Twin Falls, and returns to the road Wednesday, Sept. 16 with a pivotal league match at Burley
Last October, Wood River earned its state tournament trip with a thrilling five-game home win over Burley. The Bobcats ended up third in the 10-team conference and won a match at the State 4A meet.
Also Tuesday in Rupert, the Wood River junior varsity won its match 25-17, 25-15, and Minico nipped the Hailey freshmen in three games.