Kylie Wood—Carey's hot-shooting, record-breaking scoring machine—isn't done racking up her basketball postseason awards in 2021.
The Carey High School senior wrapped up her illustrious career as she was recently named All-Idaho Player of the Year for the second time in a row for the 1A Division II girls classification in the annual poll conducted by the Idaho Statesman.
She was one of five players chosen by coaches of the Idaho High School Activities Association classification to the All-Idaho First Team.
By receiving the award, Wood has cemented herself as one of the all-time greats in Idaho high school basketball history.
"It was all her doing," Carey head coach Merrilee Sears said. "I was fortunate enough to be a part of it."
Wood, the 5-6 senior point guard and captain of the Panthers, led Carey in nearly every statistical category during the shortened COVID-19 season; most notably in scoring, where she eclipsed the Carey all-time girls scoring mark with 1,290 points.
Wood reached that mark in a 61-55 win at Camas County on Feb. 2, where she tied her previous single-game school scoring record of 40 points. She also nailed eight 3-pointers that night.
Wood came into the year third all-time in school history with 1,045 points—behind Jaide Parke (1,255 points in 2013) and Jessica Parke (1,129 points in 2010).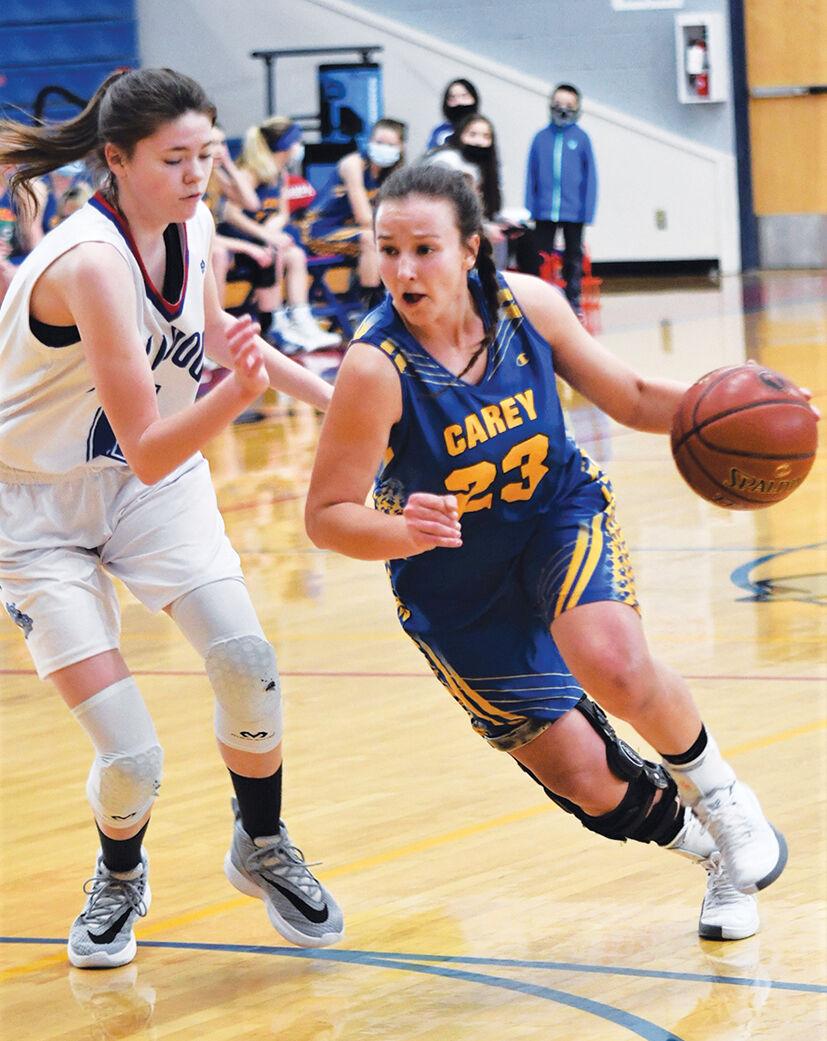 "She has that ability to score and the drive," Sears added. "The awards keep coming and deservedly so. She's an amazing person on and off the court."
She averaged 27.5 points per game, and tied the IHSAA Real Dairy Girls Basketball Shootout tournament scoring record with 28.7 ppg.
Wood led the Panthers to an 11-3 overall record (5-0 Sawtooth Conference) and a third-place trophy by beating Rockland 48-40. In that game, Wood finished with 32 points, five rebounds, four steals and two assists.
For next season, Wood will take her talents to St. Catherine University (NCAA Division III) in Saint Paul, Minn.
The POY honor capped off a postseason run of awards for Wood.
She recently competed in a slew of postseason all-star appearances, most notably in the 18th annual Idaho Statewide All-Star Game at Post Falls High School, where she led the Region All-Stars to a 76-58 victory. In doing so, Wood scored a game-high 18 points on her way to capturing the game's Most Valuable Player award.
Wood also scored a game-high 14 points for the North in the 1A/2A All-Star Game on March 9. The South ended up winning that game, 67-63.
The versatile scorer then returned the next day to score 11 points for the East in the District 4A All-Start Game on March 10, where the West beat the East, 70-48.
Other All-Idaho first teamers included Tri-Valley's Josey Jones and Emma Hollon.
Both Jones (14.5 ppg, 4.2 rebounds, 3.3 steals, 2.7 assists) and Hollon (12.5 ppg, 6.2 rebounds, 5.3 steals, 4.7 assists) led the Titans to their first state title.
Mackay's Riley Moore (14.6 ppg, 5.1 assists, 4.6 steals) and Rockland's Kiersley Boyer (13.9 ppgs, 10.8 rebounds, 3.2 steals, 3.1 blocks) rounded out the rest of the team.
"Coach of the Year" went to Jeff Springer of Tri-Valley.