Kristyn Price Rutland was a star volleyball player for Wood River High School and Caldwell's College of Idaho, and now she's proud of the volley-ball players she's coaching at Wood River.
First-year Hailey coach Rut-land has welcomed 42 players to her varsity, junior varsity and freshman teams. On Wednesday, traveling home from Burley, she said, "We are really pumped for the season and it showed tonight."
Indeed, Wood River's three teams swept at Burley—the varsity winning in four games 25-17, 27-25, 23-25, 25-23, the JV winning in three 25-12, 23-25, 27-25 and the freshman taking two quick games 25-16, 25-23.
Rutland said about the "Great Basin 10" conference matches, "We started our sea-son off really strong playing a tough opponent on the road. The girls worked really hard and we got the job done."
Leading Wood River at Bur-ley were senior Sariah Nilsen (15 kills, 2 aces), senior Emily Vandenberg (11 kills), senior Lauren Thomsen (7 kills, 4 blocks) and sophomore Willa Laski (9 kills, 3 aces).
Burley has been a Great Ba-sin power the last several sea-sons, placing third in the 2017 State 4A tournament and mak-ing state again last fall with a 26-13 record including a third-place 10-3 log in the regular-season GBC ranks.
Wood River finished 15-12 last fall for fifth place in the conference and, over two sea-sons, had never won a game in four match losses to Burley. The Wolverines had last beaten Burley back in 2015.
Rutland said about her first Wood River varsity team, "We have a strong group of seniors that are leaders of this team on and off of the court.
"They have put many hours in off-season and have shown great growth in their game over the past several months.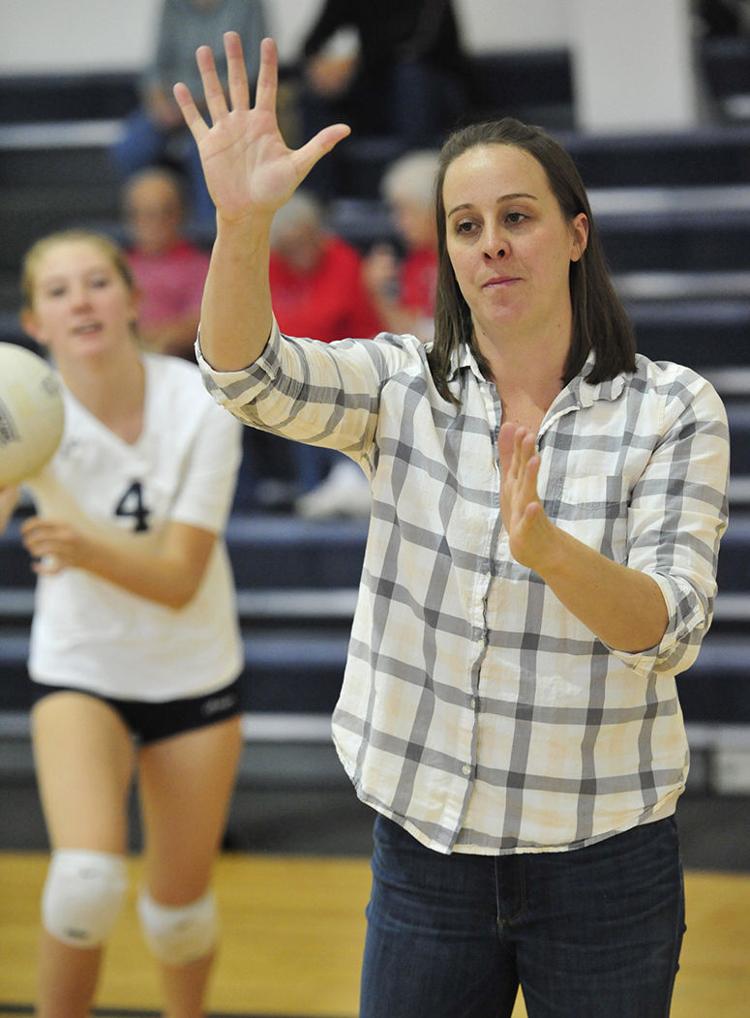 "We've been working on speeding up our offensive sys-tem and engaging our defensive system with adaptive open skill work. Our main focus has been ball control and goal-oriented skill work that will be the foundation we're building for our season."
Wood River graduated key players like GBC All-League first-teamer and four-year mid-dle blocker starter Annie Ka-minski, the 6-1 outside hitter and middle blocker prominent on Boise State University's ros-ter as a freshman this fall.
But the talent is impressive on Wood River's newest team.
Senior outside hitters Van-denberg and Nilsen lead the charge. Rutland said, "They are both hard workers, great lead-ers and impact players.
"In the middle, Lauren Thomsen and Willa Laski will be running the floor with Star Herron and Natalee Morse add-ing to the depth.
 "We're also running deep in the setting position. Freshman Samantha Chambers alongside senior Anabelle Rust and new-comer Katelyn Spence add dif-ferent facets. We foresee them competing hard and learning and growing from one another.
"On the right side we have options with Paige Madsen, Josie Saleen, Natalee Morse and Star Herron.
"Defensively, we have two of the strongest specialists the program has had in several years in Cambria Morse and Josie Conely. Their abilities to track the ball are unrivaled and will certainly make for some exciting plays to watch."
The coach added, "We have goals this season, some ambi-tious ones that we are working toward every day.
"Our main focus is to play with confidence and walk out of the gym each and every day feeling proud of what we have put out on the floor.
"With those things in mind, we are working to end our sea-son in northern Idaho at the State 4A tournament and will use the talent and preparation we are building on every day to get us there."
First home matches are Wednesday, Sept. 4 with Jerome on the Hailey floor.
Here are this year's rosters. Listed positions for Wood River are Middle Blocker (MB), Setter (S), Opposite (Opp), Outside Hitter (OH) and Defensive Spe-cialist (DS):
    Head coach—Kristyn Rutland (1st year).
    Assistant coach—Kristy Vandenberg.
    Seniors (7)—Lauren Thomsen (5-10 MB/Opp); Emily Vandenberg (5-10 OH); Sariah Nilsen (5-8 OH/Opp); Cambria Morris (5-7 Libero/DS); Anabelle Rust (5-4 S/DS); Josie Conely (5-5 Libero/DS); Josie Saleen (5-9 Opp).
    Juniors (5)—Paige Madsen (6-1 MB/Opp); Natalee Morse (6-0 MB/Opp); Katelyn Spence (5-10 S/Opp); Star Herron (5-9 OH/MB/Opp); Jade Ellison (5-6 OH).
    Sophomores (1)—Willa Laski (5-10 MB).
    Freshmen (1)—Samantha Chambers (5-7 S).
Junior varsity    Head coach—Justin Rujawitz (1st year).
    Juniors (4)—Madison Lovell, Nysa Wood, Sophia Morse, Cassidy Conely.
    Sophomores (8)—Maddie Abel, Charlie Loomis, Kim Hidalgo, Caroline Seaward, Isabel Estrada, Tatitana, Addi Bevers, Kira Korchinski.
    Freshmen (2)—Sophia Vandenberg, Jette Ward.
    Head coach—Daniel Spence (1st year).
    Players (14)—Bella Hadam, Sidney Wil-son, Tessa Tackett, Madeline Haynes, Caris Holden, Grendel Sprong, Brooke Black, Alison Hidalgo, Shaila Tate, Tenney Barrow, Cassidy Boyd, Juliana Hintmeyer, Sande Viguera, Isabella Hattrup.