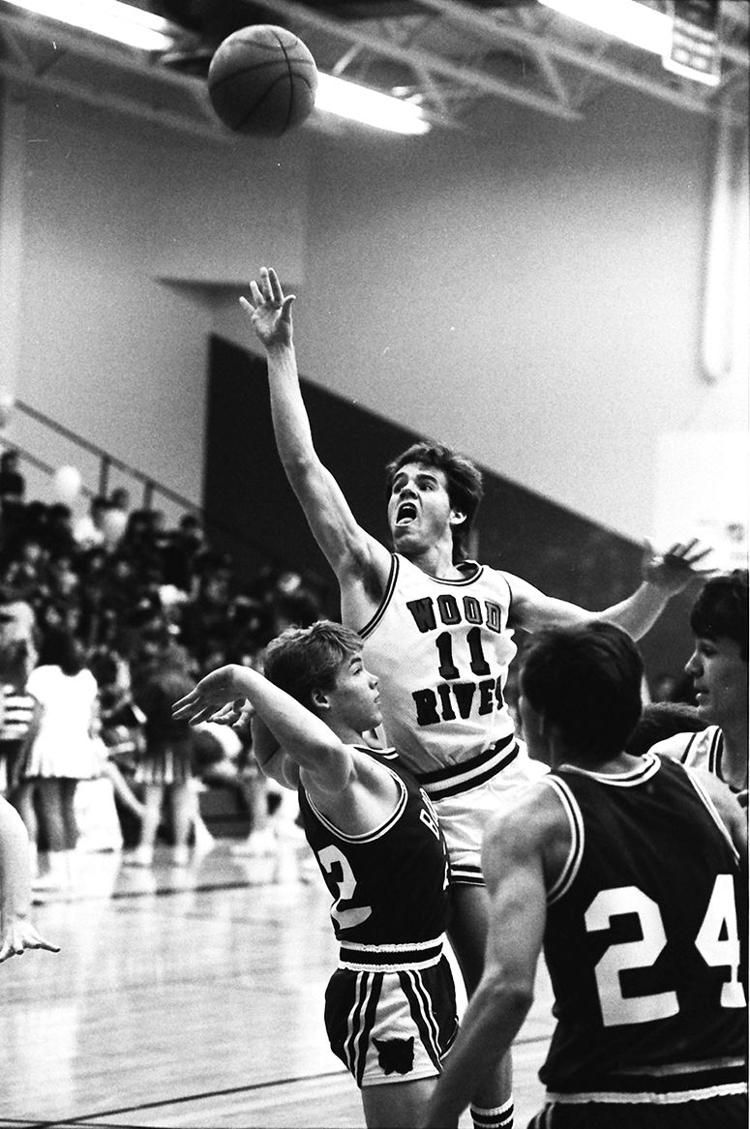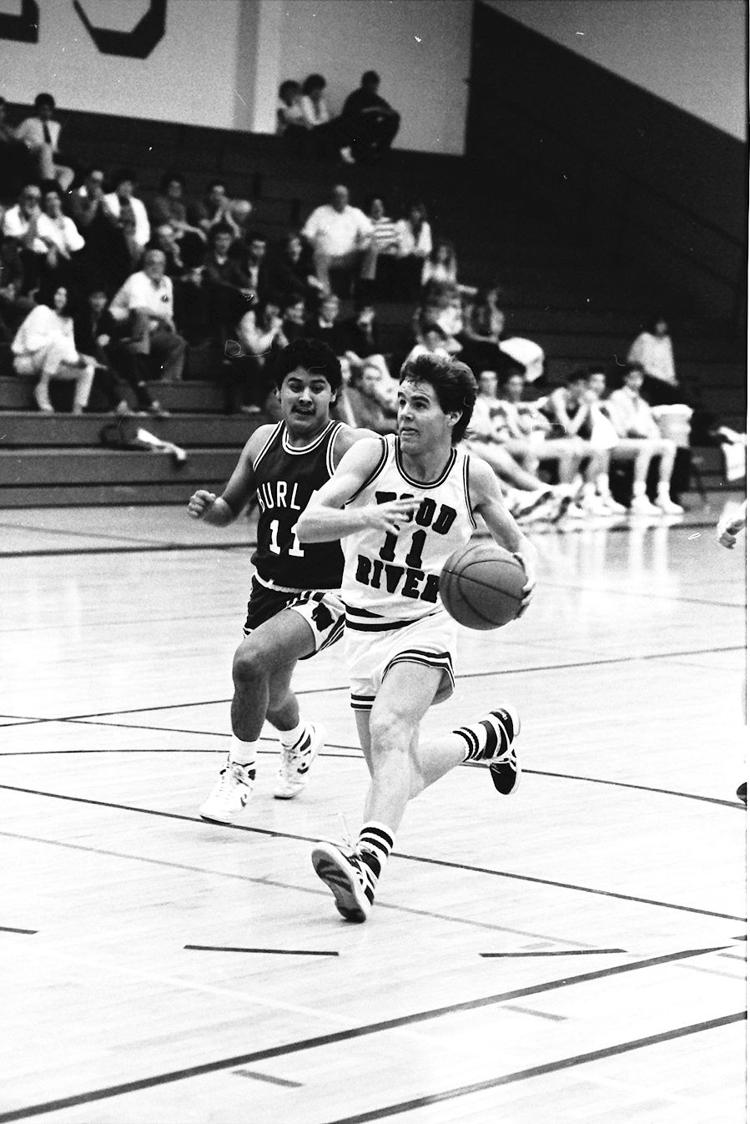 He's a grandfather now, the president of a family-owned business headquartered near Austin, Texas, a 5-handicapper on the golf course, an avid fly fisherman, and the father of two daughters who excelled in academics and in high school and college swimming.
Brad Jaques, 50, the son of former Blaine County School District teachers, has come a long way in the world since leaving Hailey with the Wood River High Class of 1988. Athletics, smarts and a desire to succeed have paved the way.
"He's the most competitive, driven athlete I've been involved with in 34 years of coaching high school basketball," said Dick Richel of Eagle. "Brad is on Mount Rushmore of athletics all-time at Wood River High School."
Richel, who coached 13 seasons at 5A Lewiston High School, was Wood River's head boys' basketball coach for seven seasons from 1981-88. He started as a 21-year-old student teacher who volunteered to help coach in 1980. He ended with an 88-70 record and took the Wolverines (19-7) to the 1988 State A-2 tournament.
That was the year 5-8 senior point guard Jaques scored 572 points, averaged 22.0 ppg including 27.7 ppg at the district tournament, shot 84% from the free throw line and was named the Idaho A-2 Player of the Year, the only Wood River boy to ever achieve that distinction in basketball.
Jaques finished with a Hailey school-record 1,261 career points, a standard that stood for 32 years until Johnny Radford (1,393) broke it in 2020.
"What I remember most about Brad is his competitive will and his drive in practices, and what he demanded of others," Richel said. "I never had a player like Brad who, when he was on the floor, I always felt we had a chance to win."
Jaques attended college at the University of Redlands in California and played NCAA Division 3 basketball for four seasons in the up-tempo "The System" offensive style engineered by 36-season Bulldog coaching legend Gary Smith (456-465 from 1971-2007).
One of Smith's Bulldog teams set a college record 132.4 point per game in 2005.
"The offense fit me and I had great teammates," Jaques said. "We never had a losing season during that time (15-10, 18-8, 15-11 and 18-7 marks). We had great travel experiences."
Starting at point guard for three seasons, Jaques averaged about 12 points per game, scored a college career high 40 points against Whittier College in 1991, still #10 on the all-time Redlands list, and had 379 assists from 1990-92 for No. 5 all-time.
Jaques was flattered by what he called a "great compliment" paid publicly by Smith regarding the players he considered the two best point guards to play for him.
"It's between you and Rod Jensen," Smith said, referring to Jaques and Jensen, 66, the 1975 Redlands grad and 1996-2002 Boise State hoops coach.
Brad's background in Idaho and the fact that his father Jerry Jaques was Richel's assistant hoops coach at Wood River were key factors in the confidence level freshman Jaques needed when he and Wood River classmates Danny Armstrong and Dave Noonan matriculated at Redlands.
Jaques said, "I had no expectations when first competing for Redlands. From the start, I felt a step ahead of the other guys as far as understanding the game. We'd go to summer camps with coach (Fred) Trenkle and find out how to play defense. I learned so much from those camps."
A natural athlete who played football, soccer, basketball and four letter years in boys' doubles tennis for Wood River, Jaques picked up golf using a rusty set of clubs when he began college in southern California.
Richel has played golf with Jaques many times, usually shooting a higher score than his former basketball player.
"Brad had played golf just two or three years in college, and quickly became 3- or 4-handicapper. He hits it right down the middle, sneaky long for a little guy," Richel said.
Recently, Jaques was selected as one of three athletes in the inaugural class of the Jeff Cordes Wood River High Athletic Hall of Fame, along with track and field standout Lisa Bernhagen Ramos, and Olympic alpine skiing gold medalist Picabo Street.
All three were transitional and influential figures in sport at Wood River during the 1980s.
They are joined by coaches Bob Shay and Fred Trenkle, and by 1977-78 Wood River state championship volleyball teams. A ceremony for the inductees is planned during the Aug. 28 Hailey football home debut.
Jaques said, "What you learn as an athlete is you're only as good as the last player on your team's bench. On our teams, we relied on each other.
"I've learned from all the ups-and-downs of athletics to keep an even keel in business and life. You get knocked down. And you get back up."
A senior year to remember
As a junior, Jaques was the starting quarterback, defensive safety, punter and placekicker, and second-leading scorer for a hard-luck, 0-8 Wood River football team.
In basketball as a junior, he scored 424 points (19.3 ppg) as Richel's Wolverines posted a second straight 8-14 campaign.
Having played club soccer since fifth grade, Jaques chose boys' soccer over football as a senior—although he still did the placekicking for football.
Soccer coach Erik Larson was happy he did.
Wood River's record improved from 8-5-2 in 1986 to 14-6-1 in 1987. The Wolverines placed second in the State Division 2 soccer tournament at Boise. Jaques scored seven goals in three state games including four goals in the 5-2 semi-final win over Caldwell.
Jaques scored 36 of Wood River's 93 goals in those 21 games, a school single-season scoring record that stood for 13 years and remains No. 2 all-time on the Wood River list. He was Most Valuable Player.
Basketball turned into a remarkable three months for Wood River, with its 10 seniors and two juniors. "Everybody got along so well. We started with a purpose of making it to state. We did everything together," said Jaques.
Richel has clear memories of that season, among them the time Wood River led Burley by 10 points in the second quarter, but gave it up and led by only two at half.
"Brad came up to coach (Jerry) Jaques and I as we walked off the court, said coach, let me have a minute with the team before you go in. We agreed," said Richel.
"Jerry and I walked up outside the locker room, listened in, and heard Brad just on fire, singling people out and letting them have it. He demanded a lot of everybody. He asked to do that at least one other time, but I said no, I was the one who should do the yelling."
Wood River's seniors were Jaques, Rick Bradshaw, Mike Healy, Brandon Crego, Mike Wheeler, Cortney Gillett, Danny Armstrong, Paul Wohlfiel, Matt Kern and Shawn Bunch. The juniors were Chris Laggis and Andy Portillo.
But Jerome had nine seniors of its own and was coming off its 24-1 season of 1987. It was the Jerome's first state basketball championship and remains the only state hoops title captured by the Tigers.
"We knew we had to get over the hump against Jerome. We started to believe it when we beat them during the summer CSI basketball tournament—the first time we had beaten them with Brad's group," said Richel.
The Wolverines jumped out with a nine-game win streak including an eight-point victory over small school state champion Shoshone and its shooting star Jim Messick.
Jaques set a regional record making 39 consecutive free throws. His coast-to-coast drive in the closing moments capped a thrilling 55-54 win at Kimberly. Jaques shot 96% from the line in the first 10 games. Wood River was 9-1 en route to a 15-5 regular season.
The Wolverines came down to earth with a 65-44 home loss to Jerome, but Wood River regrouped and won 67-63 at Jerome in the rematch. Jerome had won 18 straight home games over three seasons. The die was cast.
No one thought the final match-up would be anything else but Wood River against Jerome when the district tournament was played at the College of Southern Idaho gym in Twin Falls. At stake was one state tournament berth.
And Jerome deeply wanted to defend its State 3A crown.
Jaques (26 points) led Wood River 69-52 over Buhl in a preliminary game. Combative in every respect, the semi-final with Jerome was perhaps Jaques' best prep game—a school-record 42 points, helped greatly by 17 points and 21 rebounds from Crego.
Wood River prevailed 72-59 and needed just one more win over Jerome for its first district championship and state tournament trip in seven years. What a defensive struggle the final game three days later turned out to be, about 2,500 fans watching Wood River hold off Jerome 48-45.
It wasn't one of Jaques' best games offensively, with a team-high 15 points. But Wood River led 22-16 at half, out-shot Jerome 14-6 at the line and played ferocious defense. Jaques ended up averaging 27.7 ppg over the three games.
Jaques recalled, "It's all about the team part of it."
Richel said, "Those two tournament games with Jerome were a high point of my coaching career. Neither team nor coach liked each other. There were two completely different styles of play in the semi-final and final. And we came out on top in both."
During the state tournament at Pocatello's Holt Arena, Wood River opened with a 75-55 win over Orofino as Jaques scored 31 points. In the semi-final, Shelley outscored Wood River 77-62 on its way to second place behind Marsh Valley of Arimo.
In the finale, Wood River couldn't get anything going in a 68-44 loss to Bishop Kelly. Jaques' fondest memory of his final high school game was a game-ending basket by junior Chris Laggis that represented Laggis' first points of the year.
Jaques had fouled out with about six minutes remaining, after scoring 12 of his 15 points after half. He was the first off the bench to congratulate Laggis. "I remember Chris got the steal and made the shot. It is a great memory," said Jaques.
When contacted during the memorable 2020 basketball season of Wood River senior Johnny Radford, Jaques said, "As the saying says, records are made to be broken.
"After following Johnny over the past few years in his high school career, I figured that my record would go down with him, and I am very happy for him to have done it. I am certain he will be successful at the College of Idaho."
A family business
Brad's father and mother, former Blaine County teachers Jerry and Merle, have retired to Coeur d'Alene. Jerry, 69, had been athletic and activities director at Moscow High and Merle had worked at Troy Elementary.
His older sister Michelle Jaques Horning ran cross country at Wood River High and for two Idaho colleges. She is married and lives near Wallace in northern Idaho. Her 20-year-old daughter attends the University of Idaho.
The family is planning a July 4 get-together at a ranch near Thompson Falls in western Montana, just over Lookout Pass from Wallace.
With his successful athletic background and lineage in education, Brad Jaques went to the University of Redlands thinking he wanted to be a teacher and an athletic coach.
But college, if nothing else, opens your eyes to the world.
"I wanted to control my own destiny," said Jaques.
Jaques met classmate Michelle Smith as a Redlands freshman and his life took a new direction. They married in 1991, before their senior years. Brad graduated in 1992 with a major in Political Science and a Business minor.
Right out of college, Jaques went to work in his wife's family business, a printing company started by her grandfather in 1961. That third-generation business became The JRS company, Inc., manufacturer of sign frames and nameplate holders.
Jaques has been president of JRS Company for 18 years. Over the last several years, he has overseen the moving of its headquarters from Covina, Ca. near Redlands, to Hutto, Texas in the Austin area. The 65-employee company still maintains two small warehouses in California and in Minnesota.
He is excited about a new venture of the company, into the electrochemical process called anodizing that converts metal surfaces into durable, corrosion-resistant finishes. Aluminum is particularly suited to anodizing processes.
Jaques, proud father of two high-achieving swimmers, enjoys learning about new things, whether it's anodizing or the sport of swimming.
His daughters "didn't go the basketball route," he said. "But I did get to learn quite a bit more than I ever thought I would about swimming."
Both Gretchen, 27, and Ellie, 24, were outstanding high school swimmers at Glendora High in the San Gabriel Valley between Redlands and Los Angeles.
Gretchen was a two-time high school All-American and four-time San Gabriel Valley "Female Swimmer of the Year.
A standout in relays, Individual Medley and breast stroke, she led the Glendora Tartans to the CIF Southern Section Division 2 championship in 2011 and earned many college scholarship offers.
She chose the University of Texas and became an eight-time Big 12 champion. Gretchen captured three golds (50-yard freestyle, 100- and 200-yard breast) and "Women's Swimmer of the Meet" honors as a senior when the 2015 Big 12 Swim Championships were staged at home in Austin.
Gretchen married another University of Texas swimmer, 26-year-old Aaron Gustafson from Franklin, Mass. The couple welcomed their first child, Bradley, four months ago. Both Gretchen and Aaron work for The JRS Company.
Younger daughter Ellie also excelled in swimming for Glendora High and chose the University of Redlands for college. There, she was a four-time Southern California Intercollegiate Athletic Conference (SCIAC) champ in 200 and 400 Individual Medley.
Last summer Ellie married another Redlands collegiate swimmer, Jeff Depew, 27, a state swimming champion from Naperville, Ill.
At Redlands Depew became a three-time NCAA Division 3 gold medalist in the 200-yard Individual Medley. And, as a senior in 2015, he was the SCIAC Male Athlete of the Year and the Mr. Redlands winner.
Ellie also works for The JRS Company, where her mother Michelle leads the accounting department. Depew is an Admissions Counselor at Southwestern University in nearby Georgetown, Texas.