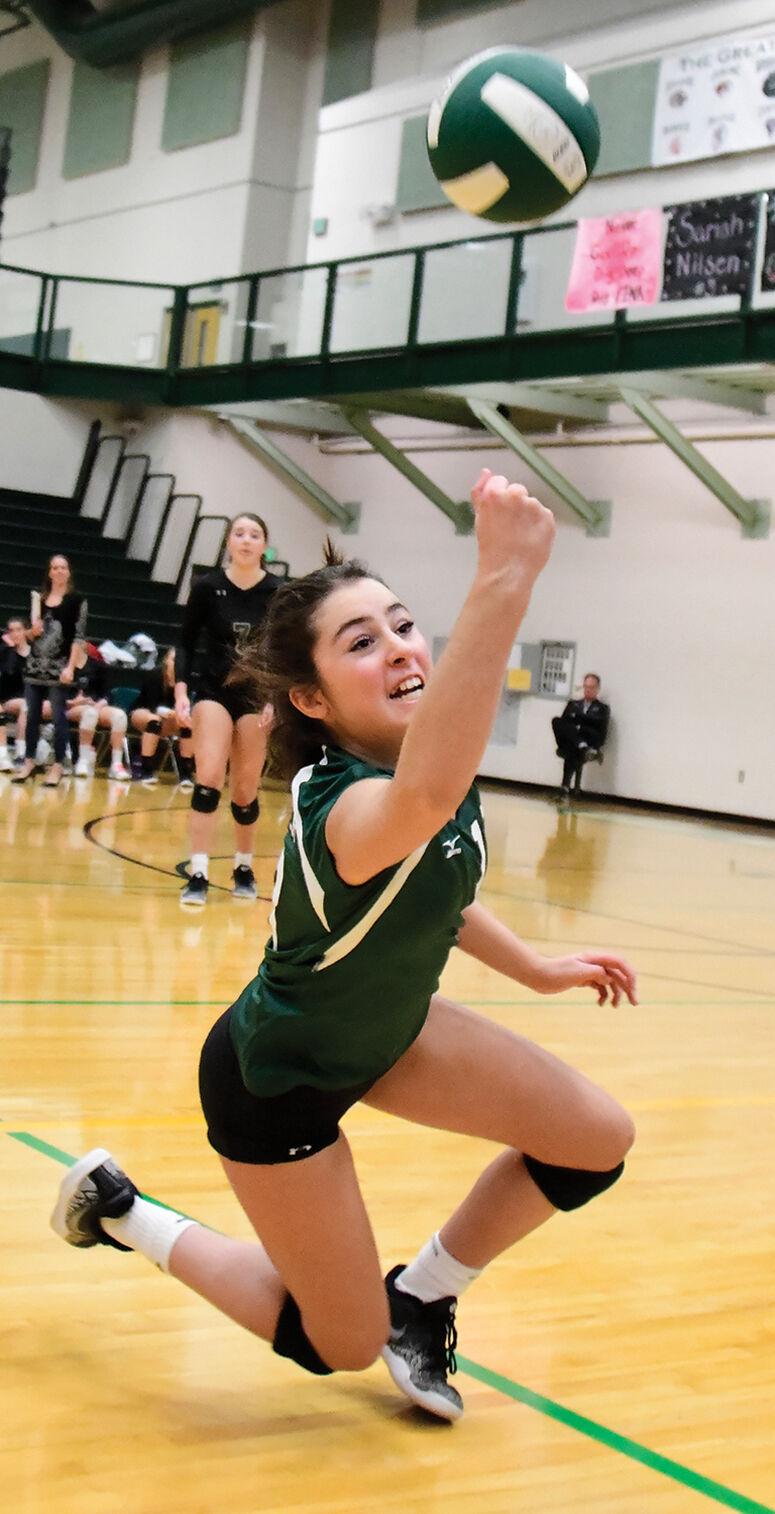 Rich in prep volleyball tradition, the Wood River High School volleyball program used a late-season surge to make it back to the State 4A volleyball tournament for the first time in seven years, back in 2019.
The Wolverines, led by first-team All-League pick and College of Idaho volleyball signee Emily Vandenberg, finished second in the Great Basin Conference and won 23 of their 38 matches guided by first-year head coach Kristyn Rutland.
GBC "Coach of the Year" Rutland, a Wood River hitting star in high school and Hall of Fame volleyball player at the College of Idaho from 1999-2002, has maintained the enthusiasm in Hailey and greeted 38 players to this year's varsity, junior varsity and freshman teams.
Wood River had its Thursday matches at Jerome canceled, and is due to host Mountain Home for its home opener Thursday, Sept. 3 on the Hailey floor.
Rutland said, "We are coming out in 2020 with another strong group of athletes.
"Our varsity team is a bit young all around, but make up for it with experience. We work hard to push one another in practice each day and to be disciplined in all we do. We will compete hard and work to end our season as high as we can.
"We are solid around the court defensively, with a slew of talented and hardworking defensive specialists (Charlie Loomis, Jette Ward and Sophie Vandenberg) and some big blockers in the middle (Willa Laski and Natalee Morse).
"We are being led by our talented sophomore setter Samantha Chambers, who you may see playing on the outside a bit this season as she is a very explosive attacker.
"We have a couple of players that will be filling multiple roles this season, depending on who we are playing and how things are coming along within our own rotations and who fits those roles best as the season progresses.
"Bella Hadam will see time as a sophomore Outside Hitter. She is young and really competitive and is sure to be an offensive force for us in the near future.
"Leading the way with her consistency and work ethic, senior Nysa Wood will play several roles this year as co-captain (along with Samantha Chambers and Natalee Morse) and also as outside hitter. She adds perseverance to our team and will continue to grow into a great offensive threat.
"Willa Laski will start charging out of the middle and asserting herself again as one of the top in the conference.  She may transition to play some OH as well. Caroline Seaward will add tenacity and spark to our team from any position we need her in. She is a well-rounded, fired-up player who will compete hard."
Rutland's players have been working hard for months in preparation for the season.
She said, "We are lucky to have our whole coaching staff return. They each have unique qualities that add volumes to our program and I am thankful to have all of them aboard.
"The program as a whole is looking really great with another promising class of freshmen that will learn what our program is about and grow into competition well.
"We are excited for the season and the opportunities out in front of us and are looking forward to going out on the court and getting after it!"
Here are this year's rosters. Listed positions for Wood River are Middle Blocker (MB), Setter (S), Opposite (Opp), Outside Hitter (OH) and Defensive Specialist (DS):
WOOD RIVER HIGH
Varsity
Head coach—Kristyn Rutland (2nd year, 23-15 record, 2nd place 2019 Great Basin Conference tournament, Wood River's first state trip since 2012).
Assistant coach—Kristy Vandenberg.
Seniors (7)—Paige Madsen (5-11 MB/Opp); Natalee Morse (6-0 MB); Katelyn Spence (5-10 S/Opp); Star Herron (5-9 OH/Opp); Madison Lovel (6-1 Opp); Sophia Morse (5-8 Opp); Nysa Wood (5-8 Opp/OH/MB).
Juniors (3)—Willa Laski (5-10 MB/OH); Caroline Seaward (5-7 S/DS); Charlie Loomis 5-9 DS/Libero).
Sophomores (4)—Samantha Chambers (5-7 S/OH); Sophie Vandenberg (5-6 DS/Libero); Bella Hadam (5-7 OH); Jette Ward (5-6 DS/Libero).
Junior varsity
Head coach—Justin Rujawitz (2nd year).
Juniors (2)—Isabel Estrada, Kimberly Hidalgo.
Sophomores (5)—Isabella Hattrup, Alison Hidalgo, Grendel Sprong, Sidney Wilson, Tenney Barrow.
Freshmen (4)—Kadence Jacobsen, Maeve Coffelt, Lainee Ludington, Lilianna Castillo.
Freshmen
Head coach—Daniel Spence (2nd year).
Players (13)—Avery Burrell, Jesse Swink, Addison Mary, Jhoane Quinones, Gretchen Greene, Penelope Hunt, Kiara Quispe, Charlotte Stone, Charlotte Christensen, Mia Castro, Nola Wilhelm, Gentry Cabitto, Maddie King.