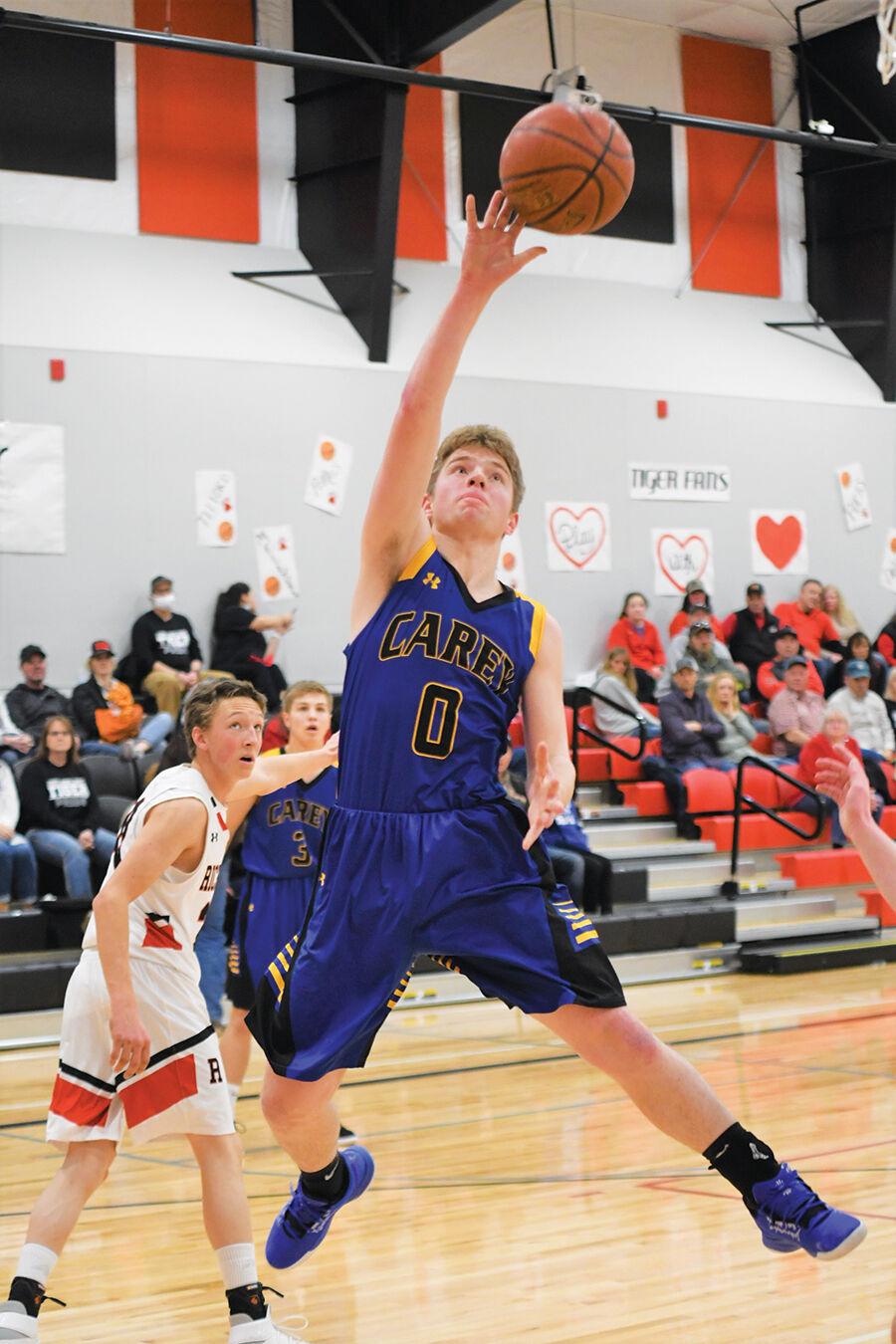 The Carey High School boys' basketball team has been as clutch as they can be, staving off elimination three times in the 1AD2 Sawtooth Tournament.
During their journey to qualify for the Idaho High School Activities Association 1AD2 Boys' Real Dairy Shootout, the Panthers had to endure much of the postseason on the road, culminating with a victory over Richfield for a tournament berth.
During the conference tournament, the fifth-seeded Panthers won on the road in the first round, beating No. 4 Castleford, 48-40.
The Panthers then lost to No. 1 Dietrich, 71-57. The Blue Devils went on to win the tournament.
Then, Carey's odyssey took a turn.
In the first loser-out game, Carey had its last home game of the season, hosting the No. 6 Hansen Huskies (11-10).
Carey got double-digit scoring from five players in the 71-61 home victory.
Carey seniors Dallin Parke, Hunter Smith and Ashton Sparrow led the Panthers.
Parke (two rebounds, five steals, six assists) finished with 16 points including 10 in the third period. Smith (four boards, three steals, two assists) had 18 points with nine coming in each half.
In Carey's next game, the Panthers went back on the road to play No. 3 Camas County (13-8), who had just defeated No. 8 Sun Valley Community School to advance.
Behind Parke's 21 points, the Panthers defeated the Mushers, 61-47, in Fairfield.
While much of the game was tight between the Panthers and Mushers, Carey pulled away and outscored Camas County, 17-7, in the final quarter.
The victory over Camas County then set a matchup against No. 2 Richfield.
A big first quarter helped put Carey in the driver's seat as the Panthers stunned Richfield in front of the Tigers' home crowd to move onto state, 72-59.
Both Parke (20 points, six assists, three rebounds) and Smith (21 points, five rebounds, two assists, six 3-pointers) had great nights.
"They have played great together as a team and stayed focused on what they wanted," Carey head coach Dick Simpson said. "It was not an easy way having to play everyone on their home floors outside of Hansen. They have really worked hard, and I am proud of them."
The victory over Richfield was Simpson's 390th career win in 20 seasons, putting his total at 390-136.
This also will be the 16th trip to state in a row for Carey.
Before heading into state, the Panthers (13-7) finished the 2020-21 season by going 7-1 in their last eight games.
During that stretch, Carey's defense stepped up immensely and held opponents' scoring at bay.
The Panthers allowed 44.1 points per game in those eight games, while their regular season average was allowing opponents to score 58 ppg.
By contrast, Carey's offense has been up and down. The Panthers are averaging 56.4 ppg during the last eight games, which is down from their regular season average (60.2 ppg).
With those three wins, the Panthers will face the Garden Valley Wolverines in the first round of the IHSAA state tournament.
The Wolverines went 21-1 overall and finished first in the 1A Long Pin Conference when they went 10-0.
Garden Valley won 16 straight games, including the Long Pin Championship game, 92-49, over last year's state runner-up Cascade.
Leading Garden Valley are senior Covy Kelly and junior Josh Gillespie. Kelly is averaging 22.1 ppg, 5.1 rebounds, 3.2 assists and 2.7 steals, and Gillespie is averaging 22.7 ppg, 9.3 rebounds, 3.6 steals and 3.4 assists.
The Wolverines as a team average 60.5 ppg so Carey's defensive players have their work cut out for them.
Carey takes on Garden Valley at noon on Wednesday, March 3, at Caldwell High School.
The game will be livestreamed on the NFHS Network.