The Carey Panthers football team worked on two things over the week to prepare for Wilder: sustaining blocks on offense and an all-out pursuit of the opposing ball carrier on defense.
They accomplished both of those objectives and a little more as the Panthers recorded their second big shutout of the year in a 54-0 dominating performance of the Wilder Wildcats on the road.
"Our defense was relentless and very aggressive," Carey head coach Lane Kirkland said. "We got a lot of penetration and made a ton of tackles for loss. We caused a lot of turnovers and capitalized. There's nothing better than a shutout."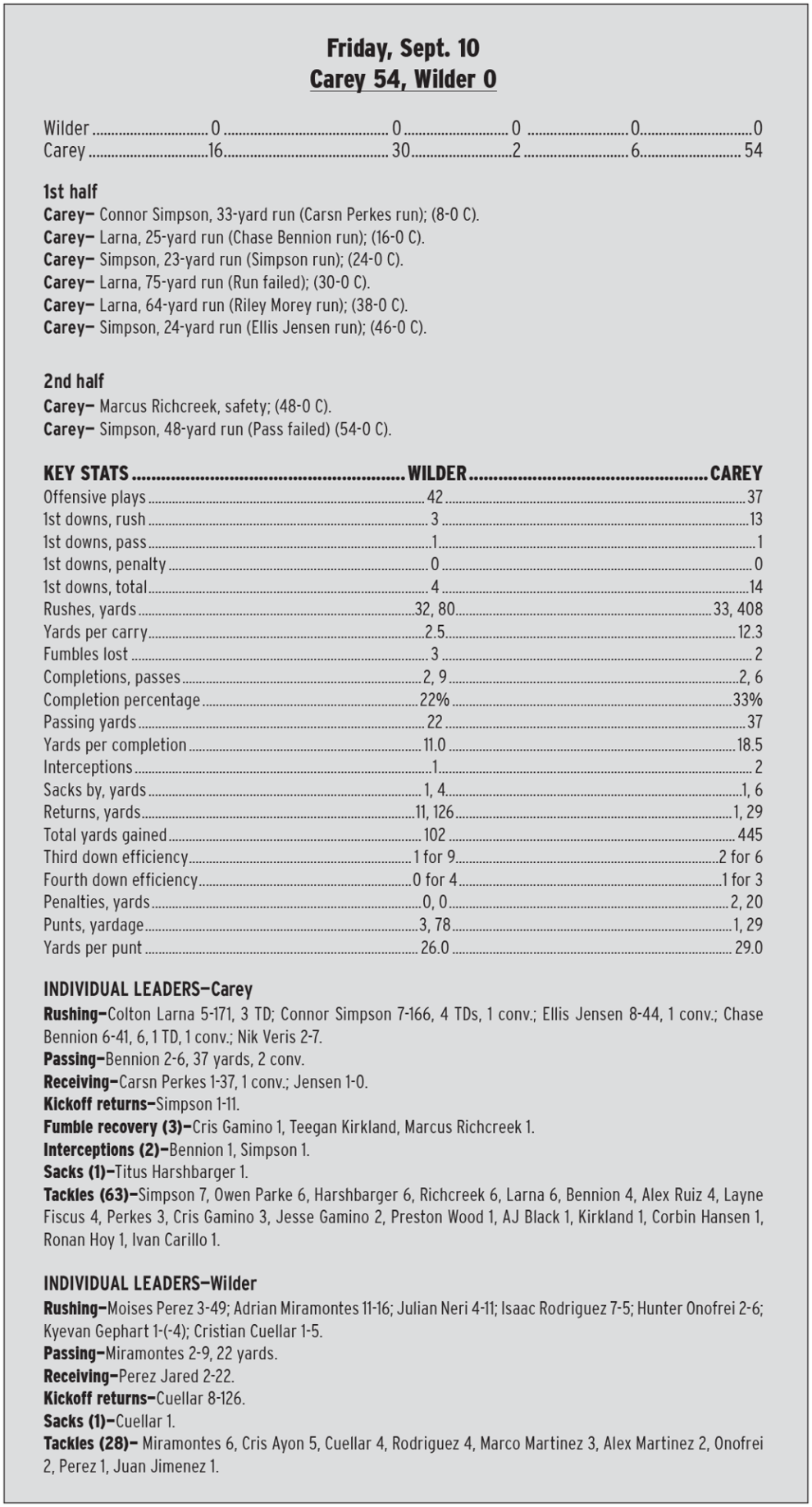 Carey jumped out to an early 16-0 lead by the end of the first quarter on touchdown scores from Connor Simpson (166 yards rushing, 4 TDs) and Colton Larna (171 yards rushing, 3 TDs). At halftime, the game was all but over as Carey held a 46-0 advantage, causing the game to go into the mercy rule: a constantly running clock throughout the second half.
By the end of the game, both running backs totaled nearly all of Carey's points with senior linebacker Marcus Richcreek providing the rest of the scoring as the only non-touchdown of the day when he recorded his second safety of the season in the third quarter.
Carey totaled 408 yards on the ground on 33 carries (12.3 yards per carry) but only totaled 445 yards as a team, as the Panthers didn't need to pass very much.
"Our run blocking was outstanding with our front five," Kirkland said. "Connor and Colton hit the holes fast and broke some long touchdowns. They were impressive and deadly."
Quarterback Chase Bennion went 2-for-6 for 37 yards through the air.
On defense, Carey (3-0) also put on a show. The stiff Panther wall allowed only 80 yards on the ground from Wilder (1-2) on 32 carries for 2.5 yards per carry.
Kirkland wanted his team to treat this matchup much like a playoff game to accelerate the mental toughness.
"We still have a lot of work to do fundamentally, but if our minds are strong, then the rest of the game will fall into place with time and repetitions," he said.
The Panthers passed all the tests that Kirkland and his staff presented them.
Carey is hosting Challis for their next game at Derrick Parke Memorial Field on Friday, Sept. 17.
Notes—Carey's junior varsity team won 44-0 in two quarters of play prior to the varsity game.