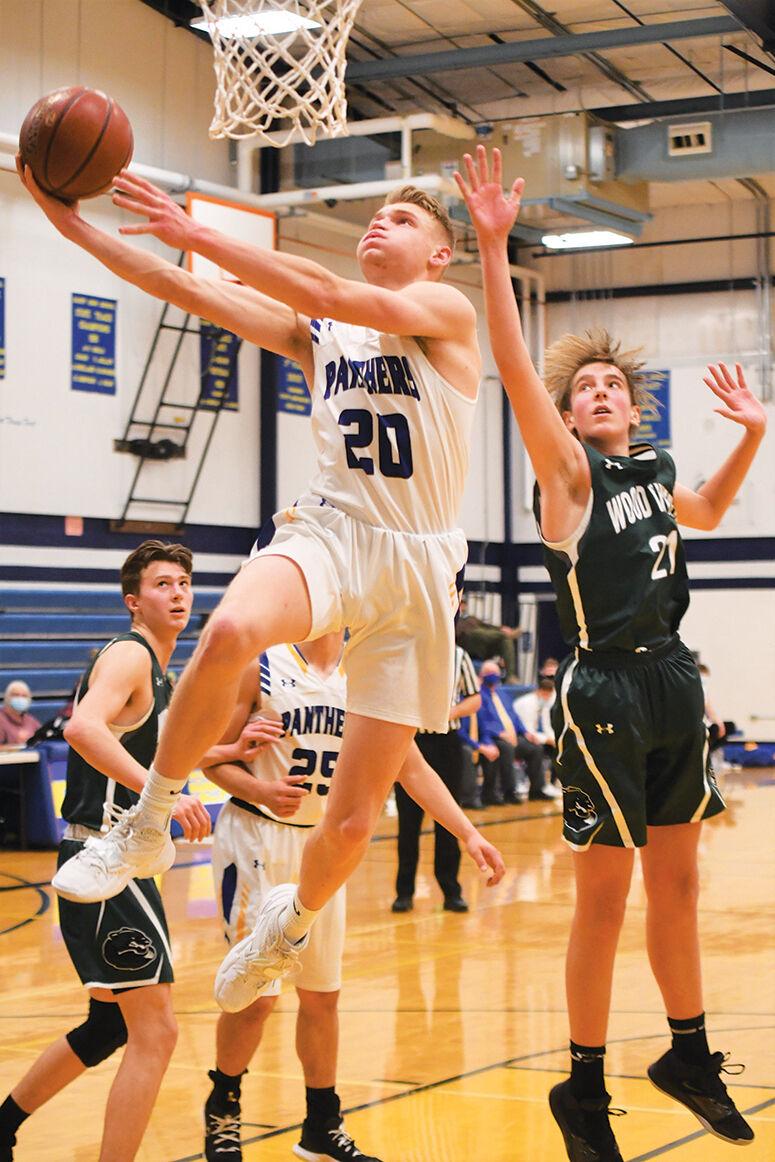 In a jamboree-style meetup between the Carey High School and Wood River High School's boys' and girls' basketball teams, Carey pulled away as the definitive victor in both varsity games.
The two schools met up on Tuesday, Dec. 29, at the Carey High gymnasium. The girls started the evening off first before the boys' junior varsity match, which then led to the marquee varsity boys' game.
With COVID-19 levels momentarily breaking below red, or "critical" levels, the two schools put together a quick meetup over the Holiday break.
During the entire three-game showcase, no fans were in attendance, and facemasks were worn by every individual in the gymnasium apart from the competing players and referees on the court.
In the boys' game, the back-and-forth contest was a great way to introduce basketball back to Blaine County as both the Idaho High School Activities Association 1A Division 2 Panthers and visiting 4A Wolverines scrapped, pawed and fought hard for the victory.
However, the Panthers held on in the end and used the last three minutes of regulation to run down the clock while up by only a small margin.
The Panthers won, 54-48, in a tough match.
Senior Hunter Smith led the Panthers with a game-high 15 points—12 in the second half—and three assists.
Fellow senior Dallin Parke had 12 points, three assists, three rebounds and three steals.
"Those two have played a lot of varsity ball so they are the leaders and everyone looks up to them," Carey head coach Dick Simpson said. "I was really pleased in the first quarter when Hunter hadn't scored yet because now I know that we don't have to rely on his scoring so much."
Senior Ashton Sparrow contributed with nine points and five rebounds while Jesus Villanueva had eight points and four rebounds.
Senior Wyatt Mecham led the Panthers with seven rebounds to go along with his five points.
"I was impressed with our big guys getting up and down the floor," Simpson said. "Ashton and Wyatt really led the fast break game; however, I was disappointed in our free throw shooting."
The Panthers (1-0) shot only 33.3 percent (7-for-21) from the charity stripe. The Wolverines shot 57 percent (4-for-7).
The Panthers held onto a 28-26 halftime lead with the game waxing in either team's direction—especially in the fourth quarter, where there were four lead changes.
With seven minutes to go in regulation, Wood River (0-1) held on to a four-point lead, but the Wolverines weren't able to pull away.
Coach Simpson put in Conner Simpson, who stands at just 5'3", but created a mismatch of size and energy.
The sophomore guard proved to be a sparkplug off the bench, throwing off Wood River's momentum despite having just played in the junior varsity game.
He only scored three points, but Conner Simpson's lone three-pointer swung the game back into Carey's favor with three minutes left in the game, and the Panthers never looked back.
"He's a good player," Wood River head coach Eli Stein said. "He's fast, quick and he's a good competitor. He was able to hit a timely three." Sophomores Mosi Slotten and Korbin Heitzman led Wood River in scoring. Both forwards finished with 14 points.
Slotten also grabbed 12 rebounds and went 4-for-5 from the free-throw line.
Heitzman scored 11 points in the second half, emerging as a clutch scorer when the Wolverines needed it.
"They're only sophomores, so it was nice to see Mosi come off the bench and put up 14 points and 12 rebounds," Stein said. "Korbin shot the ball well; he's one of the best shooters on the team."
The Wolverines shot well from beyond the arc, hitting 47 percent (8-for-17) from the three-point line.
Both teams played quite evenly as each squad tallied up 12 team assists. The Panthers led the rebounding category, however, 26-22.
"They were the more disciplined team," Stein said. "They ran their stuff and they got the ball to Hunter, who was phenomenal. I thought we had a lot of fight. We have a lot of potential. I'm excited to see us keep growing and the potential is endless."
Both teams also had the same number of mistakes, with eight turnovers each.
Rounding out Wood River was freshman Cooper Fife who had six points, and senior Tyler Peterson, who had five points, two assists and two rebounds.
Junior Mike Fehr had five points and two rebounds.
"I was impressed with Wood River's kids," Simpson said. "I told Eli that he has good kids who can really shoot. [Wood River] is not one dimensional. Eli can put four kids that are dominant. I think the one thing that helped us is that we have more maturity."
The Panthers and Wolverines are scheduled for another matchup for tonight, Wednesday, Jan. 6. Tip-off is scheduled for 7:30 p.m. at Wood River High School.
Because of COVID-19 restrictions, the game will not be open to the public.
For live updates of the game, fans and family can follow @jonathanmentzer on Twitter.
Also, the game will be live streamed via the Carey School and Wood River High School Facebook pages.