Carey School's boys' basketball team completed a turnaround of eight victories compared to last year during the 2020 State 1A Division 2 tournament in Caldwell March 6-8.
Sawtooth Conference tournament champion Carey (19-8, compared to 11-12 last winter) collected one victory in a very strong state field of teams and narrowly missed a trophy with a 62-54 loss to Mackay (21-5) in Saturday's consolation game.
Carey opened the eight-team Idaho High School Activities Association tournament on Thursday with a 62-47 loss to eventual state runner-up Cascade (20-5), and then beat Timberline-Weippe (15-5) 58-42 on Friday.
Leading Carey at state were senior Brigham Parke (55 points, 15.8 ppg season), junior Hunter Smith (42 points, 17.9 ppg season) and junior Dallin Parke (38 points, 12.6 ppg).
The powerful inside-the-arc attack of the Lakeside Knights from Plummer (24-0) carried the northern Idaho school to its first state title 74-57 over Cascade Saturday. Lakeside averaged 79.0 ppg for the season and 81.7 ppg at state.
Dietrich's Blue Devils (20-8, 64.4 ppg), the Sawtooth Conference tournament runner-up, opened with a 78-71 overtime win over Mackay, dropped the semi-final 76-59 to Lakeside and earned third place 78-65 over North Gem (17-7).
---
Panther shooters hot, cold
Much of Carey's success on offense this season came from 3-point shooting, since the Panthers never established a consistent inside attack.
In each of its state losses, Carey led at halftime, 26-18 over Cascade and 34-30 over Mackay. But the Panther shooting touch went cold after halftime in each game, 1-for-17 from 3-point range against Cascade and 20% from the field in the loss to Mackay.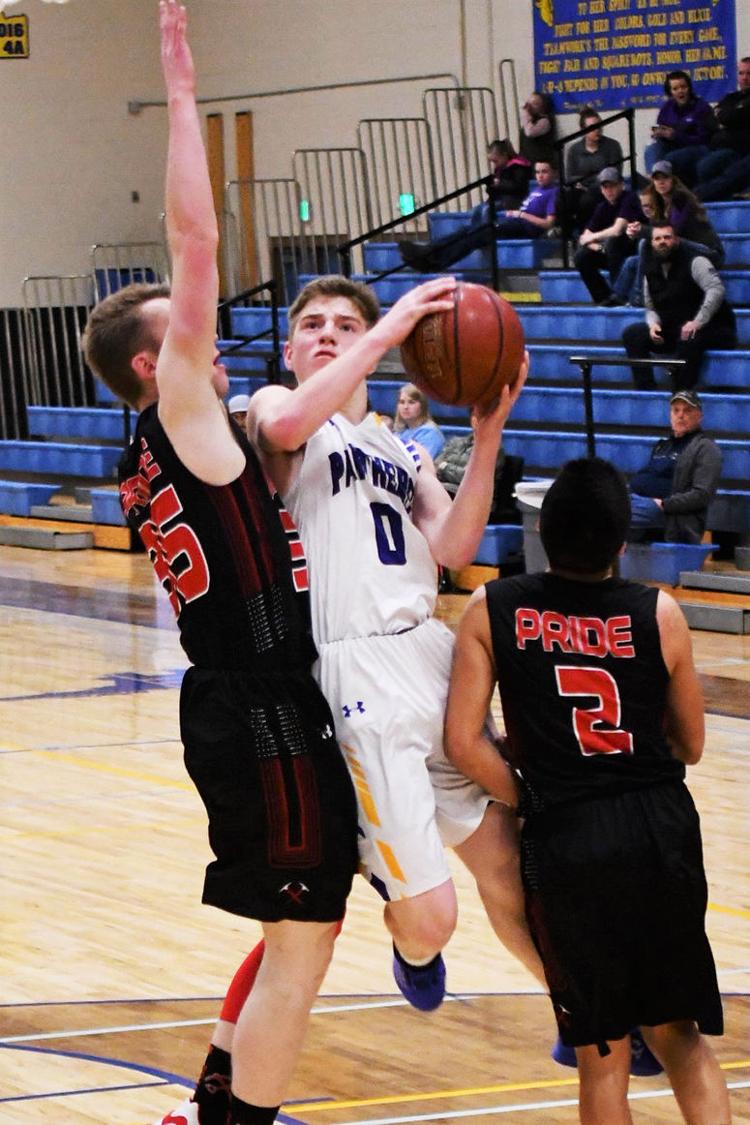 Mackay's 16-7 third-quarter run led by Chase Green (24 points, 22.0 ppg at state) set the tone for the Miners.
Carey rallied from an eight-point fourth-quarter deficit to pull within 56-54 on Brigham Parke's 3-pointer, but Mackay outscored Carey 6-0 in the final three minutes with 6-for-6 free throw shooting.
Brigham Parke closed out a nearly 1,000-point Carey career with 22 points, 4 rebounds and 4 assists. Hunter Smith added 19 points with five 3-pointers, Dallin Parke had 7 points and 4 assists, and Carson Simpson 6 rebounds.
Mackay, earning revenge from its 84-80 triple-overtime loss at Carey Dec. 7, shot 54% from the field overall and got 10 points from Kyle Peterson (51 points state) plus 8 points and 13 rebounds from Kolton Holt (51 points, 31 rebounds).
Thursday, Cascade's Michael Onaindia (28 points, 15 rebounds) led the Ramblers, who shot 61% after half compared to Carey's 23%. Carey contributors were Smith (17 points, 7 boards), Dallin Parke (16 points, 6 assists), Simpson (5 points) and Brigham Parke (7 points, 6 rebounds, 4 steals).
Friday's winning formula for Carey was more of an inside game. Carey shot a season-best 19-for-23 from the free throw line and rallied from a 23-17 halftime hole to beat Timberline by 15—outscoring the Spartans 40-19 after half.
The Panthers, averaging nearly six 3-pointers per game, made only three triples against Timberline but shot 44% overall led by Brigham Parke (26 points, 7 rebounds, 3-for-3 from 3-point territory).
Other pitching in for Carey were Dallin Parke (15 points, 4 rebounds, 8 assists), Tate Squires (9 points, 6 rebounds) and Smith (6 points, 5 rebounds, 2 assists, 3 steals).
But overall, Lakeside went six-to-seven players deep and proved unbeatable with an overall shooting percentage of 54% and only eight successful 3-pointers in three games. They were 44-10 better in points off the bench and 56-31 ahead in points off turnovers.
Leading the Lakeside way were Kenyon Spotted Horse (63 points, 22 rebounds, 68% from 2-point range), Talon Twoteeth (49 points, 13 rebounds) and Day Day Higgins (48 points, 31 boards).
Coach Wayne Dill's Dietrich Blue Devils averaged 71.7 ppg in their third-place drive because of their average of 43 rebounds a game and 41% field goal shooting led by soph Jett Shaw (66 points, 15 rebounds, 26-for-30 free throws) and Rhys Dill (40 boards).
Brady Power (65 points, 17 boards, 16-for-22 from the line) helped the Dietrich offense.
Carey coach Dick Simpson, voted Sawtooth Conference "Coach of the Year," was pleased the Panthers improved their scoring average from 50.5 ppg to 58.7 ppg, boosted their free throw shooting from 60% to 67% and hiked their three-pointers from 102 to 154.
His grandson Carson Simpson was named Sawtooth "Defensive Player of the Year," while Brigham Parke and Hunter Smith made the All-Sawtooth first team.
In other state tournament results, first-year coach Brady Trenkle and his Minico Spartans (19-8) captured the State 4A consolation trophy 55-51 over last year's state champion Idaho Falls (20-7).
Trenkle, son of former Wood River High and College of Southern Idaho men's basketball coach Fred Trenkle, guided Minico to second place in the Great Basin Conference.
GBC champion Preston (26-1, 76-4 three seasons) took its fourth State 4A title in five years and 10th overall 59-43 over Moscow (17-10); and Borah of Boise (22-5) earned its second straight State 5A title and 13th overall 65-56 over Post Falls (22-4);
Sugar-Salem of Sugar City (20-5) repeated as the State 3A winner, 72-54 over Kimberly (23-2) for its third championship in four years and seventh overall; North Fremont of Ashton (22-2) captured its second straight State 2A title 42-37 over West Side (23-5);
Ambrose of Meridian (24-2) collected its second State 1A Division 1 championship, its first since 2016, with a 49-27 decision over Grace (16-11).
Overall record: Carey 18-9 (6-2 home, 12-7 away, 7-2 league, No. 3 seed), 1st place Sawtooth Conference tournament for the first time since 2015, 15th straight state trip, 25-21 record in those 15 visits. Offense: 1,585 points (58.7 ppg). Defense: 1,406 points (52.1 ppg).
Individual scoring: Hunter Smith 482 points (17.9 ppg); Brigham Parke 427 points (15.8); Dallin Parke 340 points (12.6); Tate Squires 113 (4.2); Carson Simpson 91 (3.4); Wyatt Mecham 41; Eli
Cutler 29; Sawyer Mecham 21; Ashton Sparrow 18; Jesus Villanueva 14; Connor Simpson 5; Ethan Hennefer 4.
Career scoring: Brigham Parke 988 points in 84 games (11.8 ppg).
3-pointers (154): Hunter Smith 81, Dallin Parke 25, Brigham Parke 24, Carson Simpson 16, Jesus Villanueva 4, Sawyer Mecham 3, Connor Simpson 1.
Free throws: Carey 197-297, 67%; opposition 214-382, 56%.