In a rematch from the last Tuesday of 2020, the Carey High School girls' basketball team came to Hailey to take on the Wood River High School Lady Wolverines on Jan. 6.
In their previous meeting, the Panthers beat the visiting Wolverines in Carey, 53-27, with Kylie Wood pouring in 32 points. Eight days later, the rubber match featured a much tougher defensive effort from the Lady Wolverines. This time, turnovers doomed Wood River—and propelled another Carey victory.
Wood still managed 26 points against Wood River's defense, with the senior guard leading the Panthers to a 50-38 victory.
Wood's final stat line of the night was five steals, three assists and two rebounds while going 4-for-5 at the free throw line.
Despite Wood's scoring, the Wolverine defense clamped down on her and made it tougher for her to stay consistent.
"We went to work in practice and ran and got into better shape," Wood River head coach Kelsey Barg said after the game. "We had to get the drive and desire. Carey plays hard like it's the championship game and that's what we want."
The much feistier Wood River defense fought for every loose ball that came their way on Wednesday. There were 11 jump balls in the game with eight of those calls being caused by a WRHS player fighting for possession.
Wood River senior Sayler Peavey led the Lady Wolverines with 14 points—10 in the first half. She also had three assists and went 2-for-4 from the free throw line.
However, turnovers continued to be the bane in Wood River's play. The Lady Wolverines had 30 turnovers—20 in the first half alone.
Carey (2-0) only committed 12 turnovers. On defense, Carey had 15 team steals.
Senior guard/forward Paige Madsen had 13 points and 10 rebounds for the Wolverines. Senior forward Lily Hogan had seven points and eight rebounds. Hogan was also a perfect 3-for-3 from the field.
Junior Olivia Adams was huge on the boards with 11 rebounds and on defense with four blocked shots.
As a team, Wood River had seven blocked shots.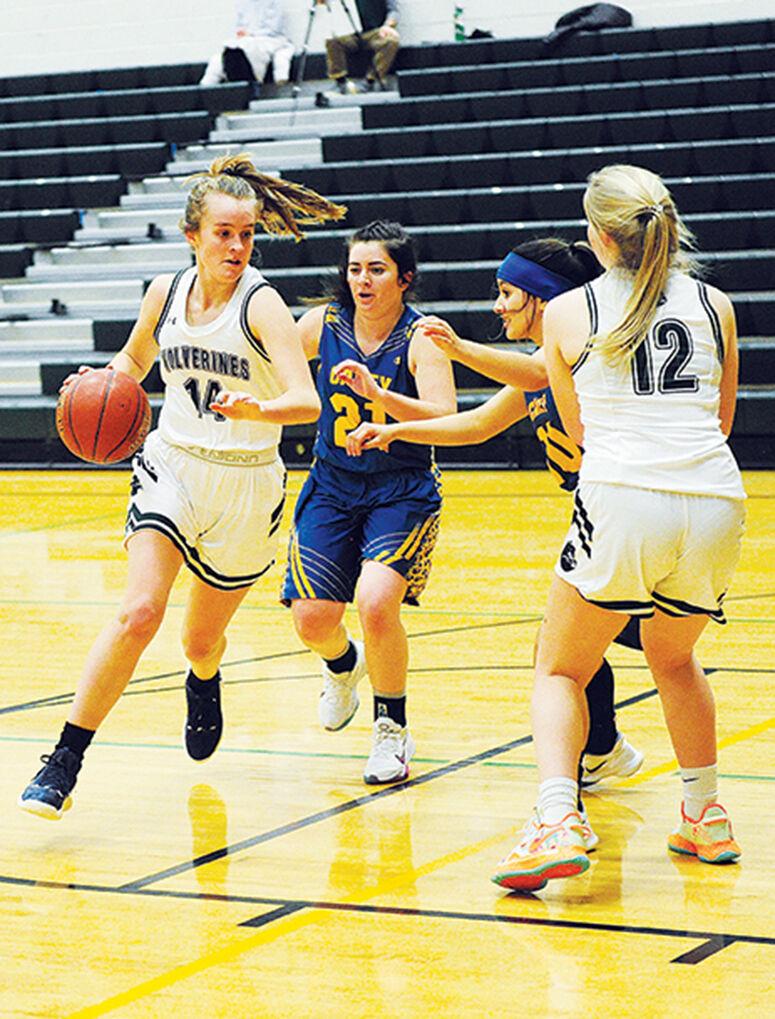 For Carey, sophomore Jane Parke had 12 rebounds (10 defensive) and three steals.
Sophomore Berenice Vargas had 10 points and five steals.
Wood River won the rebounding battle, 45-23.
Neither team shot the ball well at the charity stripe. Wood River went 3-for-7 while Carey went 13-for-26.
Overall, Wood River shot the ball better than Carey, going 34 percent from the field compared to the Panthers' 28 percent.
"We knew we can't stop Wood but our hopes were to stop other threats and manage Wood and her scoring," Barg said. "I have coached [this team] since they were freshmen. They have never been responsive to changing on the fly in a game so I was nervous to change our defense to something we had not run in practice, but we did and the girls ate it up and they made the adjustments. They worked together as a team and trusted each other to get the stops we needed."
---
Minico beats Wood River in Great Basin game
A slow first quarter was too hard to overcome for Wood River as the visiting Minico Spartans came to WRHS and gave Wood River a 68-45 loss on Friday night.
This game was the first in the Idaho High School Activities Association 4A Great Basin 7 Conference play for the Wolverines.
Minico (6-9, 3-4 league) finished the first quarter with a 33-9 advantage, which put a lot of pressure on WRHS.
Minico freshman Carlie Latta had a game-high 17 points.
Wood River (0-3, 0-1 league) had a good game from Peavey, who led the Wolverines with 18 points, four rebounds and four assists.
The Wolverines could have mailed it in with such a heavy deficit to climb out of, but Barg was able to get her girls to give it all they had until the final buzzer.
"I was happy to see they were playing with so much heart and their drive to not let Minico run away with it," Barg said. "We amped up the intensity on defense and kept that for the remainder of the game."
After the slow start for Wood River, the Wolverines had a big third quarter that cut into Minico's lead. In fact, the Wolverines outscored Minico in the second half 26-18 with 17 team rebounds.
"I always tell the girls I don't care about the score of a game as long as we go out clawing and scratching," Barg added.
Sophomore Sidney Wilson had nine points and Adams had 11 points and four rebounds.
Madsen had 11 rebounds for Wood River.
For Minico, senior Triniti Peralez had 16 points.
Another big improvement was that the Wolverines only committed 14 turnovers in the game.
"We are getting there but there is a lot to work on," Barg said. "More game minutes will help with trusting each other. Overall, I am very pleased with this bunch and their drive to be the best they possibly can be." 
The Lady Wolverines are back on the court on Thursday, Jan. 14, when Wood River travels to Jerome (4-5, 2-4 lea