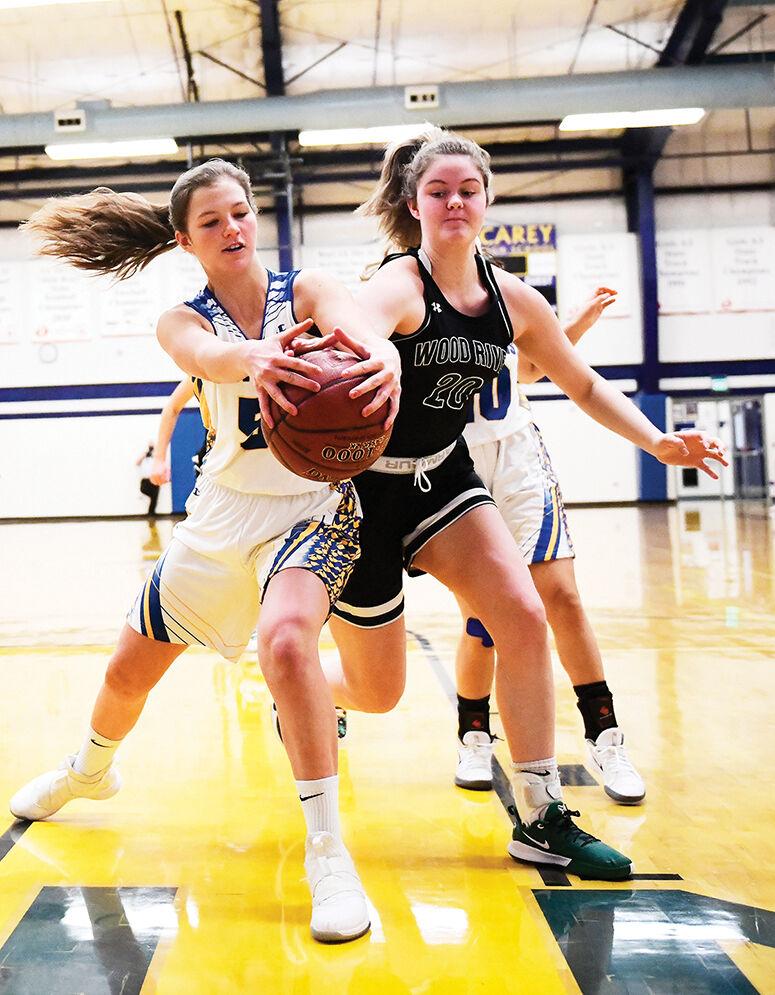 In a rare meeting between schools, the Wood River High School girls' basketball team played visitor to Carey High School on Tuesday, Dec. 29, to get the season underway.
Though COVID-19 restrictions have paused most of the prep basketball season in Blaine County, the two schools were able to improvise a pairing over the holiday break, as Blaine County took a moment to dip below the red, or "critical" coronavirus risk level, to the yellow "moderate" risk level.
As for the game itself, a big first half from Kylie Wood helped propel the Idaho High School Activities Association 1A Division 2 Carey Panthers past the visiting 4A Wood River Wolverines.
Wood's 24 points helped solidify a comfortable halftime lead for the Panthers as Carey defeated Wood River, 53-27.
Wood finished the night with 32 points.
"She was pretty excited to have a game and play against somebody other than her teammates," Carey head coach Merilee Sears said. "Before the game, she told me that she's going to play like it's her only game, and that's what she did."
Wood—who was closing in on eclipsing Carey's all-time scoring mark at 1,255 points until COVID-19 wreaked havoc on history—also made sure her presence was felt in all facets of the game.
The senior guard rounded out the night with seven steals, six rebounds and five assists.
The game was close at the end of the first quarter as the Panthers hung to a 12-6 lead with Wood pouring in nine points.
In the second quarter, however, Wood really put on a show as the Panthers ultimately pulled away from the Wolverines.
Midway through the second quarter, Wood drilled three straight three-pointers. She went on to finish with four total three-point buckets.
At halftime, Carey (1-0) led Wood River, 34-11.
Carey sophomore forward Jane Parke finished the game with 12 points, making one three-pointer.
Sophomores Bernice Vargas and Katie Mecham impressed Sears. Vargas finished with five points and Mecham had two.
"I thought all three sophomores stepped up, especially since it was the first game of the year," Sears said. "It was good to see them back on the court and play aggressive."
For Wood River (0-1), senior Sayler Peavey led with seven points, which included one three-pointer.
"I didn't know a lot about Wood River," Sears said. "I knew Sayler was their scorer. I think they might have overlooked us."
Senior Lily Hogan also had seven points for the Wolverines.
Sophomore point guard Kacie Flolo had four points and junior Olivia Adams also had seven.
For both teams, it was a good way to play against another team rather constantly mashing it up in practice.
"Defensively we need to improve," Sears said. "We also need to improve our communication."
The Panthers and Wolverines are scheduled for another matchup tonight, Wednesday, Jan. 6. Tip-off is scheduled for 5:45 p.m. at Wood River High School.
Because of COVID-19 restrictions, the game will not be open to the public.
For live updates of the game, fans and family can follow @jonathanmentzer on Twitter.
"I think it'll be a different game because it'll be on their floor," Sears said. "I know Wood River had some players gone and that makes a difference."
Also, the game will be live streamed via the Carey School and Wood River High School Facebook pages.