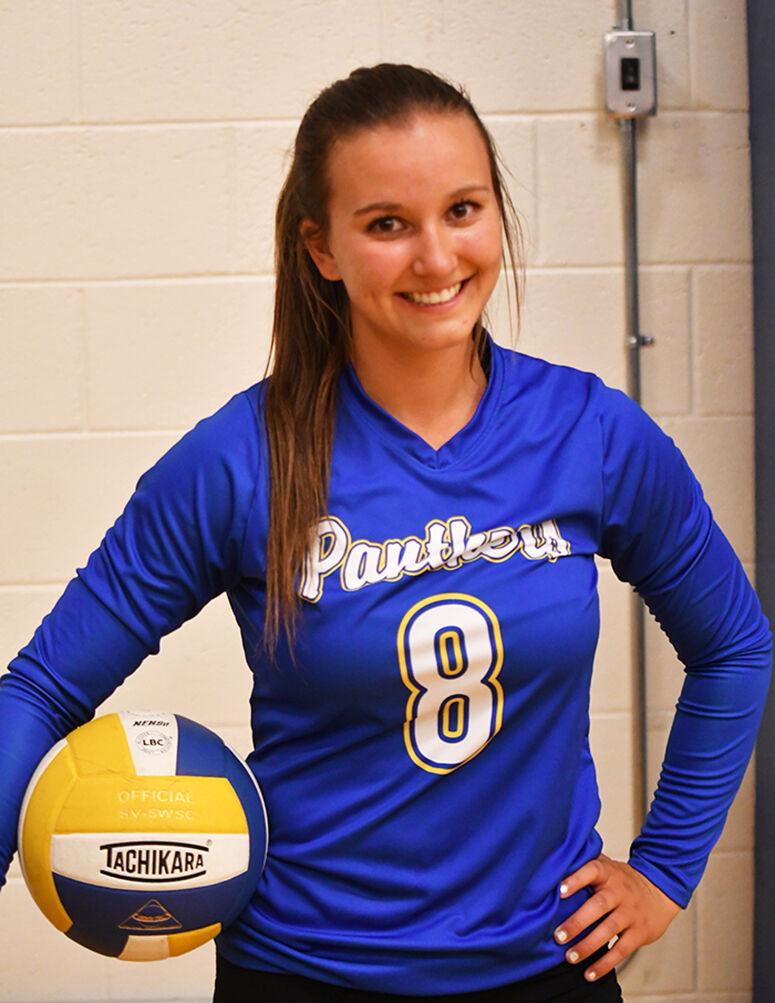 The Idaho High School Activities Association 1A Sawtooth All-Conference volleyball teams have been announced with Castleford leading the way with the most awards.
However, Carey senior setter and opposite hitter Kylie Wood highlighted the local volleyball scene as she was named Defensive Player of the Year.
As captain of the team, Wood finished the year with 158 digs, 173 assists with 43 sets played in the 2020 season.
She helped the Carey Panthers finish the year with a 4-1 conference record (7-8 overall).
Wood's best game of the season came against the Hagerman Pirates on Oct. 17, which the Panthers won 3-1. In that game, Wood had 21 digs and 31 assists.
She also had 22 digs and 21 assists in the Panthers' loss to the Sun Valley Community School on Oct. 22 during the 1A Sawtooth Conference Tournament.
Carey's middle blocker and outside hitters also earned postseason awards.
Sophomore Jane Parke (All-Conference first team), senior Shaylee Farnworth (All-Conference second team) and senior Zowie Quillin (Honorable Mention) all received postseason awards.
Parke had 109 digs, 72 kills, 40 blocks and 20 aces in 43 sets played. Her best game came on Oct. 8, when the Panthers defeated Mountain Home/Rimrock, 3-1. In that game, Parke had 11 kills and six aces.
Farnworth finished the season with 152 digs, 14 aces and 58 kills in 46 sets played.
Quillin had 61 kills, 32 blocks and eight aces.
Kathy Whitworth coached the Panthers in her 18th season, which Carey finished with a loss to the eventual IHSAA 1A Division 2 state champions, Tri-Valley in the state play-in game, 3-1.
Sun Valley Community School players also received some awards.
Senior outside hitter/defensive specialist Lola Street was also named to the All-Conference first team. She helped lead the Cutthroats to its first state tournament in 19 years.
Unfortunately, the Cutthroats had to bow out before the tournament began due to COVID-19 concerns.
Street finished with 70 kills, 194 digs, 44 aces in 32 sets played.
Street's best day came against Dietrich and Carey on Oct. 22, when the Cutthroats defeated both the Blue Devils and Panthers to punch their ticket to state.
Against the Blue Devils, Street had 14 kills and 10 aces. Against Carey, she had 36 digs, 14 kills and seven aces.
Junior outside hitter Allie Wilson was selected to the All-Conference second team for the Cutthroats. Wilson had 55 kills, 101 digs and 50 aces.
Senior outside hitter Noelle LaFleur was named as an Honorable Mention. She had 23 kills, 60 digs and 16 aces.
First-year head coach Natalie Heurkins led the Cutthroats to a 7-4 overall record.
The Castleford Wolves led the conference with six awards.
Head coach Josie Wells won Coach of the Year for leading the Wolves to an 8-0 conference record (20-1 overall).
Senior outside hitter Eden Schilder was named conference Player of the Year with 65 digs, 50 kills and 11 aces.
Senior outside hitter Zailee Poulson was named Offensive Player of the Year with 59 kills and 16 aces.
Castleford beat Carey, 3-1 (23-25, 25-19, 25-18, 25-15) to win the conference championship.
The Wolves finished the year runner-up in the IHSAA state tournament when Castleford lost to Tri-Valley, 3-1 (25-27, 29-27, 25-21, 25-17) in the state championship.
MAJOR AWARDS
Player of the Year: Eden Schilder, Castleford. Offensive Player of the Year: Zailee Poulson, Castleford. Defensive Player of the Year: Kylie Wood, Carey. Coach of the Year: Josie Wells, Castleford.
FIRST TEAM
Lola Street, Sun Valley Community School; Layla Von Berndt, Dietrich; Ryleigh Ferguson, Hansen; Maddyson Jones, Richfield; Aubrey Mahannah, Castleford; Jane Parke, Carey; Serena Kent, Richfield.
SECOND TEAM
Ashlyn Wells, Dietrich; Allie Wilson, Sun Valley Community School; Aubrey Peters, Hansen; Shaylee Farnworth, Carey; Josie Zimmers, Castleford; Samantha Osborne, Hagerman.
HONORABLE MENTION
Zowie Quillin, Carey; Emma De Kiewiet, Castleford; Tobi Hubert, Dietrich; Adyson Perkes, Richfield; Alyssa Whittle, Camas County; Noelle LaFleur, Sun Valley Community School; Hailey Astle, Dietrich.