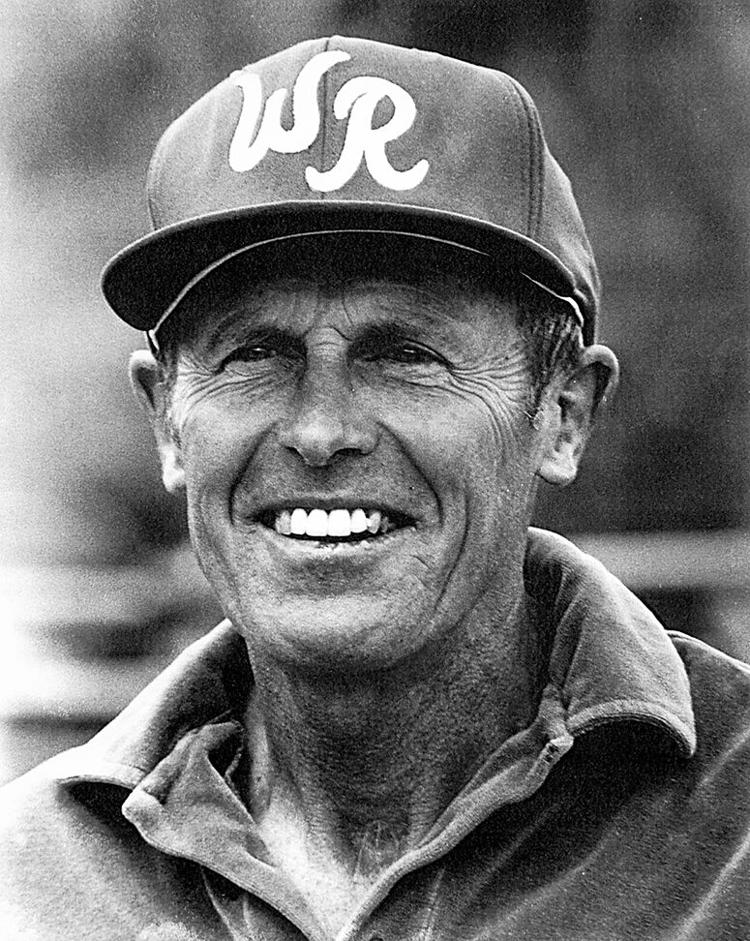 Several generations of Wood River High School graduates have fond memories of being coached or taught by the late Bob Shay of Ketchum.
Two generations of younger Hailey graduates remember the 33-year Blaine County School District teacher for the "Bob Shay Most Inspirational" trophies they have earned for their athletics and activities.
As of this week, Shay will be remembered for something more—being a member of the first class of Jeff Cordes Wood River High Athletic Hall of Fame inductees, for 2020.
Shay is joined by legendary basketball coach Fred Trenkle, athletes Lisa Bernhagen Ramos, Brad Jaques and Picabo Street, and the 1977 and 1978 Wood River state championship volleyball teams.
For the younger ones, just who was Bob Shay?
Fair, firm and optimistic, Shay guided countless Blaine County students through the pitfalls of adolescence with a simple philosophy—one that has been adopted as a guiding light at Wood River High.
He advised his charges, "All we want is your best."
Repeating the same message year after year, Shay acknowledged that people have different abilities and goals, but all people share a desire to improve themselves and contribute to society.
Shay's work ethic, caring nature and determination to achieve mental and physical fitness were examples to students at Carey School, where he taught and coached from 1956-61, and subsequently at Hailey and Wood River high schools, where he coached and taught biology and physical education from 1961-88.
For years Shay coached high school students each season—cross country in the fall, wrestling in the winter, track in spring and American Legion baseball in the summer.
A U.S. Army veteran, Shay founded the Wood River American Legion baseball program in 1975. The father of three, Shay retired from teaching and coaching in 1988, and passed away peacefully in 2000, 10 years after the death of his beloved wife JoAnn.
Bob and JoAnn had a quiet dignity along with sense of duty and involvement that they passed along to sons John and Bob, and daughter Sue.
As a coach, he enjoyed his greatest success in cross country and track and field.
Shay guided the Wolverine boys to State Class B championships in 1971 and 1972, and State Class B girls' championships in 1975, 1983 and 1984.
He coached four individual state cross country winners—Rick Ward in 1971, Monte Brothwell 1972, Lori Pascoe in 1981 and Maureen McGinnis in 1982. Shay also coached Wood River's boys to State 3A track and field championships in 1970 and 1972.
During his final state track and field meet at Boise's Bronco Stadium before he retired in 1988, the Idaho High School Activities Association recognized his 33 years of commitment. Shay helped lead the "Parade of Athletes" that marched into the stadium.
Shay was doubly proud when his small but mighty team of seven Wolverine boys pulled out all the stops and captured the second-place team trophy—Wood River's best finish at state in 15 years.
A few days after that achievement, the Mountain Express visited Shay on one of his final days at work in his tiny high school office. Here are some notes from that meeting, first published in a May 25, 1988 Express profile:
Always hopeful
Bob Shay's response was the same whenever he was questioned about the pre-season outlook of his teams.
At summer's end, before his boys' and girls' cross country teams started competing, I tried to find out how the team would do and who the fast athletes would be.
Knowing the best place to find him, I'd drive by in my car as Shay jogged along the pavement with young people.
"I'm hopeful," he'd say, puffing just a bit and maintaining his steady gait.
For years Shay coached wrestling at Wood River, guiding his son John to a state championship in 1977. I would track down Shay and the team sweating it out in the high school wrestling room.
"I'm hopeful," he would always say, getting down into another pushup just like boys 40 years younger.
In the spring, with the snow melting on the Wood River track, I would visit Shay in his high school office.
He would back away from a desk piled high with track meet details, schedules and Wolverine all-time bests—all of which he compiled year-after-year with great detail to give credit where credit is due.
"I'm hopeful," he'd say. "The kids look pretty good. We could use a few more."
After other teachers headed off with a sigh of relief to their summer pursuits, glad for the break from the relentless energy of youth, I would find coach Shay as he rapped out ground balls to American Legion baseball players at Ketchum's Atkinson Park.
"I'm hopeful," he'd say, laying down a surprise bunt to test the alertness of a hot corner candidate.
Former Wood River High School teacher and football coach John Hopkins, who worked with Shay for 10 years as Wolverine girls' track coach, marveled at Shay's durability and dedication.
Hopkins said, "You know, there was a time in summer when my kids were younger, somebody asked me to coach t-ball. And I said, hey, I do this kind of thing nine months a year—I need a break.
"Then I'd go to a Legion baseball game, and there was Bob out there coaching….."
Hopkins shook his head, admiring Shay's endurance and tenacity in the rigors of teaching young people the rules and joys of sport.
"There are various demands during the life of a coach," Hopkins said. "You have an easier time when you're young. It's the most rewarding and fun when your own kids are in high school, and competing.
"But when they're gone, as Bob's kids have moved on, then you're back to square one. The fact Bob has been able to maintain a high level of achievement and concern is really commendable."
When I visited Shay in his office, he waved me to a seat, offered me a Snickers bar, took one for himself and braced for whatever questions I had. I asked him how old he was, a closely guarded school secret.
"61," he said, without hesitation, taking another bite of his Snickers bar.
"Weren't you in the army during the war?"
"I tell the kids World War I," he said instantly, at the same time flashing a Shay smile.
"What are you planning for retirement?"
Shay was always in good shape, but he regretted being 10 pounds overweight. To correct that, he said he would spend the summer running and cutting wood for exercise.
He had a couple of timber sites at Baker Creek. He always sold the firewood, mostly by word-of-mouth to friends and colleagues.
"I'll miss the coaching, but I'll come see all the meets," he said.
A native of Ohio and a reliable Cleveland Indians rooter, Bob attended Miami University of Ohio and set out on a career in education. He got a job in Idaho through the mail. That was in 1956, when he came to Carey School as the coach of everything.
"The first year I was married to JoAnn was when we came out to Carey," Bob said. "We came across the lava flats….well, that was a shock to her system!"
That comment reminded me of one of my fondest memories of Bob and JoAnn.
Sensible people were at the lake or by the pool. With diamond dust flying, Bob stood in the third base coaching box, clapping his hands and flashing a sign. JoAnn sat on the edge of her seat in the bleachers, one of a handful of fans, yelling encouragement.
Bob and JoAnn both wore green Wood River caps—tilted sideways at Little League angles, uncaring about fashion or how they looked—caps that had seen better days.
I looked back and forth, from Bob to JoAnn, and suddenly realized that neither of their sons was playing for Wood River. They were out there because they loved sport, and loved kids.
And I remembered that for each sport, during each season, it was coach Shay who religiously provided typewritten reports to the local newspapers, trying to give his athletes the proper attention.
Hopkins added about Shay, "Bob has an incredible amount of caring for kids who aren't the star athletes. After a season ends, he just doesn't drop them off and say I got my six points from you. It's just the opposite. He writes them letters. He stays in touch.
"He has always pushed for improvement in the sport and to give the kids more recognition."
I shook Bob Shay's hand and headed out of his office. "Don't forget your Snickers bar," the coach said.