It's always a challenge to win back-to-back state championships, and Carey's quest for a second straight State 1A Division 2 girls' basketball title came up short Saturday.
Hard-fought quarterfinal and semi-final wins over the Mackay Miners and Tri-Valley Titans moved the defending state champion Carey School girls into their second straight state championship game appearance Saturday in Nampa.
But the Rockland Bulldogs (22-3) had a little more scoring depth and a little more gas in the tank during their 45-30 victory over Carey (20-3) in the first of six state championship games on the Ford Idaho Center hardwoods in Nampa.
Junior guard Kylie Wood (19.8 ppg), playing all but 98 seconds of Carey's three state tourney games, showed the wear-and-tear of relentless double-teaming by opponents and scored just 13 points in the final. Carey (15 turnovers) shot just 23% from the field.
Carey coach Merrilee Sears said afterward, "The games Thursday and Friday took it out of us. We didn't have a lot of legs left by Saturday. But I'm super proud of the girls. They have so much heart, and they never quit for a second."
It was the first-ever state girls' basketball title for Rockland, led by four-year starter and 2019 All-State tournament guard Madalyn Permann. "I was going to do everything I could to help my team," said Permann after the triumph.
The four-year Bulldog starter who entered her senior season with nearly 1,200 career points tallied 20 points on 41% shooting along with 9 rebounds and 3 assists in the title game. She led Rockland with 50 points and 13 rebounds and 9 assists in the three wins.
Rockland won its three state games by 12, 17 and 15 points. The Bulldogs shot 41% overall from the field and 46% in the second halves of its three state games. They committed only 28 turnovers.
Bulldog 5-10 sophomore post Kiersley Boyer gave Rockland another offensive threat. She scored in double digits each game and averaged 13.3 ppg at state. Boyer had 15 points plus 10 rebounds and 4 steals in the title contest.
Coach Vern Nelson of Rockland said in his post-game speech, "Carey has a tremendous program. When you come to play Carey, you know you have to bring your 'A' game."
The Panthers, who added a state tournament second-place trophy to their 2010 achievement on the same floor, certainly demonstrated their teamwork and ability in 42-39 and 55-48 wins over Mackay and Tri-Valley, at Nampa.
Carey's 3-point shooting was red hot (7-for-27 against Mackay, 8-for-19 against Tri-Valley) in the two wins. Wood led the way with 22 points against Mackay and 27 points plus 8 rebounds and 4 assists in the Tri-Valley victory.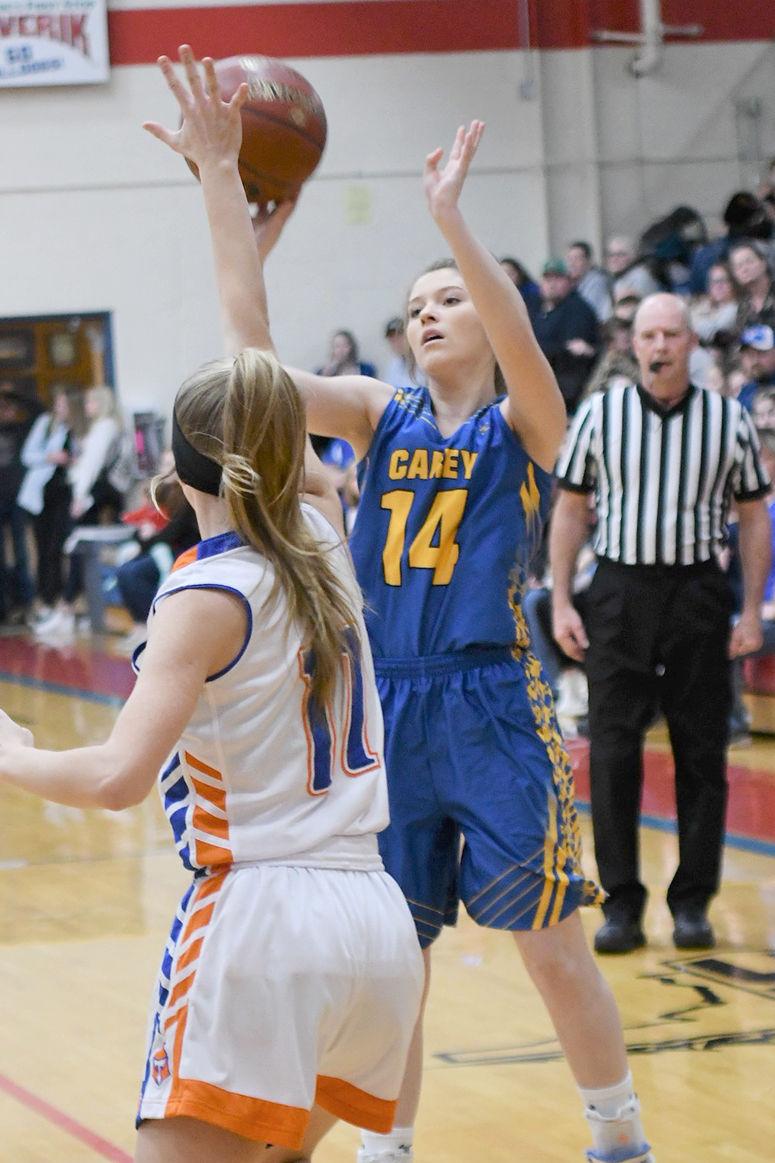 Trailing 25-21 at half and 33-26 after three periods against Mackay (16-6), Carey out-pointed the Miners 16-6 in the final quarter. Wood nailed four 3-pointers overall, and senior Kourtney Black (10 points, 3 rebounds, 2 assists) enjoyed one of her best games.
Carey's eighth-year head coach Sears (101-78) collected her 100th win in Thursday's nip-and-tuck Mackay decision.
The Panthers also fell behind to Tri-Valley in the first half of Friday's semi-final.
The Titans built a 15-9 lead during the second quarter, but back-to-back 3-pointers by Carey senior Bailie Morey and freshman Berenice Vargas (10 points, 3 rebounds, 2 steals) tied the score 15-15.
Wood (6-for-6 free throws second period, 11-for-14 overall) swished a 3-pointer on the move with 24 seconds left in the half for a 22-21 lead.
And Carey never trailed again, despite 17 points by Tri-Valley's Josey Jones (three 3-pointers) and 12 from Emma Hollon. Carey senior Noelia Cruz (10 rebounds, 2 assists, 1 block) scored 8 of her 10 points after half in a strong effort.
Wood, an All-State tournament selection last year, finished the tournament with 62 points, but shot only 1-for-8 from 3-point range in the final. In the last two state meets, she has 112 points (18.7 ppg).
Carey's 42 turnovers as a team over three games didn't really make an impact until the final contest, when they contributed to Rockland's 24-12 halftime lead. The Panthers played the 'Dawgs evenly after half when Wood tallied 10.
Vargas (6 points, 7 rebounds, 3 steals) was a force in the finale. Others were Cruz (9 rebounds, 1 blocked shot), Morey (4 points, 5 rebounds, 4 steals), Kourtney Black (3 points, 3 boards) and Zowie Quillin (2 points, 3 boards).
Wood has 1,045 points in her three Carey seasons including 109 3-pointers and 146 points in state tournament action (16.2 ppg). Carey's career scoring record is held by Jaide Parke (1,255, 2013) followed by Jessica Parke (1,168) and Kathy Simpson (1,047).
Check next week's Local Life for a team photo of Carey with its second-place trophy.
In other Idaho High School Activities Association state girls' basketball results last weekend:
Bonneville of Idaho Falls (27-0) completed an unbeaten season with a 54-39 State 4A title game triumph over defending champ Century of Pocatello (21-4). Burley (17-10) earned the consolation trophy 56-43 over Blackfoot;
Timberlake of Spirit Lake (20-4) captured its third State 3A title in five years 42-32 over Snake River of Moreland (15-11); Soda Springs (25-2) ended its season with 22 consecutive wins for the State 2A top honor 67-56 over Cole Valley Christian of Meridian (21-5);
Lapwai (24-1) claimed its IHSAA record 10th overall championship since records began in 1976 with a 46-40 1A Division 1 title game victory over Prairie of Cottonwood (19-4); and Mountain View of Meridian (24-2) stepped up from its championship loss in 2019 with its third State 5A title in six years 55-49 over Timberline of Boise (23-4).
Carey final season stats:
Overall record: Carey 20-3 (9-0 home, 11-3 away, 8-0 league, No. 1 seed), second place in Sawtooth Conference tourney and second place in State 1A Division 2 meet. Offense: 1,018 points (44.2 ppg). Defense: 773 points (33.6 ppg).
Individual scoring: Kylie Wood 455 points (19.8 ppg, 62 points at state for 20.7 ppg, 22 of 23 games in double figures, nine games 20 points or more;
Noelia Cruz 138 points (6.0 ppg); Kourtney Black 111 (4.8); Bailie Morey 106 (4.6); Berenice Vargas 81; Felicity Black 71; Zowie Quillin 39; Lizbeth Ruiz 15; Marcela Del Real 2.
3-pointers (94): Kylie Wood 54, Kourtney Black 21, Bailie Morey 12, Berenice Vargas 6, Lizbeth Ruiz 1. Free throws: Carey 226-363 (63%); opponents 167-351 (48%).