It should be a fight to the finish between Carey and Lighthouse Christian in tonight's Sawtooth Conference girls' basketball tournament championship game at Shoshone High School gym.
Defending Sawtooth girls' champion Carey (17-1) brings a 16-game winning streak to the task and an amazing stretch of 37 wins in its last 38 games including last year's State 1A Division 2 title game triumph.
Coach Merrilee Sears' Panthers have beaten No. 8 Dietrich 51-33 and No. 4 Camas County of Fairfield 63-54 so far in the eight-team tournament on the Shoshone hardwoods.
Back on Jan. 17, No. 1-seeded Carey and No. 2 Lighthouse played an epic game in Carey settled only by junior Kylie Wood's 40th point of the game in the come-from-behind Panther 58-57 victory.
Lighthouse (18-3) carries an eight-game win streak into the match. The Lions have lost their three close games to Hansen, Rimrock and Carey by a grand total of six points. Lighthouse beat No. 3 Hansen 56-43 in Saturday's semi-final.
The winner of Carey-Lighthouse advances as the No. 1 seed from the 4th District to the State 1A Division 2 tourney Feb. 20 at Nampa High. The loser plays again Friday, Feb. 14 at 7 p.m. for the second state berth from this district.
Last February, top-seeded Carey defeated No. 2 Murtaugh 34-31 in overtime for the league title. Lighthouse (12-12) was the No. 6 seed last year, and exited the fray with losses to Murtaugh and Hagerman.
On Friday, seven Panthers scored in the 51-33 win over No. 8 Dietrich (4-18).
They were Wood 14 points, freshman Berenice Vargas 12, Noelia Cruz 8, Lizbeth Ruiz 5, Bailie Morey 5, Felicity Black 4 and Zowie Quillin 3 points.
Carey's 25-point third quarter opened up a close 19-11 game at half. Caylee Dilworth (9 points) topped Dietrich.
Scoring a season-best 63 points, the Panthers needed another big quarter to beat Camas County (12-5) by nine points on Saturday. Carey led 32-21 at half, but the Mushers rallied with a 20-6 third quarter and led 41-38 entering the fourth and final period.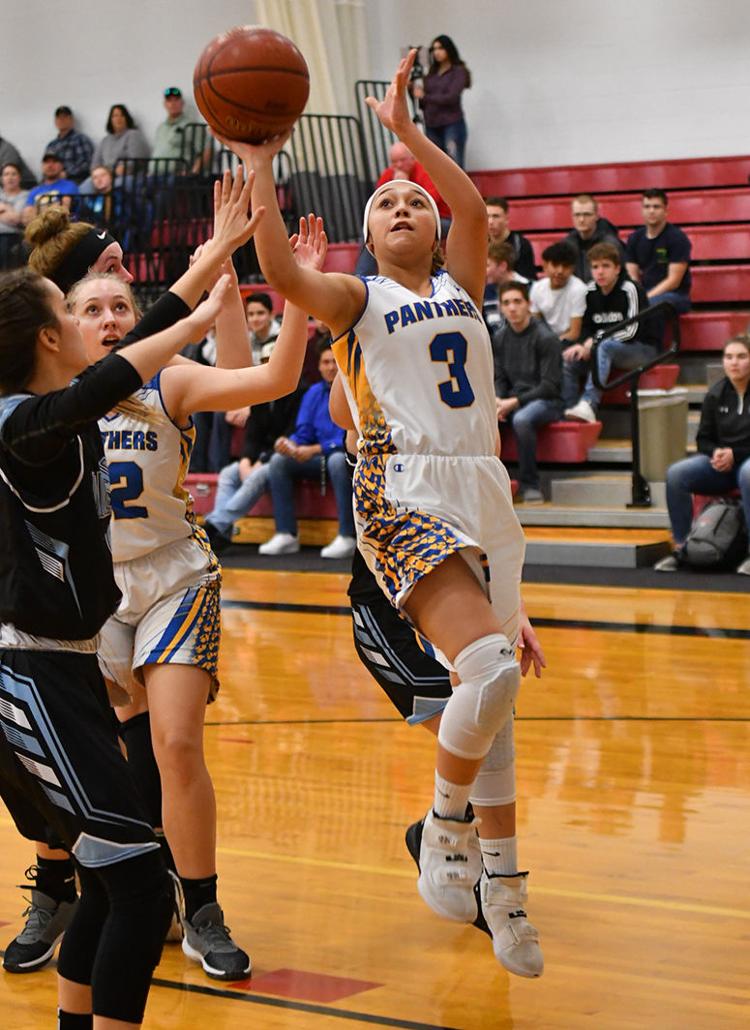 With Wood finishing at 37 points, Carey outpointed Camas 25-13 in the fourth. Kourtney Black scored 13 points, Vargas 6, Morey 3, Felicity Black 3 and Quillin 1.
Camas sophomore Ashly Botz led the Mushers with 22 points, senior Ashlyn Whittle added 10 and junior Samantha McFadyen 9 points.
No. 3 Hansen played No. 5 Murtaugh, and Camas tipped off with No. 7 Castleford in Tuesday's consolation games. The winners of those games play at 6 p.m. tonight before the Carey-Lighthouse 7:30 p.m. engagement at Shoshone.
With leading scorer Hunter Smith (18.3 ppg) scoring 20 points including four 3-pointers, Carey School's boys' varsity wrapped up its regular-season with a 62-48 non-conference triumph at Glenns Ferry on Monday night.
Smith (3 rebounds, 3 steals, 5 assists) shot 42% overall and Carey (14-7, 7-2 Sawtooth Conference) got scoring from seven players. The Panthers have won four of their last five games entering next week's Sawtooth boys' tournament.
Other Panthers were Dallin Parke (18 points, 5 rebounds, 5 assists), Brigham Parke (9 points, 7 rebounds, 5 assists, 3 steals), Carson Simpson (6 points, 5 boards, 3 steals) and Eli Cutler (11 rebounds).
Also, Tate Squires (4 points, 5 rebounds), Sawyer Mecham (3 points) and Wyatt Mecham (2 points, 3 rebounds). Topping Glenns Ferry was Kody Henslee with 18 points. The Pilots (4-14) shot 1-for-15 from 3-point range Monday.
Last Thursday, Carey took Butte County to overtime before falling 54-51 in Arco. Hunter Smith (25 points, five 3-pointers, 53% shooting, 4 assists, 3 steals) sparked Carey in the nip-and-tuck battle.
Dallin Parke (10 points, 6 rebounds, 7 assists), Brigham Parke (6 points, 8 rebounds, 4 steals) and Squires (8 points, 5 rebounds) also contributed.
The Sun Valley Community School boys (4-9, 1-8 Sawtooth) completed their home basketball season Thursday with a 70-58 non-conference victory over the Twin Falls Christian Academy Warriors at the Fish Tank in Sun Valley.
Braden Buchanan (24 points) and Sid Tomlinson (20) led the Cutthroats. Other scorers were Wilson Baker 11 points, Eli Fuller 7, Jackson Giles 4, Jack Colgate 2 and Jamie More 2. The Cutthroats led 39-21 at halftime.
Evan Walker (24 points), Joel Thompson (13) and Ethan Fenderson (12) and Nathaniel Roberson (7) led the Warriors.
The Cutthroats next play Monday, Feb. 17 in a Sawtooth Conference tournament play-in game at Shoshone High School gym.