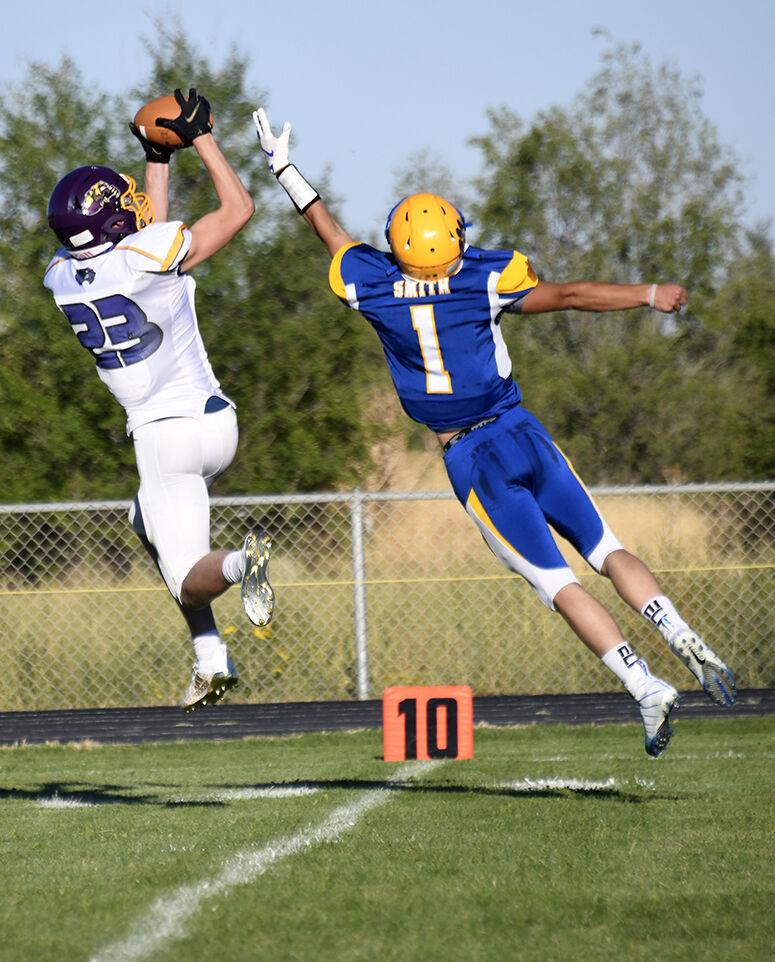 Big things come in small packages, and none was bigger than Carey's super sophomore running back Connor Simpson as he slashed and bulled his way to 274 yards of total offense and five scores.
With that type of night, the Carey Panthers dismantled the Garden Valley Wolverines with a barrage of 11 touchdowns on their way to a 78-42 victory on Friday night at Carey's Derrick Parke Memorial Field.
"Conner was outstanding tonight," Carey head coach Lane Kirkland said after the game. "We knew we had to get him the ball behind some tremendous blockers and let him do his thing. He held up well for a young sophomore."
Simpson (5'3") was a force for the Panthers, totaling up 221 rushing yards on 21 carries and 53 yards receiving on three catches. He also amassed 34 points on his own through ground and air (4 rush TDs, 1 rec. TD, 2 PAT).
The outcome resembled November's 78-33 Carey runaway over Garden Valley in the 2019 State 1A semi-finals at Eagle. Connor's older brother Carson Simpson scored four TDs and four conversions there.
Friday, Carey (2-0) jumped out to an early lead in the first quarter on a quarterback keeper from the 4-yard line by senior Hunter Smith, who also had a big game with 279 yards of total offense (173 passing, 106 rushing, 3 passing TDs).
Garden Valley (0-2), a 44-32 home loser to Dietrich (2-0) Aug. 28, swiped right back as the Wolverines tested their potent passing attack of senior quarterback Corban Fields and fellow senior receivers Josh Gillespie and Covy Kelly.
Fields found Kelly for a 19-yard touchdown to pull the game to 8-6 after the Wolverines failed the conversion try.
Then the Panthers and Wolverines began to trade blows as Smith found senior tight end Ashton Sparrow for a 10-yard touchdown on Carey's following possession. Sparrow finished with 67 yards receiving in the game.
Fields then found Gillespie for a 33-yard touchdown pass on Garden Valley's ensuing drive.
Right before the end of the first quarter, Simpson bulldozed his way to the end zone for the first time of the night, which notched the score at 24-12.
"(Garden Valley) is a good team," said Kirkland. "Those receivers were hard to defend, and we knew that was going to happen."
Kirkland added that his defense's focus was shutting down Kelly since Kirkland thought he was the more significant Garden Valley threat.
Carey contained Kelly, who only had 71 yards receiving on five catches; however, Gillespie was hard to stop as he totaled 225 yards receiving and two touchdowns.
The Panthers opened the second quarter in the driver's seat, which was when Simpson went to work.
Behind a brawny offensive line, Simpson opened the second quarter with a spectacular 41-yard score.
Simpson took Smith's handoff and rumbled up the middle of the field, but then broke out to the left hash marks while shedding Garden Valley tacklers.
As Simpson made a beeline to the corner of the end zone, the Garden Valley defense tried pushing him out of bounds, but a diving Simpson narrowly broke the end zone plane with the ball as he dove from the 4-yard line for his second touchdown of the game.
The momentum was then in Carey's corner.
Simpson would score two more times in the second quarter to put the Panthers up 46-20 at halftime.
"This was a great effort from the entire team," said Kirkland. "I felt that they matured a lot. Our line did a great job tonight by taking care of things up front. We knew we could run on them."
In the second half, Carey's defense did the rest and wore down Garden Valley.
Senior Dallin Parke led the defense with nine tackles, one sack and a forced fumble.
Junior Chase Bennion had six tackles and an interception, while Hunter Smith had four tackles and an interception.
As the game wound down, Kirkland put in his junior varsity players to gain experience. Before the game ended, Carey milked the clock, but sophomore Colton Larna broke free and scored on a 48-yard run before time expired.
Carey was scheduled to play the Richfield Tigers (1-1) for an away visit Sept. 11 in Richfield. However, that game has been canceled due to injury concerns on Richfield's roster.
Instead, 1A Division 2 Carey will travel to Glenns Ferry (1-1, 0-1) to play the 1A Div. 1 Pilots at 7 p.m. Friday, Sept. 11. Glenns Ferry whipped Idaho City 58-26 Friday after a season-opening 25-0 loss at state champion Lighthouse Christian.
Check today's web site for Carey-Garden Valley game statistics.