As the Kimberly Bulldogs held a 22-8 halftime lead over the Wood River Wolverines at Thursday night's game at Phil Homer Field, the weather had the final say.
The Wood River High School varsity football team switched up the offense to a more efficient running game and found success in the first quarter as rain poured down on both teams.
However, the Wolverines were unable to see if they could mount a comeback as lightning struck in the distance and delayed the game at the half. After a 45-minute delay, the game was called with the score standing at 22-8 in favor of the 3A Kimberly Bulldogs.
Wood River (1-6, 1-3 Great Basin 7 Conference) took to the ground in this chilly, muddy night. On their opening drive, the Wolverines passed only once with sophomore Caleb Hothem carrying the load. Hothem finished the night with 11 carries and 51 yards rushing in head coach Shane Carden's wing-T offensive formation.
Wood River would turn the ball over on downs on its first drive, but the Wolverine defense held stiff and gave the ball right back to the offense.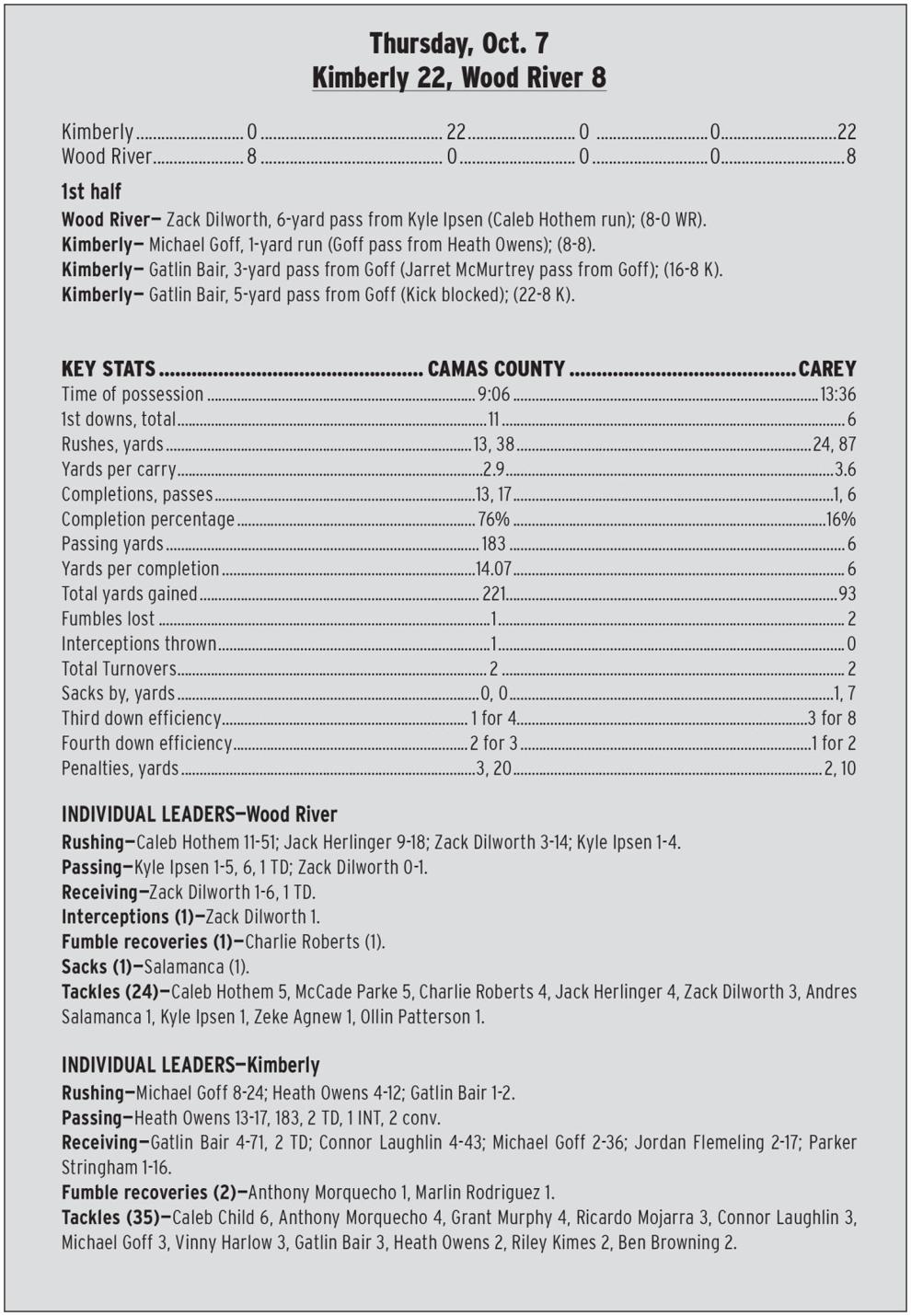 The game was looking good for Wood River in the second offensive attempt when Hothem and junior Jack Herlinger marched the Wolverines down to the 6-yard line. Sophomore Kyle Ipsen found junior Zack Dilworth on a fourth-down conversion for a 6-yard touchdown pass.
Hothem punched the ball in for the two-point conversion, and Wood River briefly held an 8-0 lead going in to the second quarter.
However, Kimberly's offense woke up and put up 22 points in the second frame.
Kimberly senior Heath Owens (13-for-17) threw for 183 yards and two touchdown passes to sophomore Gatlin Bair (71 yards).
Kimberly (4-3, 1-0 Sawtooth Central Idaho Conference) had 11 first downs to Wood River's six.
Wood River's defense caused two Kimberly turnovers, as Dilworth had an interception to go along with three tackles. Sophomore Charlie Roberts (4 tackles) forced and recovered a fumble.
Also on defense, Hothem and senior McCade Parke had five tackles each.
Wood River's game against Minico (7-0, 4-0 GB7), which was scheduled for Friday, Oct. 15 in Rupert, has been canceled due to a low number of players available.