With a high-powered offense to begin the game, the Wood River Wolverines football team was unable to maintain its scoring at Phil Homer Field in Hailey on Friday night.
The result was another dry fourth quarter that allowed the Burley Bobcats to steal this one, 27-20.
As the rain came hours before game time, there was a hint of smashmouth football in the air as Wood River's offense came out firing on all cylinders in the first three quarters. Despite the score, Wood River held the total yard advantage, 271-209.
However, the fourth quarter continues to be problematic for Wood River as the Wolverines (1-2, 1-2 Great Basin 7 Conference) lost grip of the contest by the game's end. Through three games, opponents have outscored Wood River in the final frame, 26-7.
Wood River head coach Shane Carden was still impressed with his team's play.
"I could not be prouder of this group with the way they have competed and battled every game thus far," Carden said. "It is a special group that is setting a new standard for Wood River football. We have been a couple plays away the last two weeks from winning, and we hope to make those plays as we move forward."
Carden and his offensive staff switched up the schemes to pull sophomore Charlie Roberts into the mix with the Wildcat formation, which offloaded the pressure from junior quarterback Sawyer Grafft (9-for-15, 117 yards, 1 TD).
The trio of running backs of Roberts (121 all-purpose yards, 1 TD), sophomore Caleb Hothem (36 yards rushing, 1 TD) and junior Jack Herlinger (33 yards rushing) ran off five first downs on the Wolverines' opening drive of the game.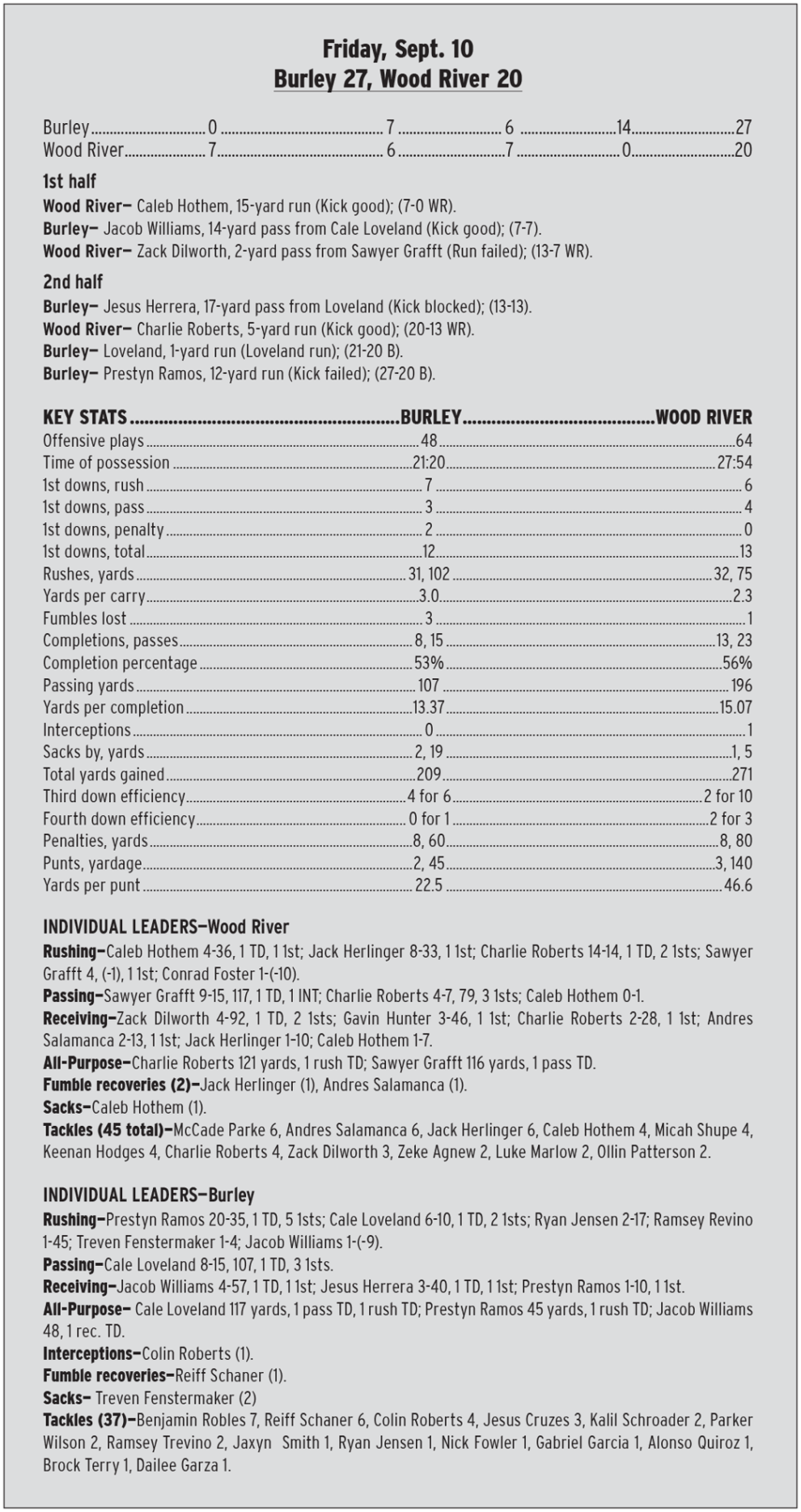 Despite the opening drive resulting in an interception from Burley's Colin Roberts, Wood River moved the ball with ease. Wood River's defense was able to help out and caused the Bobcats to punt on their first possession.
On Wood River's ensuing drive, Grafft found Roberts for a 13-yard gain, and Hothem scored the game's first touchdown from 15 yards out the very next play.
Burley (2-1, 1-1 GB7) scored to open the second quarter when junior quarterback Cale Loveland found Jacob Williams for a 14-yard touchdown pass to tie the game.
However, Wood River marched right down on its next possession. On a crucial fourth-and-8 play, Grafft found sophomore wide receiver Gavin Hunter for a 35-yard gain to put Wood River in the red zone. Grafft then nailed junior wide receiver Zack Dilworth (4 catches, 92 yards) for a 2-yard touchdown pass to go up 13-7.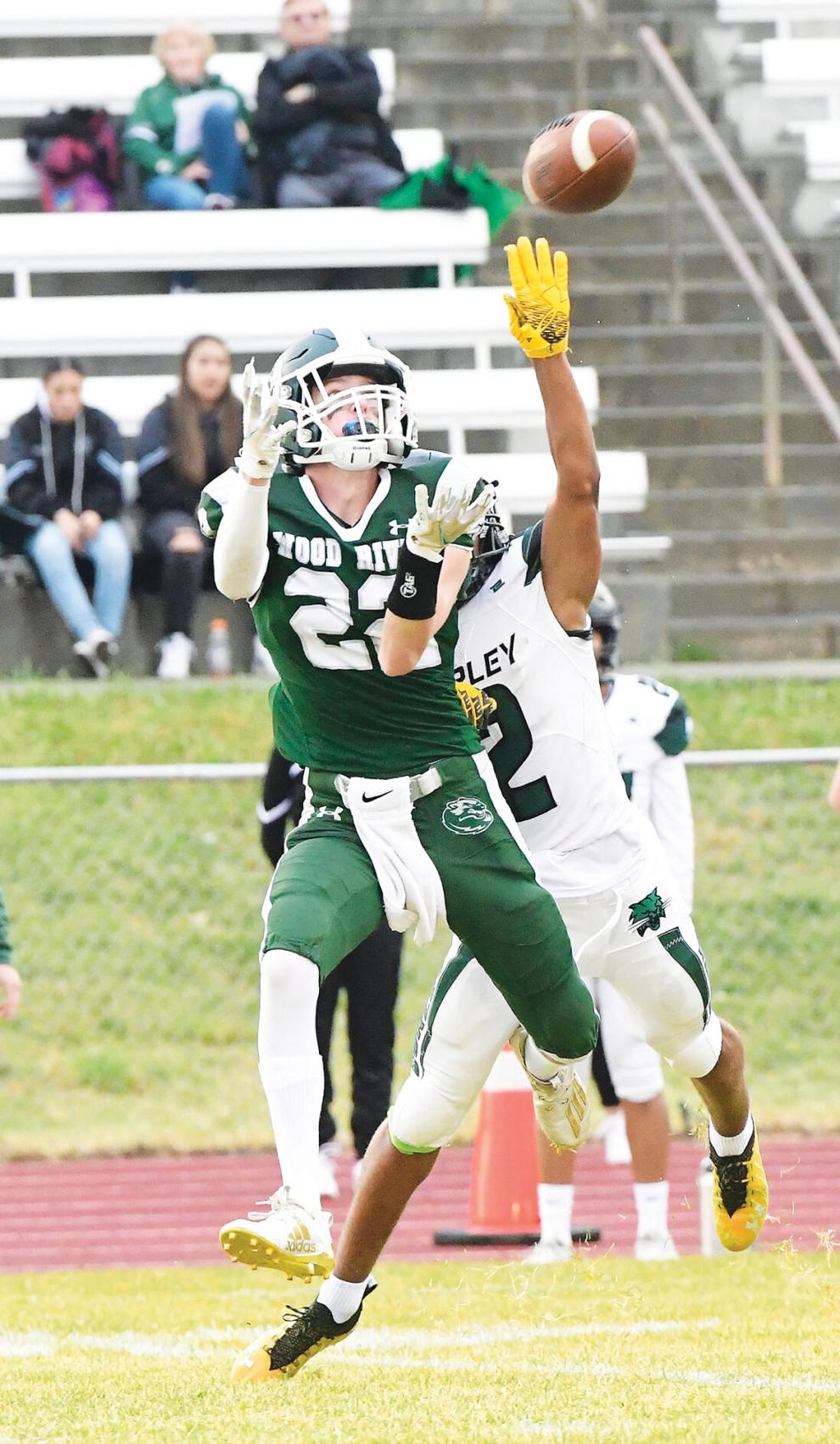 "We emphasized practicing deep balls more last week with man coverage looks that we felt we were going to see from Burley," Carden said.
At halftime, Wood River held a 13-7 lead and came out of the tunnel with some trickery. The Wolverines recovered their onside kick attempt, and everything was looking up for Wood River.
That was until Grafft went down hard on a 6-yard QB scramble on the opening drive of the third quarter. Grafft was pulled out of the game with a collarbone injury and did not return.
It was a massive blow to Wood River as sophomore Conrad Foster missed a field goal attempt, washing out any momentum in the process.
"I am devastated for Sawyer, as he has put so much time into this team," Carden said. "He is a great player and even better human being, and I know he will bounce back from this injury."
Carden added that Grafft will have surgery this week to repair the broken collarbone.
Nonetheless, when one leader goes down, another leader rises to the occasion, and such leader was Charlie Roberts, who valiantly assumed the role of quarterback and magically kept Wood River's poise stern and stoic.
"Charlie did a great job for us Friday night coming in [at quarterback]," Carden said. "We have been prepping him at QB for some different looks, but he had not been running our offense as he was asked to do Friday night. I thought he did a great job."
Burley scored when Loveland found Jesus Herrera on a 17-yard touchdown pass, but Wood River blocked Burley's point-after kick for a 13-13 score.
Roberts then took control of the offense. Late in the third quarter, Roberts found Dilworth for a 61-yard pass to put Wood River on the 5-yard line. Roberts then punched the ball in for Wood River, taking a 20-13 lead into the fourth quarter.
Running out of gas, Wood River could not overcome Burley's field advantage and a couple of questionable penalties—Wood River had eight penalties for 80 yards while Burley had eight penalties for 60 yards.
Loveland added a 1-yard score, and senior running back Prestyn Ramos (35 yards rushing) added another late score to put Wood River out of the game midway through the fourth quarter.
The Wolverines did have one last chance with 1:12 left to go after Ramos fumbled the ball out of the end zone, which gave the Wolverines a touchback. The lack of time and length of the field to tie the game was just too much for Wood River in the end, and an exhausted Wolverine offense couldn't piece together a comeback.
Up next for the Wolverines is an away game against 3A Filer on Friday, Sept. 17.