Winter snow can mean spring floods.  Living in the dry climate of the Wood River Valley, we hope for a lot of snow to carry us through the summer.  February has set a record for snowfall in the valley.  While skiers, snowboarders and other winter activity enthusiasts are enjoying the abundant snow conditions, many homeowners may be concerned about what will happen when the snow finally melts.  Their concerns are greatly warranted.   A quick melt would most likely cause the Big Wood River to swell over the banks and cause considerable flooding in those neighborhoods that are in close proximity to it.  If you live close to any streams or lakes, your home could also be at risk.  Most homeowner's insurance policies do not cover flood damage. In fact, most homeowner's policies contain specific flood exclusions.  Now is the time to find out if you have flood coverage. 
---
Do you know what is covered by Flood Insurance?
There are 2 types of coverage under Flood Insurance: Building Coverage and Personal Property Coverage.  Building coverage can include damages to furnaces, heat pumps, built-in appliances, carpeting installed on unfinished flooring, electrical and plumbing systems.  It can also cover some cabinets, heat pumps and sump pumps.  Personal Property can include furniture, electronic equipment, clothing, freezers, washers, dryers, and artwork.
---
What's not covered by Flood Insurance?
One thing to keep in mind is what causes flooding determines what is covered.  Flood insurance will not cover a sewer backing up if it is not the direct result of a flood. Some homeowners believe all their personal belongings and home structure are fully protected.  However, if flooding waters are carrying earth or debris that damages your building, you will not be covered.  In some situations mold and mildew are not covered.  For example, if your building has mold or mildew prior to flooding and you did not address the problem, you will not be covered. If your home is deemed unlivable, additional living expenses or temporary housing is not covered. Most of the time, cars damaged by flood waters are not covered under flood insurance, however they can be covered if the owner has comprehensive coverage on their auto policy.  Then there is outside of the home property such as fences, trees, wells, septic systems and decks which are also not covered.  This is by no means a complete list of potential exposure to losses.  Therefore, reviewing your policy with your insurance agent is a good practice to determine exactly what will be covered in the event you suffer losses from flooding.
---
Is it too late to get flood insurance?
If you wait until flooding begins to happen, you are too late!  Most flood insurance policies require a 30-day waiting period.  However, if your current insurance policy is renewing and you wish to add flood insurance or you are refinancing your mortgage loan and choose to add flood insurance, you may be able to avoid the waiting period.  It is important to check with your insurance agent about the waiting period when you are choosing to add flood insurance.
---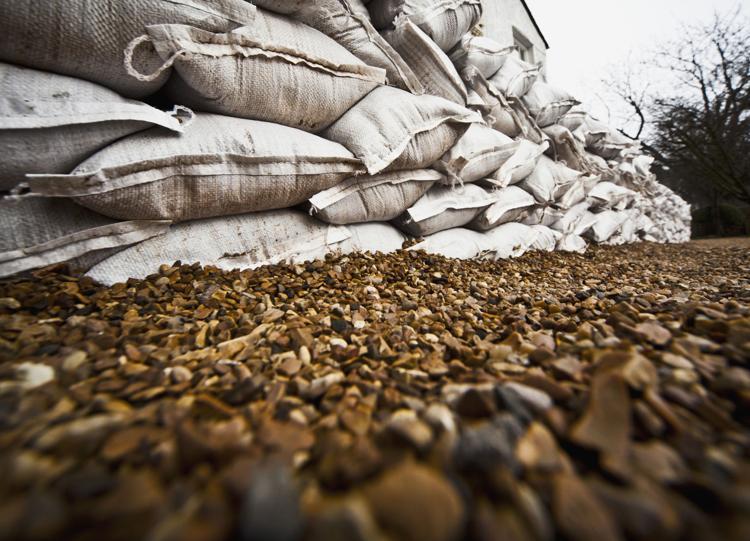 ---
Do I need Flood Insurance?
An easy way to determine if you need flood insurance is to look at your Elevation Certificate (EC).  This will show your home's elevation in relation to the estimated height that floodwaters could reach in the event there is a major flood. Those homeowners who live in high risk flood areas should have easy access to the Elevation Certificate as it is required by banks when applying for a mortgage.  If you do not have a copy of your Elevation Certificate it can be costly to get one.  Therefore, you could also go to http://msc.fema.gov and look at their flood maps.  The Hazard Boundary and Flood maps will show the different flood zones in our community. 
High risk flood areas are classified by zones. These are some of the basic zones: V, X, D and A.  The "V" zone is categorized as beachfront properties, which can incur major damage due to the velocity of waves.  If you own a home in this zone, you are required to carry flood insurance.  The "X" zone is located in areas that are considered low risk of flooding and the "D" zone has not yet been determined because of the lack of study of the area.  These zones do not require you to carry flood insurance.  If your home is located in the "A" zone, you are at risk of flooding from rising water in a nearby river, stream, lake, or other body of water.   Subcategories for the "A" zone are AE, AH, AO, AR, AND A99. These are categorized by the way in which they could flood.  It does not matter which subcategory your home falls in, if you own property in one of these zones, it is mandatory that you carry flood insurance.
---
How much does Flood Insurance cost?
There are many factors that determine the costs of flood insurance.  Your insurance agent will look at the zone in which your home is in and whether it is your primary, secondary or rental home.  What your Elevation Certificate states and the amount of coverage you are seeking will also determine your costs. Our independent insurance agents can research the many different companies that offer flood insurance and make a recommendation for the best coverage for the best price. 
We are fortunate to live in such a beautiful area surrounded by mountains, lakes, and rivers.  Though we enjoy the snowfall in the winter, the spring can sometimes bring undesirable challenges such as flooding.  Make sure your home is protected now.  You can contact one of our independent agents at Wood River Insurance and let us review your policy.  208-788-1100 or visit us at 410 N Main ST in Hailey.  Remember…once flooding starts, it will be too late to purchase flood insurance.  Let Wood River Insurance give you Peace of Mind.