In a world that often tries to mold us into conformity, Bill Minor was as unique unto himself as the stars in the sky.
While Renaissance man is used in describing many, it is genuinely worn by only a few. Bill was one of those individuals. His interests ran the gamut from skiing to boating to hunting to writing screenplays. Everything he put his lively mind and intellect to he mastered.
"There was nobody else in the world like him. Period," his brother Hank said. "He lived life in his world, and life was always good. He had an attitude like no one else. He loved life."
Brother Matt agreed, "He was one of a kind. He lived his life, and it wasn't for most people, but it was his life, and he was happy doing it, so we were happy for him."
Born to Sally Ann and Brad (Fod) Minor in Idaho Falls, Bill was the first of five Minor siblings, soon followed by Patsy, Amy, Matt, and Hank. Sally and Fod raised their children to have a passion for and appreciate what the great outdoors have to offer, and that included skiing.
As a child, Bill suffered partial paralysis of his legs and wore heavy steel braces. Despite his physical limitations, Bill quickly became an excellent skier due to the influence of his parents and good neighbors, Dick and Aris Boyle. The families frequented Pine Basin, Targhee, Taylor Mountain, and Kelly Canyon.
"We were around skiing our whole lives, and Bill excelled at it. He was a natural," Matt said. "If he wasn't skiing with our parents, he was with the Boyles."
After graduating from Skyline High School, the mountains called Bill to Grand Targhee where he became a ski instructor. Skiing the fall line with a combination of style, strength, and fluidity, Bill's distinctive form was unmistakable and attracted the attention of Stein Eriksen, who once pulled Bill aside to tell him, "I love the way you ski."
In addition to throwing himself into and excelling at Galende jumping, Bill also embraced the new "hot dog" expression of skiing, becoming a pioneer in bump skiing, competing against and befriending Wayne Wong among other top skiers of the era, of which he was part of.
"The vibe was going off. Bill competed pretty hard from 1971-74. He was a mogul guy, won a bunch of events and was picked up by Rossignol in 1973," Hank said.
The pinnacle of Bill's professional skiing career was capturing the 1974 World Freestyle Skiing Championships in moguls at Heavenly Valley, California. In the run up to Worlds, Bill stomped the field and the home course, winning the Western National Freestyle Championships on Exhibition in Sun Valley.
"Freestyle skiing in the seventies was a big deal. Bill loved being in the starting gate of any competition. He knew he could hang and win," Hank said.
Longtime friend Whiz McNeal recalled his first impression of Bill.
"He had long skis and wore headbands and bell bottoms. He wasn't California Cool. He was Idaho Tough, and that is what I liked about him. He excelled in so many different sports - but first and foremost - he was a skier."
Bill's next excellent adventure involved Bill Stavros. In 1976, the pair set off on horseback from Muldoon Canyon with a mule string and sheep wagon. The merry band traveled 600 miles north through the mountains and canyons of Idaho before dropping down eight months later into the East Fork of the Salmon River and headwaters of Panther Creek.
The remote wilderness became Bill's home over the next few years. He built a stick and frame house, covered it in Visqueen, and dropped a wood-burning stove in the middle. He fished and hunted and lived off the land, and his brothers came and shared in the adventure - once they found it anyway.
"He told me to come up," Matt recalled. "He said, 'drive to Salmon and go past it, take a left and go down to the river, go across the river and then get out and start walking north.' Sure enough, I did that and dropped into a clearing, and there he was. We would go elk hunting and have a great time."
One of Bill's attractions in living so close to the earth was what he witnessed in nature. From a front-row seat, he saw Bighorn sheep waging mighty battles and geese flying upside down in fog into a cliff face.
"He always said the things he'd seen would blow your mind," Whiz remarked.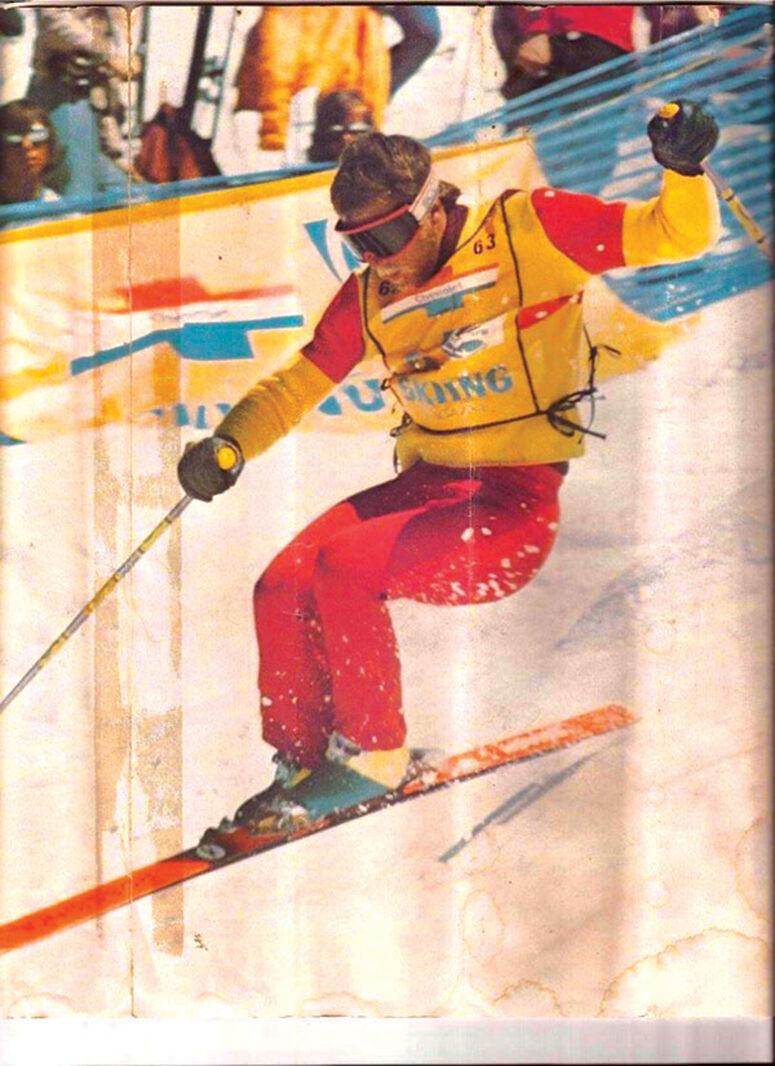 An excellent swimmer with a natural affinity for water, Bill also rode the forefront of another craze; kayaking. He became a kayak builder at Natural Progressions Kayaks based in Ketchum. On the weekend, an adventurous band of boaters included but was not limited to Bill, McNeal, John Pettit, John Ward, Kevin Cincotta, Gary Bartlett, Vance Hanwalt, Richie Bingham, and John Dondero. The crew spent weekends chasing whitewater and exploring the rivers and tributaries in Idaho and the greater west.
"He was a Class 5 boater," McNeal recalled. "He was so accomplished but so humble. He had a way about him. His smile and accent; it was more southern drawl than southern Idaho. He always had a smile and a twinkle in his blue eyes."
McNeal related an indelible memory of his friend.
"When he was a little kid, Fod took him down to where the big falls are in Idaho Falls and pointed at them and said, 'that water will kill you.' After we would get through a big rapid, he would always look back and then at me and say, 'that water will kill you,' and laugh. He was so fun to do stuff with. He was self-deprecating and not cocky. He was the guy you wanted on your team."
The trade winds next blew Bill to Hawaii. Despite never having seen the ocean, Bill's ease and instincts around water were apparent, and he was made Harbor Master at Lanai a year after landing there.
"He was in charge of all the boats that came into Manele Bay, Lanai," Hank said. "There were daily runs from Lahaina, Maui. The position came with lots of respect from the locals on a small pineapple island. This was all before the Four Seasons was developed. It was raw Hawaii."
"Bill loved the ocean. Being Harbor Master required him to work two days a week, and he said he would take off early the second day. I always thought that was funny," Matt said.
Bill built a sea-going kayak equipped with laminate solar panels to power a transistor radio to get the weather report when he was paddling. He made several solo trips in the Lanai and Molokai channel as well as circumnavigating several of the islands, including Kauai, Lanai, and Molokai, despite the looming presence of large Pacific Ocean inhabitants.
"He would tell me, 'Whiz, I go out there at night, and there's nothing but a million stars, and it is so quiet. Then something big will bump your boat and your imagination runs wild,' " Whiz said. "Bill was a great swimmer, marksman, and spearfisherman. Anything he set his mind to, he could do."
Bill subsequently fell in love, married, became a father, and moved to Texas. There he founded TideGuide, an ocean-guided kayaking charter in the Gulf of Mexico near Corpus Christi. Rowing the "Sea Cow," Bill would guide clients on fishing and hunting expeditions around Matagorda Island in kayaks he built by hand.
"There's guys that fish and guys that truly fish. Bill was a wind and tide man. He knew how to play the tides and wind just right. He was inherently smart in so many different ways, but nature-smart is what I respected about him the most," Whiz said.
Returning to Idaho to help care for his aging parents and settling in Jerome, Bill's interests remained as varied and eclectic as he was.
"He was the Renaissance man doing all these different things," McNeal said. "Bill bought a cabin cruiser and drove it up and down the Snake. He would take it to Yellowstone and Jenny Lake. He got his CDL and drove a milk truck and then a school bus. He was writing screenplays. He was chasing bears in Yellowstone."
"You never knew what to expect with Bill. It was going to be something bizarre but in a good way," Matt said. "It was always an adventure being with him."
"He lived his life to the core," Hank affirmed.
Bill's "outrageously positive attitude" remained a hallmark of his personality right until the end. When he was diagnosed with terminal lung cancer this fall, he accepted his fate with equanimity. "He never sniveled, whined or complained about it," Hank said.
He passed on in one of the places he loved best, the North Shore of Kauai, at the home of his sister, Patsy.
Surviving Bill is his father, Fod, daughter, Stella, siblings Patsy (Mark) Nickum, Amy (Glen) Sherman, Matt (Jill) Minor, and Hank (Heather) Minor; nieces and nephews, Christian (Hilary) Nickum, Megan (Justin) Stevenson, Carter (Katie) Minor, Cameron Minor, Lani Minor, Wyatt Minor, and Tatum Minor and four great-grand nieces and nephews; Maddox and Sydney Nickum, and Briggs and Lucy Stevenson. He was preceded in death by his mother, Sally Ann.