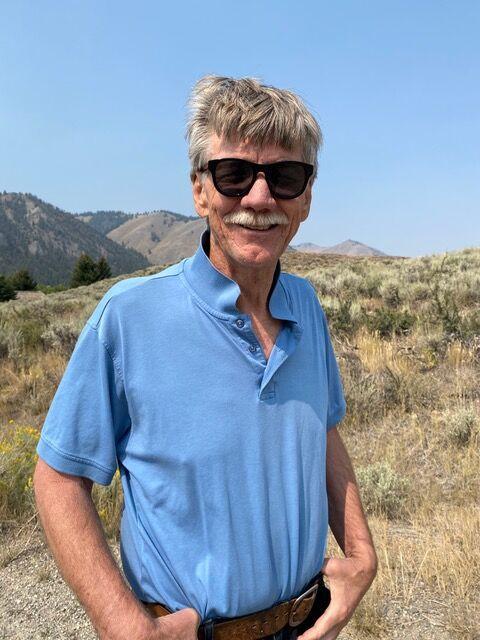 William Armstrong Davidson, devoted father, beloved friend, died with his family by his side on June 10, 2022, at age 69.
Born on July 22, 1952, in Washington, D.C., to Jeanne Skidmore Davidson and Ralph Parsons Davidson, "Will" spent the formative years of his youth in Switzerland and England where he attended grade school before traveling back to the U.S. to finish high school in Fairfield, Connecticut.
Stanford was the next step for the brilliant young student. There he would be following in his father's footsteps, while also paving the way for his younger brother, Andy, to attend a few years later. But unlike his other two family members, Will found the absence of snow-peaked mountains and whitewater rivers insufferable, so after only several semesters, he stuffed his belongings into the back of his orange Plymouth Duster and headed to Sun Valley.
Will originally landed on a parcel of land along the Big Wood River, just north of Hailey. There he lived in a teepee and was in close proximity to all his favorite hobbies: skiing, whitewater rafting, hiking, flying, biking, fly fishing and sailing mountain lakes.
His caring demeanor and humorous intellect secured him many friends and jobs alike in the small knit community. He began working for the Ketchum Fire Department in the early 1980s (a job that came with certain stipulations, such as adding a land phone line to the timber poles of his canvas-coned teepee). Will was highly respected during his 12 years at the Fire Department. His compassion, quick decision-making skills, and cool headedness in chaotic situations were often heralded by veterans and rookies alike. Will's other occupations included being a carpenter, a clerk stockman at Chateau Drug, and, finally, a fixture at Sun Valley Bronze. He was once asked to show the Olympic Alpine Gold Medalist, Jean-Claude Killy, around the mountain, as Will both skied fast, and spoke French. In the early days, Will was often spotted doing the lighting for theater shows in town, and in the later days, volunteering at The Community Library.
Even though Will traveled all over the world during his lifetime (skiing in France, sailing in the Caribbean, etc.), the Wood River Valley was his home. And his presence helped many others feel the same way.
Will was a kind and gentle soul, one who was quick with a smile or a hug. He loved sharing a laugh, telling stories about bygone times, and listening to Jimmy Buffet. He was an avid reader and history buff and could not turn down a chance to be outside with the dogs. He loved many, was loved by more, and will be truly missed by all.
He is preceded in death by his parents and younger brother, Andy Davidson. Survivors include his son, John David Davidson; ex-wife, Janie Davidson; cousins, Elizabeth, Terri, Kerry, Peggy, Marian and Nancy; step brothers and sisters, Ross, Scott, Sydney and Mary Elizabeth; step-mother, Lou Davidson; as well as nephews, Theo and Gabe.
Services to honor Will Davidson will be arranged for a future date.
Memorial contributions are suggested to The Senior Connection, P.O. BOX 28, Hailey, ID 83333