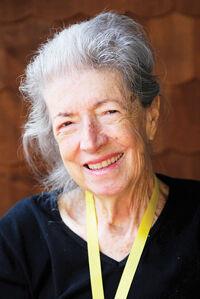 Mary Handelsman, an irrepressible fixture of the Ketchum and Sun Valley lore, passed away at 86 years old at The Cove Cascadia in Bellevue on Oct. 10, 2021. She passed away with her friends by her side. A breakthrough case of COVID-19 caught Mary by surprise.
Born in Colemen, Texas, Mary was a drama major and actress during her college days at Baylor. She moved onto co-writing what became a cult neo-noir European-style screenplay with her late husband, Norman Handelsman, Summer's Children. Released in '65, the film was picked up by producer Jack Robinette and Oscar-winning cinematographer William Zsigmond.
Daily, Mary held court with the town of Ketchum's locals. She made it her quest to introduce herself to the out-of-towners. "Where are y'all from? What do you do?" A Beverly Hills elementary school teacher of 40 years, she'd correct your grammar and, as a proud fifth-generation Texan and a daughter of the Texas Republic, her persistent segue into a deeper conversation would be to make certain that you knew that her mother's side of the family founded the Texas city of Abilene.
Mary was a princess of the town of Ketchum. Her larger-than-life presence amongst her subjects passed through Oz's Witch-of-the-North to the Wicked-Witch-of-the-West. She could be very generous but equally tough on those she felt served her presence. Mary was not one to hold back what was on her mind. She was not one to apologize. Diplomatic interventions on behalf of the offended were needed and, with Mary, had to be painstakingly negotiated. Taken in all, she was Ketchum's beloved princess. She held up, as the embodiment of her soul, the romanticized lore of Sun Valley. For many, here, Mary's presence will be missed.
St. Thomas Episcopal Church will hold a service and memorial for Mary on Nov. 2, 2021. Part of her ashes will be laid to rest at the Church's columbarium. The rest of her will be laid to rest with her mother and father in Baird, Texas. Afterwards, there will be a reception on the church's wooden deck located at the rear of the church nestled amongst Aspens and Douglas firs. Refreshments of likes of Texas, will be served. Please join us to wish Mary well in the afterlife.