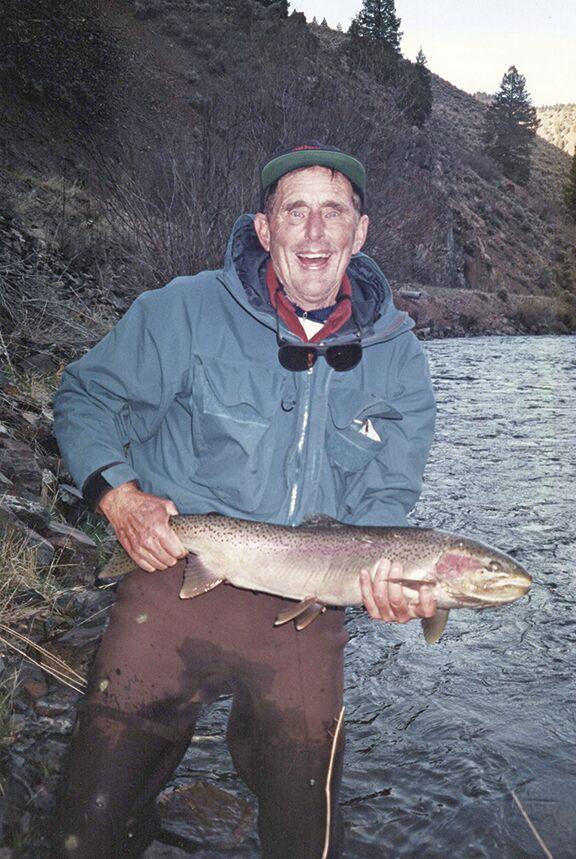 Avid sportsman, Marine (Semper Fi), patriarch of a loving family, and consummate coach and supporter to all his friends. He lived life to the fullest and on his terms.
King, as he was known to everyone, was born in St. Louis, Missouri. His family started the Lambert Pharmaceutical Company, maker of Listerine, and his grandfather was the chief financier of Charles Lindbergh's transAtlantic flight to Paris.
His early life was spent growing up alongside his three brothers in Greenwich, Connecticut. He attended Greenwich Country Day School, Kent School in Kent, Connecticut, and eventually graduated from the University of Virginia with a degree in economics. This is also where he discovered his love for competitive tennis.
Upon graduation from college, World War II was in full swing and the draft was after him. Rather than waiting around to be drafted, his uncle persuaded him to join the Navy, and he entered flight school in Pensacola, Florida. He was an active duty Marine pilot for seven years. Upon leaving active duty, he transferred to the Marine Corps Reserves, completing 22 years and retiring with a rank of lieutenant colonel.
Sports were always in the forefront of King's life: tennis, squash, golf, swimming, football, baseball and pelota (a South American sport). If it was a sport with a ball, he would master it. Tennis, however, was the sport that stuck with him for life, being on the University of Virginia tennis team, the All Marine tennis team and later traveling on the tennis circuit in Europe and the U.S. Eastern Grass Court Circuit. In 1961, he married his wife, Cindy, and they traveled on the European tennis circuit for three months, which culminated when he played at Wimbledon in Doubles and Mixed Doubles. He was selected for and played on many USTA Cup teams such as the Britannia Cup in 1994, the International Tennis Federation Vets World Cup in 1999. He also played on the 1970 United States Fronton Team in San Sebastian, Spain, at the World Pelota Championships. He was inducted into the Southern California Senior Tennis Hall of Fame in 2011.
Returning to the U.S., it was now time to "settle down" and look towards starting a family. He and Cindy based themselves in South Florida where he joined Dunlop in their golf and tennis division and soon after he became district manager of golf and tennis for Spaulding in the Southeast. In 1963, Monsanto hired him to join their newly developed AstroTurf division in New York City, which eventually led to King and Cindy moving to Southern California where he became the district manager for Monsanto's AstroTurf division. King traveled several times to Australia and throughout the U.S. testing, improving and promoting the product. He eventually left Monsanto to pursue building tennis clubs. King went on to build the John Wayne Tennis Club in Newport Beach, California, the West Covina Racquet Club in Covina, California, and he built, owned and operated the Racquet Club of Irvine in Irvine, California, with three partners.
Children became a reality in 1967 when their first daughter, Kristen Bryce, was born. Their second daughter, Kimberly Skye, followed in 1969. King became the doting father encouraging both girls in whatever endeavor they wished to pursue. In 1971, they moved from Alhambra, California, to Tustin, California. He continued to play tennis nationwide and coaching any eager tennis player looking to improve his or her game. He was always the cheerleader and got more pleasure out of someone's win than he did his own, whether it be tennis, golf, fishing or any other game.
Upon his retirement, King and Cindy moved to Sun Valley, Idaho, in 1994 where King discovered a new passion that didn't involve a ball...fly fishing! It was never uncommon to see King hanging out at Lost River or Silver Creek Outfitters obsessing over the best fly or the best day to fish. He finally realized, all days were perfect to fish, and he enjoyed many days trapesing up and down the Big Wood River and floating Silver Creek at Nick Purdy's R & R Fishing Club in Picabo, Idaho. Always the competitor, his question to his fishing friends was always, "How many did you catch and on what fly?" In his later years when tennis was no longer an option, golf became his second passion becoming a member of the Elkhorn Golf Club and always betting whomever he was playing a dollar.
King is survived by his wife of 60 years, Cindy, daughters Kristen Bryce Galles of Casper, Wyoming, and Kimberly Skye Smith of Orange, California; sons-in-law, Shane Galles and Robert Smith; and his wonderful grandchildren, grandsons Gavin and Nolan Smith and granddaughters Sarah and Elena Galles.
King was fly fishing and playing golf up until the end, which was the way he lived life. Do all you can to enjoy every day. His friends and family meant the world to him, and he touched so many lives in a positive way. Once a Marine always a Marine. SEMPER FI...
In lieu of flowers, we ask that you make a contribution in King's name to The Nature Conservancy/Silver Creek Preserve, Hailey, Idaho, or the Wood River Land Trust, Hailey, Idaho.
Memories and photos may be shared at www.woodriverchapel.com