John "Jack" Cuthbert Williams was born in San Francisco in 1931 and transitioned to the spiritual realm on May 12, 2021.
Jack is survived by his five children, Debra, Robert, Diana, Pamela and Lisa, as well as three stepchildren, Dan, Whit and Kate, and a loving slew of extended family and friends.
  In 1953, Jack married his college sweetheart, Geri Chindgren (divorced in 1970), started a family and graduated from Oregon State College with a forestry degree. He then went on to serve two years in the Army as a paratrooper.  In 1959 he studied photography at Brooks Institute in Santa Barbara and the family then moved to Boise, where he was a pioneer in local commercial/scenic photography and film.  In 1977 he moved to Ketchum, where he opened an art gallery and expanded his profession to include weddings and teaching as well as becoming a local personality. He married Patti Albright in 1984 and gained his three stepchildren.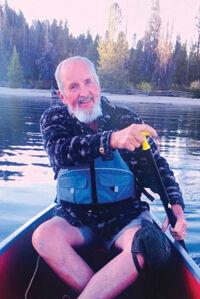 In the early 1980s he was "partially reborn" as the Wood River Valley Santa during the holidays, but the twinkle in his eyes and jolly magic was a gift from Jack year-round.  His election as the grand marshal in the Wagon Days Parade in 2018 was an enormous honor as well.  
  His interests also included performing/musical theater, many year-round outdoor activities, playing games and enjoying the natural beauty of the West, especially Yosemite and Redfish Lake.  
  Jack loved being present in everyday life!  He enjoyed simple pleasures such as meditative breathes, stretching and taking a moment, encouraging others to do so as well; and honoring nature's light and good company, bringing laughter and wisdom to all. Jack/Bopo will be missed by everyone who knew him.
  For more stories visit the "You Know You're Old School Ketchum When" Facebook page.
  Jack's celebration of life will take place on July 31 at the Rotary Park in Ketchum from 11 a.m. to 1 p.m.