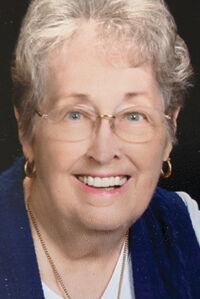 Joanna Marie Ehrmantraut passed away peacefully after a battle with multiple myeloma (cancer) at 9:10 a.m. on Tuesday, Oct. 12, 2021.
Joanna was born Jan. 14, 1941 in Twin Falls, Idaho, to Lloyd and Nellie Rich Hartley. Joanna married Paul Leo Ehrmantraut in Elko, Nevada, on Dec. 8, 1960. Paul preceded Joanna in death in 2004. They had three children: Tod Leo of Centennial, Colorado; Tammy Marie of Tuscon, Arizona; and Wade Leo (Sandra) of Bellevue, Idaho. Joanna was very devoted to her beautiful grandchildren: Siara, Kiana, Caila, Derek, and her great-grandson, Niklaus "Klaus."
Joanna worked in both the Blaine County Assessor and Recorder offices as the Deputy Chief Auditor, managing the county budget and payroll for 25 years before retiring in 2005. Joanna was elected and served two terms as Bellevue alderman until 2005. Joanna moved back to Twin Falls in 2005.
Viewing will be at 10 a.m., with a funeral service at 11 a.m., on Saturday, Oct. 23,2021, at Rosenau Funeral Home in Twin Falls. Repast to follow until 2 p.m. There will be a burial service held at the Bellevue Cemetery at 3:30 p.m. sharp. Arrangements are under the direction of Rosenau Funeral Home.