UPDATE, 12:45 p.m. Monday, Aug. 3: 
As of Monday afternoon, the Drops Fire remains at around 3,800 acres and is expected to be fully controlled by 6 p.m. on Wednesday, BLM Fire Information and Public Information Officer Kelsey Brizendine said.
Fire personnel established full containment around 4 p.m. on Sunday afternoon, she said. Currently, crews from the Sawtooth National Forest and BLM-Twin Falls District (TFD) are "mopping up," or cooling hot spots with hand tools and water.
"At the beginning of the fire, multiple structures were threatened but that is not the case anymore," Brizendine said in an interview. "There's no active fire left—it's pretty much out."
The fire zone spans more than three miles east to west between the Big and Little Wood Rivers north of Shoshone, with its easternmost portion about half a mile west of state Highway 75.
UPDATE, 12 p.m. Saturday, Aug. 1: The Drops Fire north of Shoshone spread to 3,827 acres overnight Friday, the Bureau of Land Management announced Saturday morning. Agencies are now expecting to contain the fire late Sunday afternoon, with control following in the middle of next week. 
The BLM is investigating what started the fire, which sparked behind the city's transfer station near Little Drops on Friday. Initial indications suggest that it was human-caused, according to BLM Fire Information and Prevention Officer Kelsey Brizendine. The Twin Falls District has experienced "a surge" of human-caused wildfires in the past few weeks, Brizendine said. 
As of Saturday morning, a total of 11 engines, two water tenders, two bulldozers, three helicopters and one air attack plane were assisting firefighters on site. 
"Firefighters continue to face difficult conditions on the Drops Fire today," Brizendine said in a statement. "High temperatures, low relative humidity and difficult terrain are of concern to fire managers. While most of the active fire is out, hand crews and aircraft are working together to secure lines on the west and northern flanks. Engines and dozers work to secure the heel, near the origin, and southern flanks."
July 31, 6 p.m.: Crews continue to battle high winds and hot temperature conditions as they work to fight a running wildfire near Shoshone, the Bureau of Land Management reported Friday evening. 
The Drops Fire had consumed some 3,000 acres by 5 p.m. on Friday, the BLM announced. It continues to move north and west, bolstered by strong winds and extreme fire conditions. The Shoshone, Wendell and Gooding Rural Fire Departments are working on scene with crews from the Forest Service and BLM.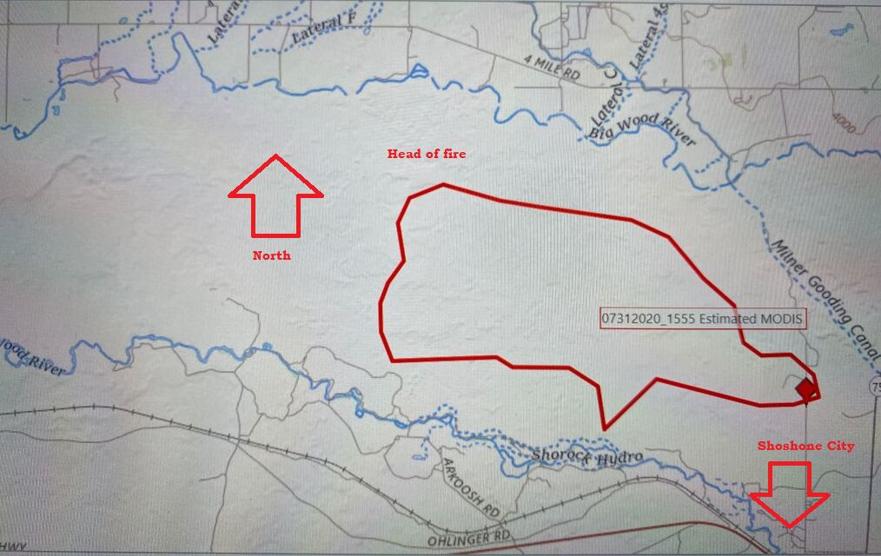 All major roads remain open, but the BLM asks for people to stay clear of the area while firefighters work to put down the blaze. 
As reported yesterday, much of Blaine and Lincoln County will be experiencing dangerously high temperatures this weekend. The National Weather Service issued a warning reminding people to keep hydrated and watch out for signs of heatstroke and heat exhaustion.
This is a developing story. Check back with mtexpress.com for more updates.