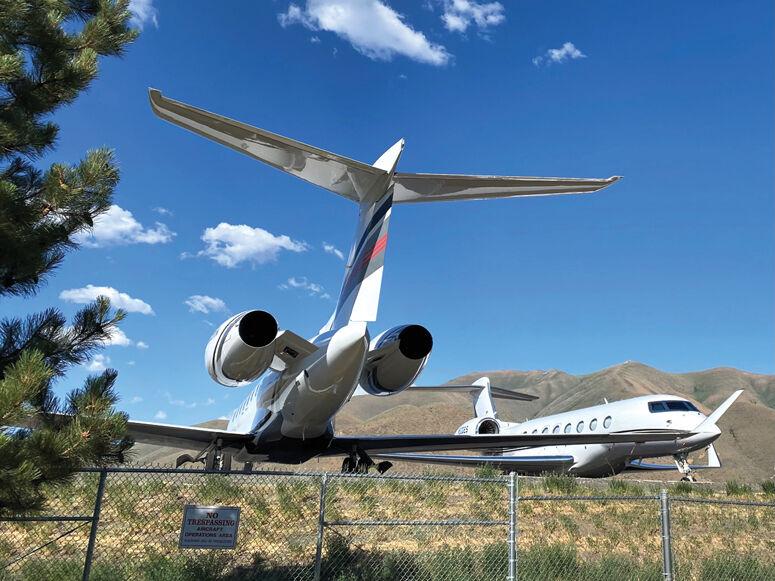 As the world's most famous billionaires and business tycoons descended upon Sun Valley on Tuesday for the 38th annual Allen & Company conference, significant private jet activity at Friedman Memorial Airport led the Federal Aviation Administration to implement a ground delay program to slow the flow of landing planes.
The program was initiated Tuesday morning based on the number of flight plans filed for an airport, according to Airport Manager Chris Pomeroy.
"When the number of flight plans exceed the amount of capacity of the runway, the FAA implements a GDP to spread out the demand throughout the day to meet available capacity," he said.
Guests from the technology sector this year include Amazon's Jeff Bezos, Facebook CEO Mark Zuckerberg, Apple CEO Tim Cook, Berkshire Hathaway CEO Warren Buffett and Microsoft CEO Satya Nadella, according to a report by Variety magazine. Media moguls on the guest list include Discovery's David Zaslav, Disney CEO Bob Chapek, Sony CEO Kenichiro Yoshida and Warner Media CEO Jason Kilar.
Pomeroy said that all guests made it to the airport "as intended, if not a little delayed."
"Overall, feedback from the flight crews and guests was very positive, including reports of efficient flow and relatively minimal local delays for both general aviation and air carriers considering the high demand," he said.
Pomeroy added that the FAA "routinely" implements ground delay programs during high-demand times at Friedman, and has done so leading up to past Allen & Co. conferences.
Though he did not have a specific number of landings to report, he said the airport recorded "approximately 300" takeoffs and landings between 9 a.m. and 11 p.m. on Tuesday. That's one roughly every three minutes.
A report detailing how much revenue the airport received from tiedown permit fees this month will not be available until August, Pomeroy said.
Airport budget 'in a good spot'
In other airport news, the Friedman Memorial Airport Authority board on Tuesday reviewed a draft budget of about $6.5 million for fiscal year 2022, around $300,000 higher than this current year's budget.
The airport's revenue flows in from a variety of sources, including general-aviation user fees, space leases for rental car companies, passenger-facility charges added to commercial flight tickets and federal funds from ticket and fuel taxes.
The beginning cash balance for fiscal 2021 stood at around $5.7 million. From last October to September 2021, the airport had expected a total net loss of about $2.5 million, but over $3.5 million of CARES Act reimbursement helped bring it to higher financial ground.
The final fiscal 2022 budget will be presented on August 3, according to Brent Davis, airport finance and administration manager.
"Our budget is in a very, very good spot. I want to thank my staff and frankly the entire airport staff for making the budget process seamless and really painless, like it should be," Davis said.
Commercial enplanements and airport operations have also been in a good spot this summer, according to an airport staff report. In May 2021, enplanements were up about 2,064%, from 220 in 2020 to 4,761 this year. Total operations, or the number of takeoffs and landings, were also up about 36% from last May.