Sun Valley Resort is riding on a wave of success. During a busy 2020-21 winter season, it unveiled a vast expanse of new terrain on Bald Mountain and a new high-speed chairlift that helps serve the area. The resort was recently ranked the No. 1 mountain resort in the West by readers of SKI magazine for the second year in a row. Last summer, crowds of guests roamed Sun Valley Village and returned to outdoor events, after the COVID-19 pandemic had dampened business the previous year.
In the middle of it all, the resort welcomed a new leader who believes Sun Valley is poised to ride that wave well into the future.
"I feel great," said Pete Sonntag, the resort's general manager and vice president. "And I feel great because what we offer is completely different than what is offered almost anywhere else. And I think that the ability to come ski a major Western ski resort—big mountain, big vertical—and to be able to do it in relative solitude, that's like incredibly special, and magical, and that's what we have, that very few places still have."
Sun Valley Co. hired Sonntag last spring and he took the reins as general manager in early June. Sonntag assumed the role of running the resort's operations from longtime General Manager Tim Silva, who has maintained his position as president of Sun Valley Co. and transitioned to focusing on future development.
Sonntag, 56, previously worked as a senior vice president and chief operating officer of the Western Region for Colorado-based Vail Resorts. His resumé includes leadership roles at several high-profile mountain resorts in North America, including Whistler Blackcomb in Canada and Heavenly Ski Resort in California. He has served as a ski school director at Vail, Beaver Creek, Keystone and Copper Mountain—all in Colorado.
In his role as general manager, Sonntag reports to Bruce Fery, CEO of Grand America Hotels & Resorts in Salt Lake City, the parent company of Sun Valley Co. The Holding family, which owns Sun Valley Co. and the resort, also owns Grand America.
Before he was vetted for the job, Sonntag had never been to Sun Valley. He calls it "sheer chance and good fortune" that the job was available at a time when he could accept it. Fery told him about the company's priorities, values and philosophy, Sonntag said, and he was sold.
"It felt like I was finding something that maybe even had been missing previously," he said. "I was really excited about the opportunity, and from there it just kind of built steam, and so it's crazy to think back to that time contemplating moving to a place I'd never been before, and moving my family there, but knowing with 100% certainty that this was the right thing for us, and for me."
He added, "It was the right call. One hundred percent."
Sonntag was impressed with the resort's lodges, facilities and ski mountains, but there was more to it.
"The asset is amazing, but it's the people that really count for me," he said.
Sonntag grew up in a skiing family in upstate New York but "was not a hardcore skier," he said. At age 18, he moved to the Vail-Beaver Creek area, where he started his career in the resort industry as a grounds maintenance worker at the Beaver Creek Golf Course.
"I truly started at the bottom," he said.
He became "obsessed with" skiing in Colorado, he said, but eventually returned to the East to advance his education. He graduated from the University of Albany and later earned a master of business administration degree from the University of Vermont.
During his times at university, he had to put other priorities over skiing—and he missed it.
"When you don't have it, you realize how important it is," he said.
When he eventually returned to work in the ski industry, he graduated to management roles.
"I think that experience all served me really well, when I did finally get into management, of understanding how a business functions, but also never losing sight of what it's like to be a front-line employee and the challenges you face," he said. "And I've always tried to really stay true to that."
His prior jobs—in all of the various ranks—prepared him well for running Sun Valley Resort, he said.
"So, when I look back on it, I'm grateful for all of it. I learned a ton and was given a lot of opportunity, and I think that's allowed me to come into a role like this feeling like I have a sense of purpose," he said. "And I also know myself, what I'm good at, what I like and I don't like, and really wanting to be a positive influence with my team and in the community."
After a busy and "challenging" summer running the resort and learning some of the ropes, Sonntag said he wants to continue to familiarize himself with the terrain, the people in the community and the resort's guests. He likes to meet guests and ask them questions, both on and off the mountain, he said. And, he said, he also emphasizes communicating with staff.
"I'm in learning mode," he said.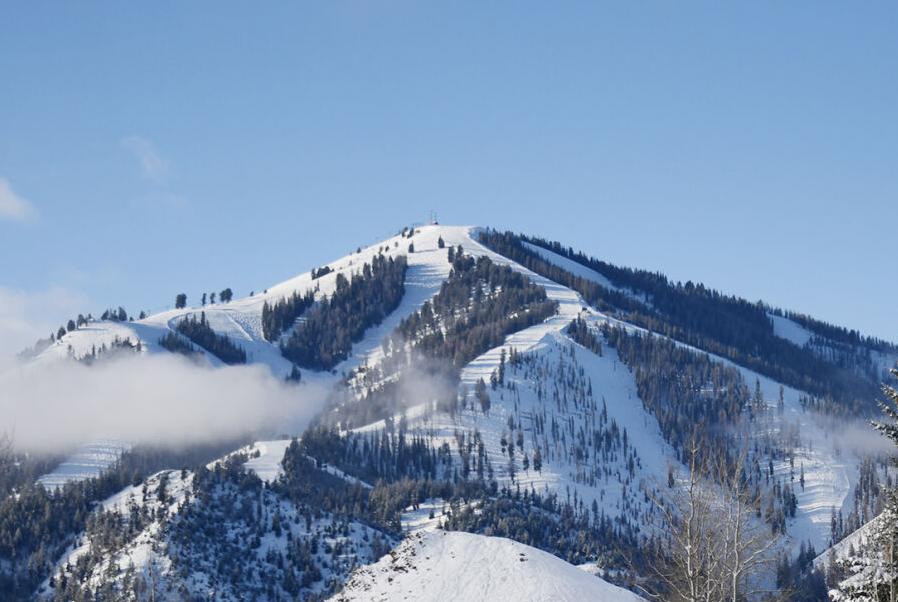 In his lead role, Sonntag will evaluate Sun Valley's master development plan and look at which projects should be prioritized.
"My goal, for sure, is to first experience it for a year," he said.
While the resort is unveiling some improvements this winter—including a new food-service area at the River Run Lodge—it is not introducing any major projects, like it did last winter. Sonntag said he wants to get feedback and impressions from guests as he develops a plan for improvement projects. He wants to consider replacing some ski lifts, though no commitments have been made.
"I think we want to stay current with what the rest of the ski business is doing," he said.
Sonntag also thinks Sun Valley can be part of a "community effort" to promote sustainable, environmentally-friendly business practices.
"We want to be part of the larger discussion," he said.
For Sonntag, Sun Valley needs to maintain the high standards that have made it the two-time favorite of SKI magazine readers.
"The bottom line is being committed to staying relevant and truly meeting and exceeding our guests' expectations at every opportunity," he said.
Sun Valley is different than some of the other mountain resorts he's worked at, Sonntag said. Though last summer was busy, the area "feels less busy, less crowded," he said, and it's surprisingly easy to get to trailheads and get into the alpine wilderness.
"Nature is accessible here," he said.
The relative remoteness of Sun Valley can require marketing that is different than other Western resorts, many of which are close to populated areas. The SKI ranking and the strong economy are certain to help business, Sonntag said, but Sun Valley can strategically "fill in gaps" when business is slower, such as in January and lulls between weekends. The resort also plans to target specific markets, including Boise.
"It's being smart about your marketing," Sonntag said. "It's not spraying messaging all over the place saying, 'Come one, come all.'"
Last ski season was strong, and Sonntag sees positive trends for the 2021-22 season. Sun Valley's association with the multi-destination EPIC Pass is also a benefit, he said.
"Everything we're seeing so far seems to point toward continued momentum," he said. "We feel good about where we are right now."
The pandemic is not over, but Sun Valley will follow local health orders and other guidelines to protect the health of guests and employees, Sonntag said. Masks are not required outdoors on resort properties but are currently required indoors when guests are not eating or drinking, pursuant to local government orders.
"I think it will feel more normal this year," Sonntag said.
Though the indicators point to another strong winter season, staffing remains a challenge for the resort. Sonntag said he is "cautiously optimistic" that Sun Valley will have adequate staff for the season, in part because the federal government will again allow foreigners to obtain J-1 visas to work temporarily in the United States. The program—which has been a key component of Sun Valley's staffing—had been put on hold during the pandemic. The company is using all of the tools it has to recruit workers, Sonntag said, and to publicize Sun Valley's reputation.
"We think we're a pretty special company," he said.
As for rumors that circulate through the community about whether the Holding family will sell Sun Valley, Sonntag said he is "confident there are no changes contemplated."
"I don't think the Holdings have any interest in selling Sun Valley," he said.
Sonntag now lives in Hailey with his wife, Carol. Their three children—all of whom "love to ski"—are in schools out of state.
His broader goal at Sun Valley will be to "run a successful business but to keep the magic," he said.
And, Sonntag said, the "magic" of the Wood River Valley is not to be underestimated.
"I'm really grateful to be here," he said. "It feels like home—in a very short period of time."