As it enters its 85th winter season of serving up snow-clad mountain memories, Sun Valley Resort has reached the pinnacle in an annual ranking of ski resorts in North America.
Sun Valley has been named the top ski resort in the West for 2021 in SKI magazine's annual "Reader Resort Survey," which asks magazine readers to rate North America's ski resorts based on categories that include snow conditions, nightlife, dining, service, grooming and terrain. The Colorado-based magazine has been counting down to the top position on its website, with the ranking of a new resort published each day. It separates resorts in the East and West.
This is the first time Sun Valley has earned the No. 1 ranking in the SKI magazine Resort Guide, after earning numerous top-10 rankings over the last two decades, including No. 2 honors last year, in 2017 and 2015.
"We are honored to receive this award and I think it is a tribute to the great leadership team at the resort," said Tim Silva, the resort's president and general manager. "It is also a testament to the entire community, and the collective efforts to provide the Sun Valley experience, and we share this award with you."
The comprehensive rankings based on the annual reader survey—the longest-running rankings in the industry, Sun Valley noted in a news release—are used by many skiers and fellow travelers to assess which ski resorts in the East and West best fit their preferences. The survey for the 2021 Resort Guide was conducted this year.
According to results in specific categories, Sun Valley earns high grades for experiences both on and off its two ski mountains.
Sun Valley was ranked No. 1 in the categories of Lifts and Down-Day Activities, and ranked in the top five in the categories of Grooming, Dining, Lodging, On-Mountain Food, Service, Accessibility, Local Flavor, Charm and Overall Satisfaction.
Deer Valley Resort, in Utah, was ranked the No. 2 ski resort in the West, while Whitefish Mountain Resort, in Montana, took the No. 3 spot. The No. 4 and No. 5 rankings went to Taos Ski Valley, in New Mexico, and Aspen Snowmass, in Colorado, respectively. Last year, Aspen Snowmass bested Sun Valley by one spot to take top honors in the rankings.
The No. 6 through No. 10 ski resorts in the West in the 2021 Resort Guide are: Telluride, Colo.; Whistler Blackcomb, British Columbia (Canada); Steamboat, Colo.; Beaver Creek, Colo.; and Crested Butte, Colo. The 11-20 spots went to, respectively: Park City, Utah; Breckenridge, Colo.; Jackson Hole, Wyo.; Vail, Colo.; Lake Louise, Alberta (Canada); Banff Sunshine, Alberta (Canada); Winter Park, Colo.; Arapahoe Basin, Colo.; Keystone, Colo.; and Mammoth Mountain, Calif.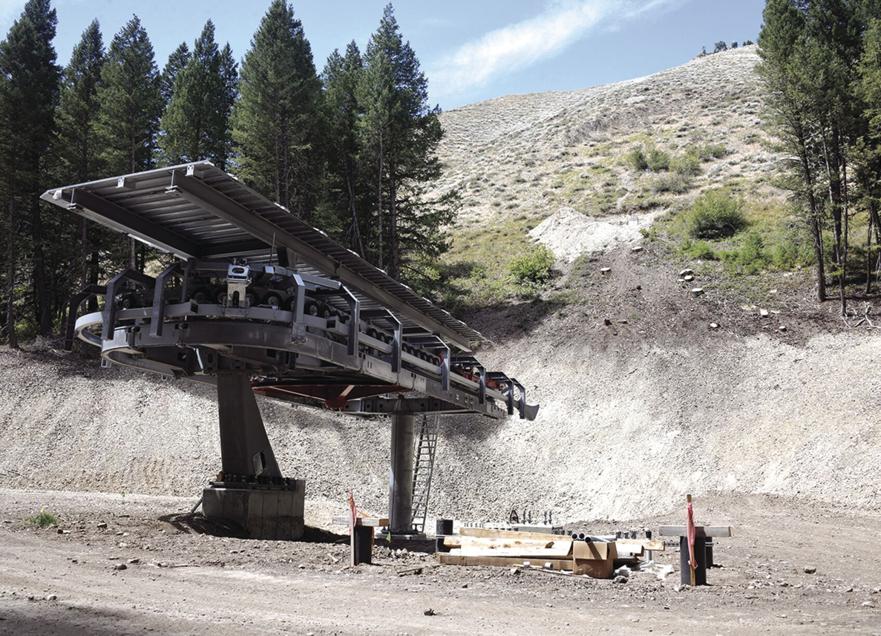 "Sun Valley has a rich and storied history, but it was its most recent investments and innovations that helped land its first-ever win as top ski resort in North America," the Sun Valley Resort news release states.
Those investments and innovations include a terrain expansion of more than 380 acres of expert terrain—featuring chutes, glades and bowls, to be called Sunrise—at Sun Valley's signature ski area, Bald Mountain. The new terrain is scheduled to open this winter. The resort has also installed a new high-speed quad chairlift to serve the area, named Broadway, which has replaced the oldest operating lift on Bald Mountain, the Cold Springs two-person chair.
Sun Valley offers skiers and snowboarders more than 3,400 vertical feet and more than 2,000 acres of skiable terrain, which will increase to almost 2,500 acres with the Bald Mountain expansion. Baldy—as it is known by locals—has 12 chairlifts, including the new high-speed Broadway quad, and more than 65 runs. The family-oriented and beginner-friendly Dollar Mountain—a short distance to the east of Baldy—has two high-speed quads, a full-featured terrain park with 76 rails, and the Accelerator and the Silver Dollar carpet lifts for skiers first learning the sport.
SKI magazine readers have been consistent in praising Sun Valley's ski lifts and off-the-mountain activities. Last year, Sun Valley took top honors in seven categories, earning the No. 1 ranking for Lifts, Service, Lodging, Down-Day Activities, Family-Friendliness, Charm and Overall Satisfaction.
"Coming off the longest 'off-season' the resort has ever seen, guests and staff are excited for a safe and enjoyable 20/21 winter season, with numerous health and safety measures in place," the news release states.
Sun Valley is scheduled to open the winter season on Bald Mountain on Thanksgiving Day, Nov. 26. Dollar Mountain is scheduled to open Saturday, Dec. 12, weather permitting.