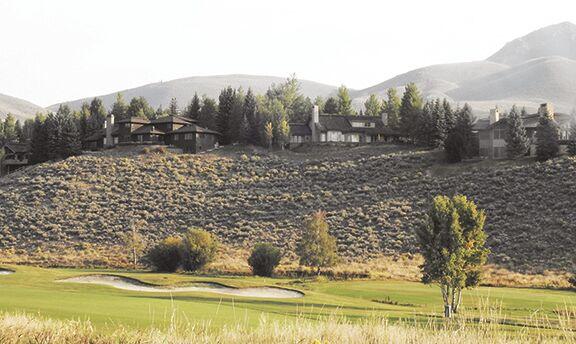 Sun Valley leaders delayed acting last week on proposed changes to city code that would allow limited development on steep areas of some uneven or hillside lots, instead directing staff to solidify language intended to protect most hillsides.
After delaying a vote last month to request initial modifications, City Council members on Thursday, Sept. 2, voted 3-0 to have the Community Development Department make additional revisions and bring them back at their next regular meeting on Oct. 7. Councilman Brad DuFur was absent while attending to a personal family matter.
Councilman Keith Saks strongly favored delaying the vote, saying that while a change to the development code might seem mundane, it could have significant long-term ramifications on the city.
"I personally don't see the need to rush this through," he said, "without being very, very careful with reasonably considering everything about it."
The changes proposed by city staff would allow the city—either through review by planning staff or, in some required cases, the Planning and Zoning Commission—to approve encroachment into parts of lots that exceed 25% in grade. The proposed amendments to city code do not guarantee a right to encroach onto steeper slopes, city staff have noted.
Existing regulations prohibit development on or encroachment into land areas with 25% slope or greater. The city's hillside regulations have largely been credited with preserving pristine views and the natural features of hillsides and other sloping or prominent land areas.
If the amendments to the code are approved by the City Council, the city would have the ability to approve the encroachments in limited cases if the development is in line with the "intent and purpose" of the city's existing hillside development regulations, a city memorandum states. The stated goals of the existing regulations include "protecting natural landmarks and prominent natural features of hillsides, ridges … and the natural skyline," as well as "directing development to areas of least slope on hillside property."
The primary reason for the proposed changes is to create a review and approval process for the limited encroachments into steep slopes, instead of the city having to review and grant code variance requests from landowners to permit what it deems to be reasonable development. Some approved variances have been for driveways and to allow effective access for emergency vehicles. Others have allowed a residence to encroach into an undulation on a lot.
The number of requests for variances to the prohibition on development on grades higher than 25% have soared in 2021, city staff have stated.
In addition, the way slopes are measured today is much more specific than when the original ordinance was crafted, Community Development Director Brittany Skelton has noted, creating nuances that didn't previously exist.
Skelton told the City Council that her department does not want to have loopholes in the revised ordinance that belie the intent of the city's existing hillside protections. The city does not want to encourage property owners to develop farther up a sloping property, she said, but does want the ability to permit what it deems routine development in specific cases—instead of having to regularly grant variances.
"These amendments are not intended to allow in any way for developments to be pushed upslope," Skelton said.
There are about 150 vacant, legal lots in the city, many of them featuring slopes.
Referring to numerous public comments submitted to the city about the ordinance amendments, Saks said he thinks the city needs to further educate citizens about the plan.
In a public hearing, Sun Valley resident Claire Goodyear agreed.
"Once you make changes, you can't undo them," she said.
Mayor Peter Hendricks said he did not want to delay approval a second time.
Councilwoman Jane Conard requested a list of specific revisions, including language that precludes pushing a development farther up a hillside—where it would be more visible—because of the allowances in the code.
Councilwoman Michelle Griffith initially said she preferred not to delay action. The city granting variances for encroachment into areas with 25% slope or greater has become "routine," she said, so a new process should be established.
"I am not comfortable with it the way it is," he said.
Proposed changes to city code also include amending language to honor "platted" building envelopes on city lots, rather than "recorded" building envelopes. Platted envelopes are created through an application and review process with the city, while recorded envelopes can be established privately and then recorded with Blaine County government.
To change the code, the City Council must approve and conduct three readings of the revised ordinance.