The air was brisk Wednesday morning as bundled-up billionaires, business tycoons and tech titans made their way into the Sun Valley Resort for the 36th annual Allen & Co. conference.
The renowned yet secretive business, media and technology conference brings together power players from around the world in hopes of creating lucrative dialogues that will lead to new ventures for the world's most wealthy.
But hosting hundreds of the world's one percenters presents a serious challenge: keeping them safe.
Sun Valley Police Chief Mike Crawford spoke with the Idaho Mountain Express on Tuesday as dozens of jets flew into neighboring Friedman Memorial Airport, carrying the conference's elite guests.
"It's a time when everyone's working," Crawford said of the annual event. In addition to Sun Valley Police Department, the conference comes with its own security team, MSA Security, and also calls on the Idaho State Police and the Idaho National Guard for support during the five-day event.
The 101st Weapons of Mass Destruction Civil Support Team of the National Guard "supports civil authorities at domestic incident sites, which may involve areas affected by terrorism or natural disasters," according to the division's website.
In a 2017 year-in-review report by the Idaho Military Division, the Allen & Co. conference is described as "a technology conference in Sun Valley attended by numerous dignitaries."
Brian Coughlan, director of MSA Security for the Sun Valley conference, said, "No comment,"—the most typical response in the event—when asked for a glimpse of how this year's security efforts may differ from those in the past.
With high-profile government officials such as Secretary of State Mike Pompeo reported to be on the agenda by various national news organizations, security officers take even the most minute threat seriously.
Mckinley Lentz, 21, of Greenbay, Wis. said he was fired from his position in lift operations with Sun Valley Resort after attempting to protest the billionaires descending on the resort town.
For less than an hour on Tuesday afternoon, Lentz held two signs reading, "Wealth is wasted on the wealthy" and "Beware billionaires in philanthropist cloths (sic)." Officers with SVPD and Coughlan came to question him as he stood at the intersection of Saddle Road and Sun Valley Road with his signs.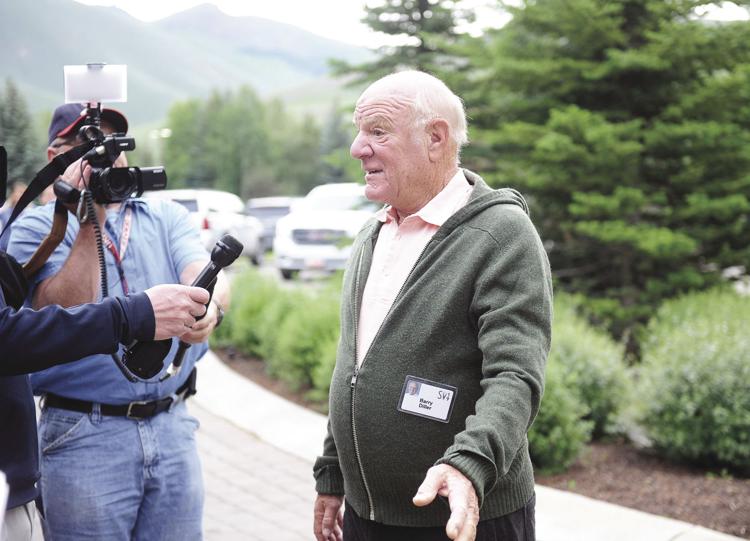 "I think there's no reason anyone should have these levels of wealth," Lentz said in an interview with the Idaho Mountain Express on Thursday.
"This was a very personal thing. I one hundred percent expected that most people wouldn't care."
But due to the high-profile guests, security was alerted, and Lentz was asked to return to his employee housing where he said he was subsequently fired.
By Wednesday morning, Lentz was long gone, but security officials found another red flag, this time in the press pen near the Sun Valley Inn.
As media representatives waited for the next mogul to walk by, one reporter was pulled to the side by three security officers and received a verbal warning for an unknown violation, before being escorted to the parking lot.
Before his sudden departure, the young reporter managed to ask one question of one billionaire, John Malone, 72, former CEO of Tele-Communications Inc., worth $7.1 billion dollars according to Forbes.
"If you could write a letter to yourself 25 years ago, what would you tell yourself?" the reporter asked.
Malone responded, "Do what your heart wants. If you want to be a forest monk, go be a forest monk."
Security officers escorted the reporter to a parking lot and talked to him. He did not return to the press pen.
Barry Diller, 77, Chairman and Senior Executive of InterActiveCorp and Expedia Group, also stopped to answer questions from the press as his wife, Diane von Fürstenberg, proceeded to breakfast.
Diller, who helped found the Fox Broadcasting Company with Rupert Murdoch in 1986, said he was sad to see the merger of Fox and the Walt Disney Company. Disney purchased 20th Century Fox for $71.3 billion in March.
"I hate to see it disappear," Diller said of Fox, before excusing himself to catch up with his wife.
The conference, dubbed by some as "billionaires summer camp," is set to conclude Saturday.