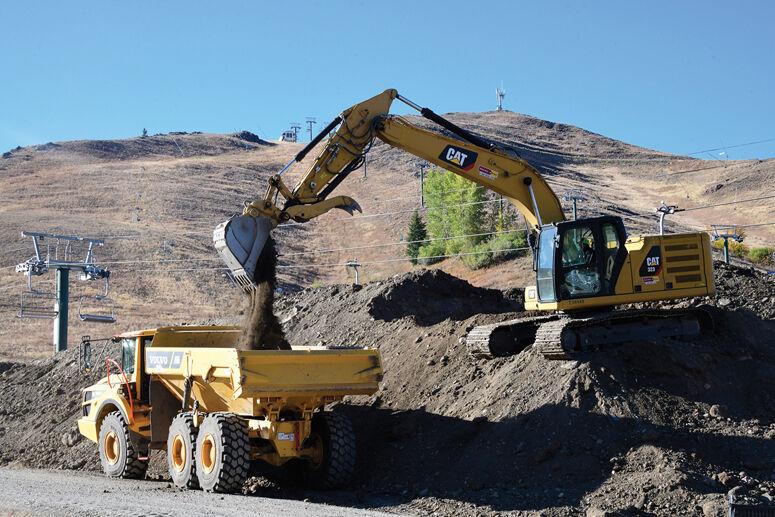 Sun Valley Resort is moving large quantities of dirt from a development project to the slopes of Dollar Mountain to improve the skiing terrain.
Over the last two weeks, the company has been dumping truckloads of fill dirt onto a north-facing section below the Quarter Dollar chairlift known as Mine Shaft. The trucks are gaining access to the area via a makeshift road built in late September.
"The relocation of dirt on Sun Valley Co. property is to improve the overall experience of skiing and riding on Dollar Mountain," the company said in a written statement issued to the Idaho Mountain Express.
In July, the city of Sun Valley approved two applications to do the work. One application was for a variance to the city's prohibition of building on or disturbing land with a slope of greater than 25%.
A city staff report on the project states that the resort intends to install fill dirt in three areas of Dollar Mountain terrain. One area is near the end of Otto's Run, near the top of the Quarter Dollar lift. The other areas are Mine Shaft—where work is being conducted now—and adjacent to the Half Dollar chairlift on Graduation run, the city report states.
"All three areas are located in the vicinity of existing snowmaking equipment and the purpose of installing the fill dirt is to reduce the amount of artificial snow that must be made for these areas to be skiable," the city staff report states.
The dirt will be brought to the three fill sites from areas excavated for 12 residential lots the company is developing in the White Clouds subdivision, on the opposite side of Sun Valley Village from Dollar Mountain.