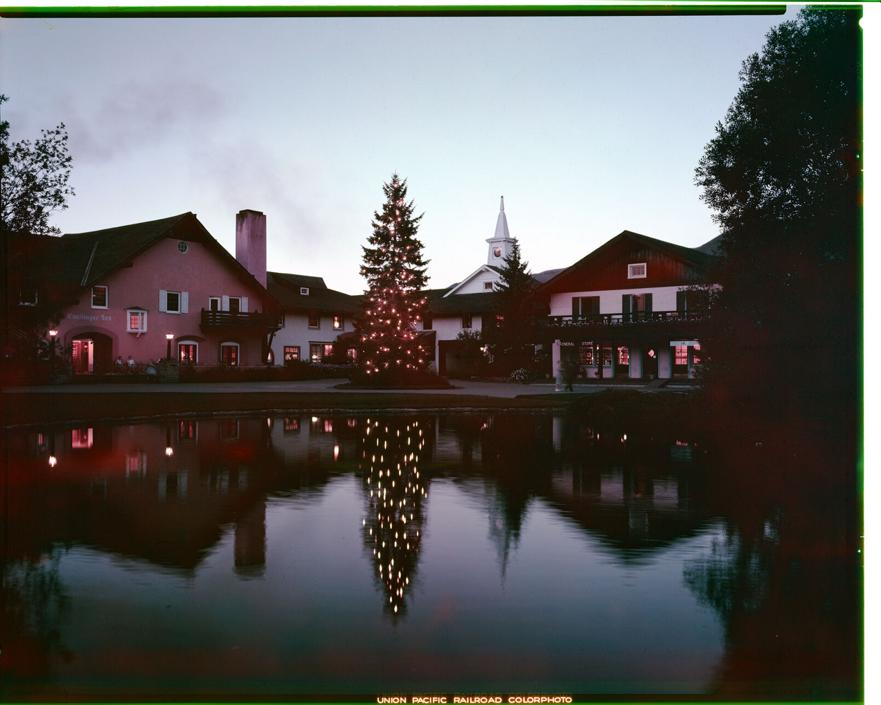 Much of the usual pomp and circumstance that surrounds the holiday season at the Sun Valley Resort will be absent this year, so why not take the opportunity to reflect on how the holiday was celebrated back in the day?
What better way to begin than with Santa Claus? With Jolly Old Saint Nick himself busy this time of year, Sun Valley employee Packey Boyle donned the costume to meet with children.
Of course, it wasn't just the children who liked visiting with Packey's Santa Claus. Pictured center right, Hollywood starlet Jane Russel—known for "Gentlemen Prefer Blondes" and "The Outlaw"—got a kick out of her meeting with Father Christmas.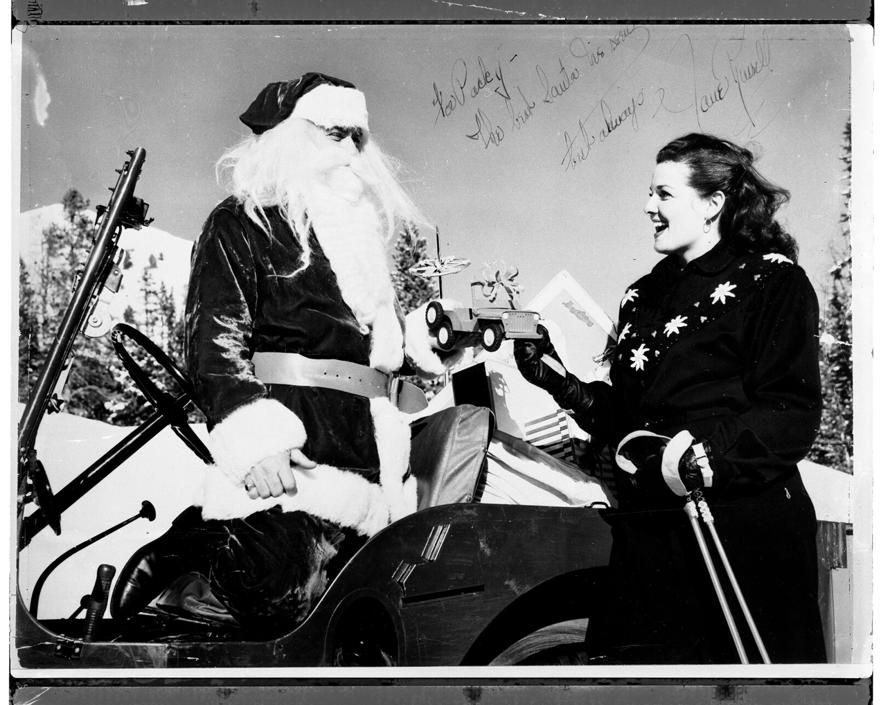 Like most visitors to the resort in those days, Santa knew how to get around in style, only he traded out the Rolls-Royce for magic reindeer and a sleigh. During this 1939 visit, Sun Valley reindeer caretaker Ernie Ahsook kept the animals happy while youngsters Buster Davis and Lucinda Miles met with St. Nick.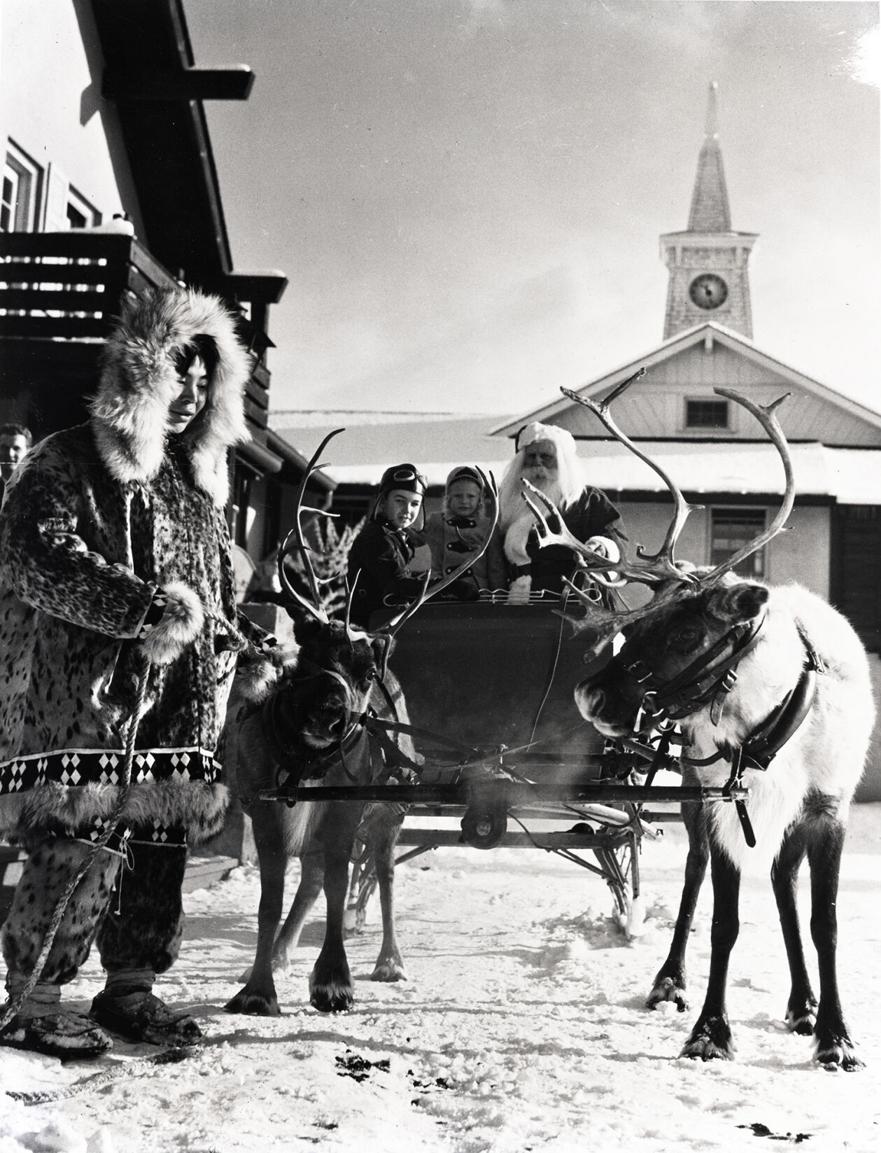 Sun Valley always sported extravagant decorations for the winter season. (Below) An ice-sculpted camel occupied a manger scene outside the Sun Valley Opera House one winter. The opera house itself sported a star and a Santa Claus façade. Looking closely at the marquis movie poster of "My Blue Heaven," one can date the photo to 1950. The Betty Grable musical got a wide release just one week before Christmas that year.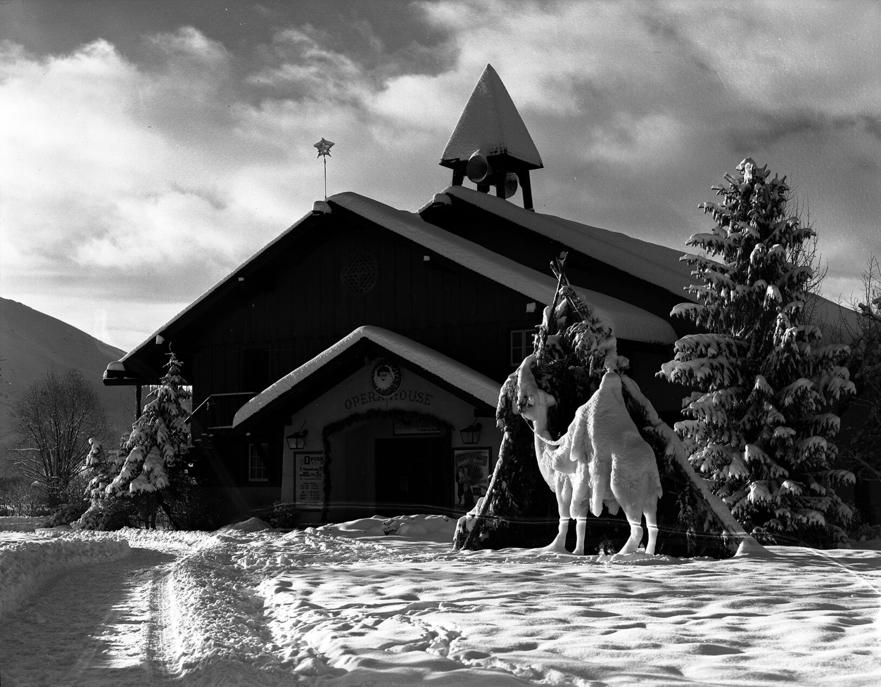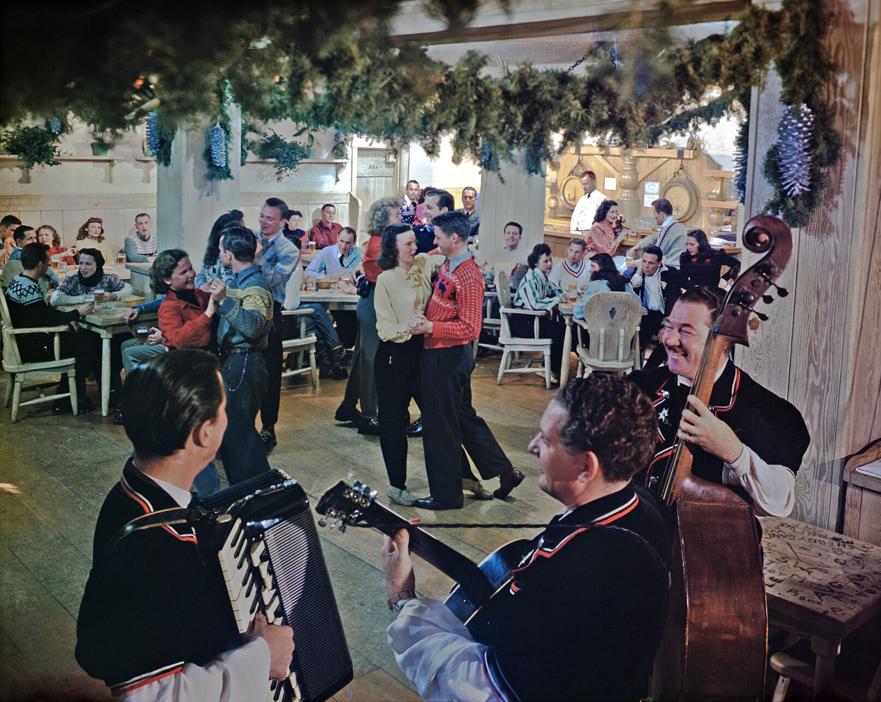 Christmas in Sun Valley wasn't all celebrities and decorations, though. Visitors enjoyed dancing, live music and large feasts—much like they do in a normal year now.
Even when Santa wasn't around, the resort offered plenty to keep younger visitors happy and entertained. As Christmas 1952 approached, children enjoyed supervised play and story time at Trail Creek Cabin while their parents skied the slopes.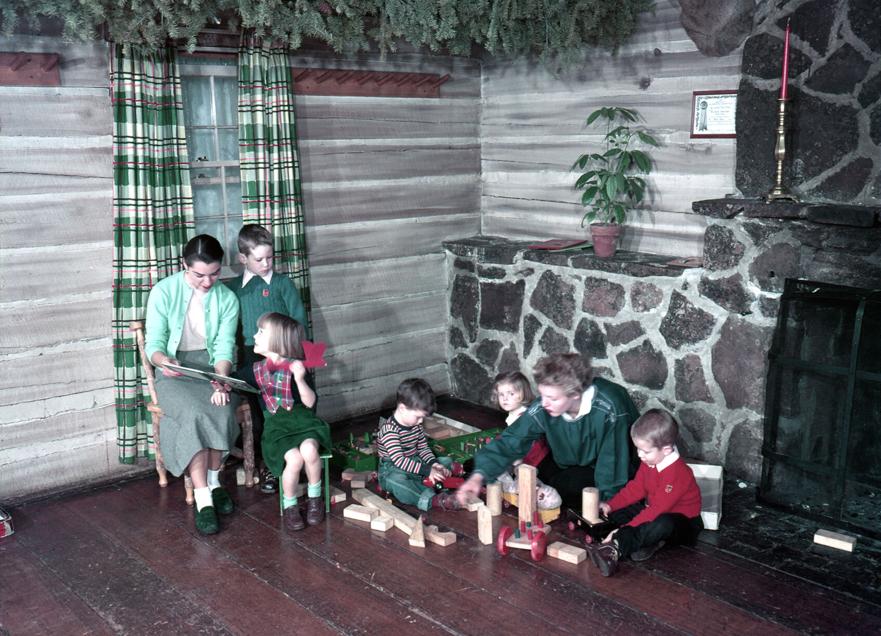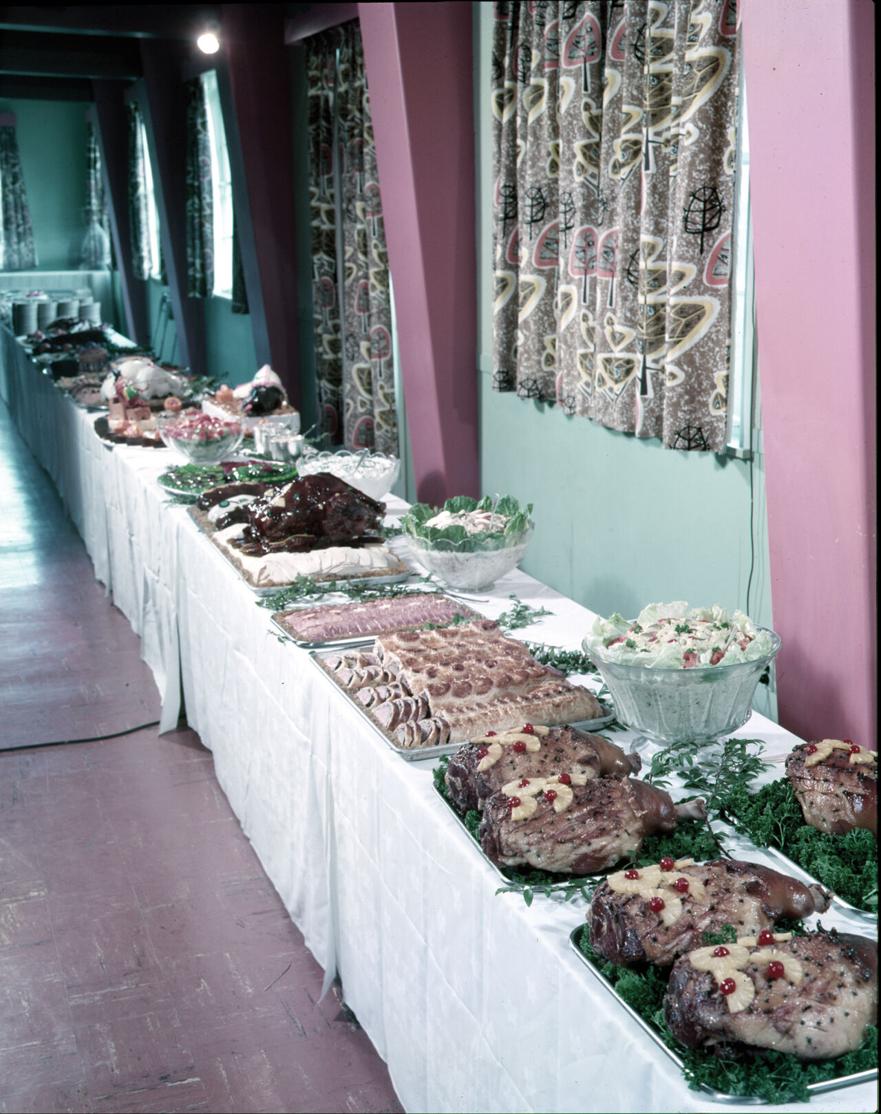 Visitors to Sun Valley circa 1955 would enjoy buffets like the one pictured. The Community Library's Center for Regional History—in addition to all these photos—has a copy of the original menu for the resort's opening day dinner on Dec. 21, 1936. Diners were treated to a wide variety of delicacies, including an "Ananas Surprise, Union Pacifique." Beverages included Manhattan cocktails, Moselle wine, Champagne, coffee and various liqueurs.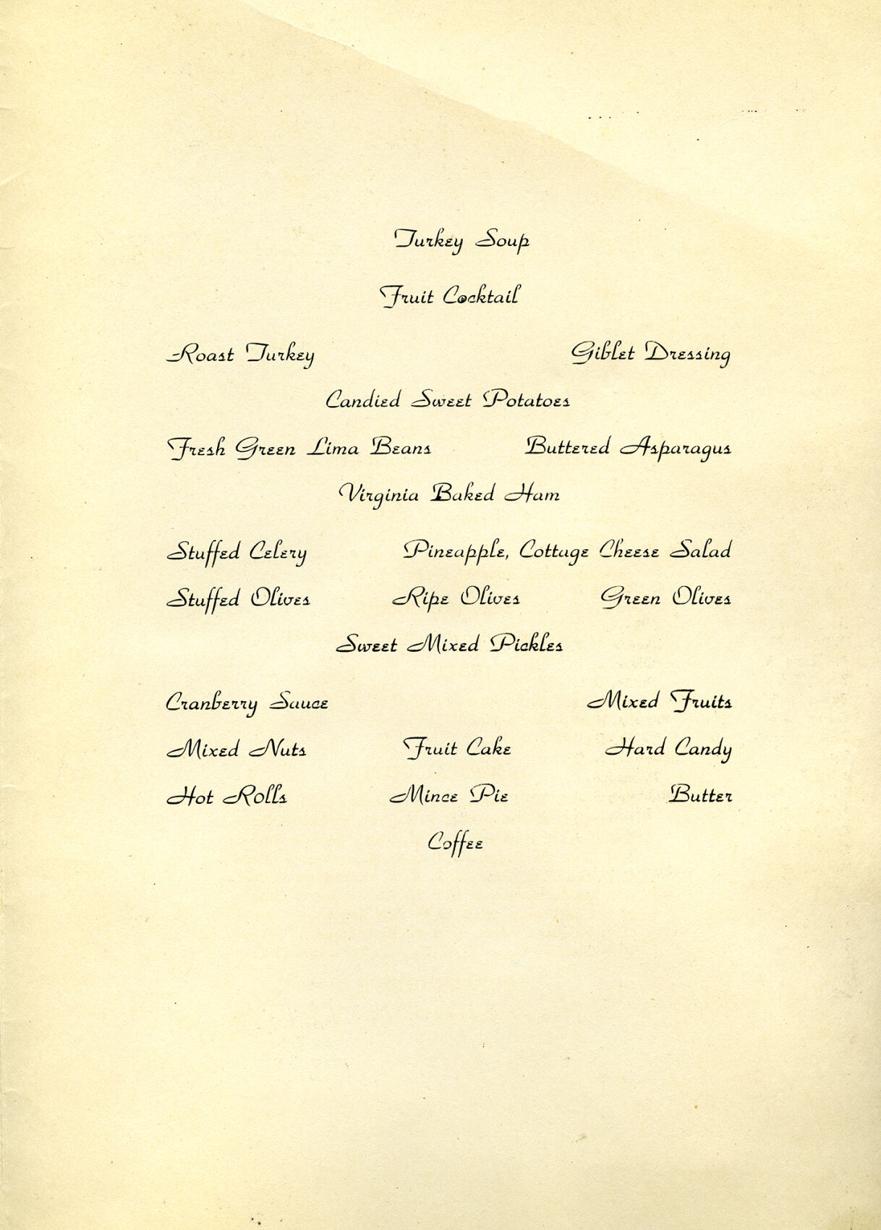 During the Second World War, when the resort served as a Naval convalescent hospital, the Christmas dinner (yellow menu below) wasn't quite so extravagant (and didn't feature any booze), but items like roast turkey, Virginia baked ham, fresh green lima beans, stuffed olives and cranberry sauce would have helped the recovering G.I.s enjoy the season. Even the war couldn't put a complete halt to holiday festivities.
Though much has been canceled or reimagined in 2020, Sun Valley is still celebrating the "most wonderful time of the year," 84 years on from its original opening.