Three of Idaho's four congressional delegates voted to certify the results of the 2020 presidential election on Wednesday after a mob made up of supporters of President Donald Trump forced its way into the U.S. Capitol building, delaying the proceedings.
Sen. Jim Risch, Sen. Mike Crapo, and Rep. Mike Simpson, all Republicans, voted to certify the electoral victory of President-elect Joe Biden. Rep. Russ Fulcher was the only member of the delegation to file an objection against the results.
Later in the day, all four members of the delegation took to social media to issue statements on the rioting at the capitol building, with all condemning the violence and destruction committed by the protesters.
In a statement sent out to media Wednesday night, Crapo described the mob's actions as "wholly unacceptable."
"All perpetrators should be prosecuted to the fullest extent of the law," Crapo said in the statement. "Actions like today thwart the rule of law and could leave lasting, devastating consequences on our nation."
In the same statement, Crapo explained his vote to certify the election results.
"Any effort by Congress to abandon the Electoral College's constitutional significance for states to certify and send their Electors would set a dangerous precedent I cannot support," he wrote. "To undercut this system would inevitably lead to federalizing our election process and remove the authority of states under the Constitution."
Risch described the actions of the mob as "unpatriotic and un-American in the extreme," and called for "an open, transparent system with clear guidelines and rigorous safeguards" to "restore Americans' faith in our voting process."
Simpson and Fulcher each tweeted shorter statements on Wednesday's events, with Fulcher writing: "The violence seen today, and this past summer, is unacceptable. It does not move us closer to solutions."
"We have a constitutional right to peaceful protests but the clashes with police and destruction of property must stop now," Simpson tweeted. "We can disagree in a better way."
Several Idaho state officials also weighed in on the violence and the vote, including Idaho Democratic Party Chairwoman Van Beechler.
"Because our Republican leaders in Washington have encouraged and refused to stand up to President Trump's deliberate attack on the Constitution and the legitimacy of our elections, they are responsible for the unrest that is occurring," Beechler said in a statement. "[Idaho's congressional delegation] all share responsibility for today's events, along with every Republican official who chose to prioritize political power over preserving our democracy."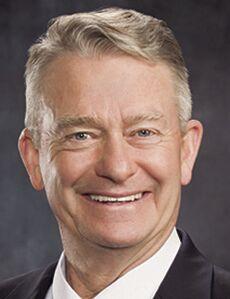 Gov. Brad Little wrote in a statement that he was concerned about the impact Wednesday's events would have on public access to the U.S. Capitol for citizens and students.
"We can do better," he wrote. "We must rededicate ourselves to making the process open to all, without intimidation of either the inside participants or the outside observers."