When Heidi Dohse learned that a piece of land had come up for sale in Stanley, she didn't hesitate to make an offer.
Dohse and her husband, Matt, had been on the hunt for land in the Sawtooth Valley for several years, with no luck. Any property in their price range was "snapped up" within days or even hours, before the Dohses were able to look at them, and the market felt like "a lot of locals talking to locals," as Heidi described it.
For the Dohses, who have called the Wood River Valley home for the past 20 years, the search was a long one.
"In some ways it was kind of frustrating, feeling like if you didn't know somebody that was really integrated into the community there, you'd never actually get the chance to bid on a property there or even know it was available," Heidi Dohse recalled.
She had set an alert on her computer to let her know whenever a Stanley property came available on a real estate website. When one popped up last month, she immediately picked up the phone and called the owner. She was willing to make an offer right then and there, she told him—sight unseen. The next morning, the Heidi and Matt drove up to Stanley and made their offer official.
The Dohses aren't alone in their search. Those in Stanley's real estate and construction sectors say demand for homes in and around the town has been rising, surging especially in the last several years. Statistics from the Intermountain Multiple Listing Service (MLS), which includes a database of realtor-facilitated sales, show a significant spike in home and land sales over the past year and a half. That data likely doesn't tell the whole story, according to one realtor, as a number of sales take place directly between buyer and seller and are never listed on the market.
Demand is especially high for properties that are $500,000 or less, according to local realtor Jeffrey Hall, with offers typically made within hours and contracts sometimes signed within a day. A number of Hall's clients come from the Wood River Valley or elsewhere in Idaho, Hall said, while others hail from states including Nevada, California and Washington.
"We're just exploding with growth here and we have such a limited supply to do it with," said Hall, who works with Stanley-based Alpine Properties. "It's insane."
There have been 12 reported home sales in the Stanley area since the start of 2019, data from the Intermountain MLS shows—more than the overall total for the preceding five years. There were 11 homes sold in the area from the start of 2014 to the end of 2018.
Land sales also saw an uptick: Nine pieces of land have been sold since the start of 2019, compared to three pieces of land sold between 2014 and 2018.
George Nedelea, owner of Stanley-based Sawtooth Contracting, said he's seen "a big spike" in people building new custom homes in the Sawtooth Valley in recent years. He estimates that there has been at least one 10,000-square-feet-or-larger house built in the area each year for the past five or so years.
"That might not sound like a lot for the Wood River Valley, but for Stanley that used to be uncommon prior to four or five years ago," Nedelea said.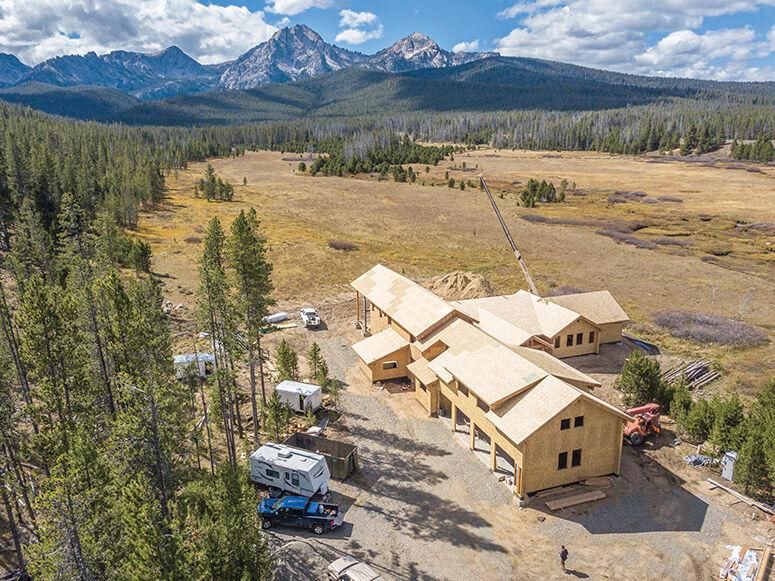 The design of new houses has been slowly changing too, Nedelea said, with a growing number of people asking for modern homes with more glass and steel than wood.
"Prior to this, everybody kind of wanted a cabin, just a place for the weekend," Nedelea said. "Right now, even if they're coming up for the weekend, they want a high-quality home."
Nedelea notes that not all of the new houses going up in the Sawtooth Valley are large or modern, but he has seen an increase in the overall demand for new homes, too. Five years ago, he said, his company would typically build about one house per year. Already, they've been hired to build three in 2021.
Not all land-buyers are looking to build, at least not right away. Jeffrey Johnson, who lives in Boise, closed on a piece of land in Stanley earlier this week. Johnson and his wife had been "dreaming about" buying land in Stanley for years, he said, but didn't start looking seriously until a few months ago, after Johnson spent a few weeks in the Sawtooth Valley for work and was reminded of his love for the area.
"For me, it's one of these magical places that is a perfect mix between small community and just stunning natural beauty," Johnson said.
Johnson and his wife plan to build a house on the land someday, he said, but for now, the family plans to use the lot for camping.
"We're used to spending a lot of time in tents and camping, and the idea of building a large house doesn't appeal to us," Johnson said. "Being able to be outside and have a structure that blends into the natural scene is critical."
One of the appeals of the property, Johnson said, was the fact that it adjoins a national forest—meaning that no development will take place next door. That draw is also what makes buying real estate in the area so challenging, Hall said. The abundance of public lands severely limits the potential for new development, making existing properties a hotter commodity.
"We have a ton of demand but our supply is extremely limited," Hall said. "We're never going to be that Sun Valley, McCall, et cetera. We're never going to have that development here."
That's fine by the Dohses, who are drawn to the Sawtooth Valley's "natural beauty" and "amazing outdoor" opportunities, Heidi Dohse said.
"In some ways, as crazy as it sounds, the Wood River Valley's definitely growing," she said. "It's going to be good to go back to a smaller community."
While Stanley may never grow significantly in size, Nedelea predicts that the look of the town will change in the coming decades, especially if buyers knock down existing buildings to construct custom homes.
"Given the value of the land, I believe that whoever's going to buy these properties 10 years from now are not going to keep those buildings around anymore," Nedelea said. "Change is coming for this valley, I believe."