With fewer than three months remaining until the November election, Republicans in District 26 say a sense of unity within their party will be key to turning the currently blue district red.
At a GOP town hall event in Fairfield on Saturday, speakers tied the importance of local legislative races to recent events in other states, arguing that flipping District 26 seats is necessary to staving off what they characterized as an overall leftward shift in Idaho politics.
"If you like the way things are going now in Seattle and Portland with antifa, you should vote Democratic because it's going to continue," said candidate Bill Thorpe of Hagerman, who is challenging Rep. Sally Toone, D-Gooding, for her seat in the Idaho House of Representatives. "As Republicans, we only have to agree 80 percent of the time. Our fundamental objective: Let's beat the Democrats and keep the state red."
---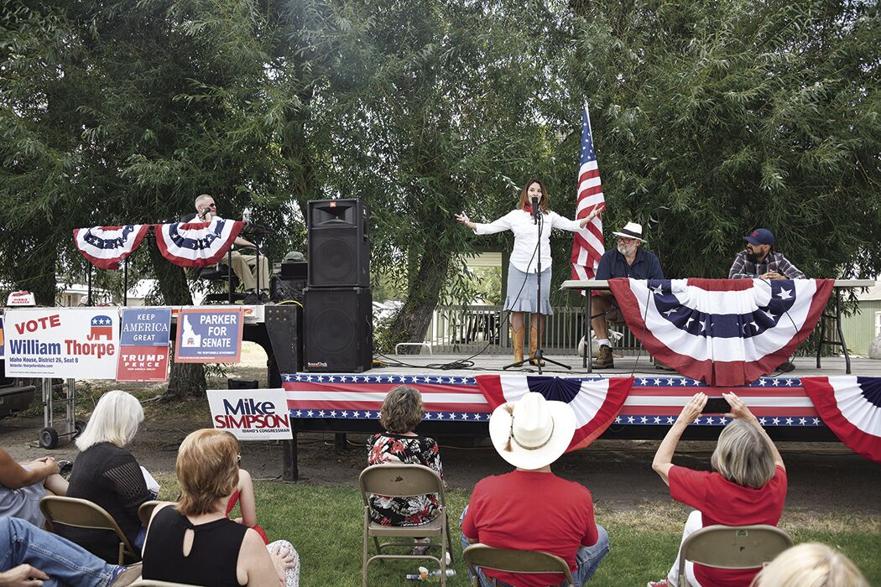 'We don't want to be California'
The town hall, hosted by the Camas County Republican Women, featured remarks from Thorpe and state Senate candidate Eric Parker of Hailey, along with Lt. Gov. Janice McGeachin, Camas County Commissioner Travis Kramer, former state Rep. Steve Miller and Camas County Prosecuting Attorney Matt Pember.
"Here in our district we've got some of the most conservative, country-loving people on the planet, but for some reason we're blue," Pember said. "What's actually stopping us, I think, is apathy. We assume, 'We're Camas, we're Gooding, we're Republicans, we don't need to go out and vote because the Republicans are going to win.' That is not the case."
The three Democratic legislators currently representing District 26—Toone, Sen. Michelle Stennett of Ketchum and Rep. Muffy Davis of Ketchum—are "helping … to make us California," Pember continued. "And we don't want to be California."
Questions for Thorpe and Parker included inquiries on perennial issues such as public lands access, abortion, gay marriage, immigration and gun rights. But they also touched on some more timely topics, including COVID-19, the Black Lives Matter movement and defunding the police, recent protests in Portland and whether schools should resume in-person learning in the fall.
---
---
COVID-19
"I think this whole COVID thing is a fraud," said Thorpe when asked about his thoughts on the novel coronavirus. "I think it's an elaborate flu like other flu epidemics we've had. And yes, the result could be more dangerous and may be more dangerous. But I feel like it's being used by the Democrats [to elect Joe Biden as president,]" Thorpe said.
(The U.S. Centers for Disease Control and Prevention estimates that between 24,000 and 62,000 people died from the flu in the United States between Oct. 1, 2019 and Apr. 4, 2020, the most recent flu season. As of Aug. 3, there were 154,471 confirmed and probable coronavirus-related deaths in the U.S., according to the CDC's website.)
Parker did not directly comment on the health threat of COVID-19, but said he would like to see the state put checks and spending limits in place to limit the governor's ability to allocate state money without legislative approval in the event that a similar public health emergency occurs in the future.
"I believe the unintended [economic] consequences are going to last a long, long time," Parker said. "Let's nip this thing in the bud and not let it happen again."
Parker also said he would like to see the Legislature define "essential workers," the phrase used to describe health care workers, grocery store employees and others who continued going to work while Idaho businesses were locked down.
"I think essential is every person who pays taxes in the state of Idaho," Parker said. "Let's put that in the Constitution."
---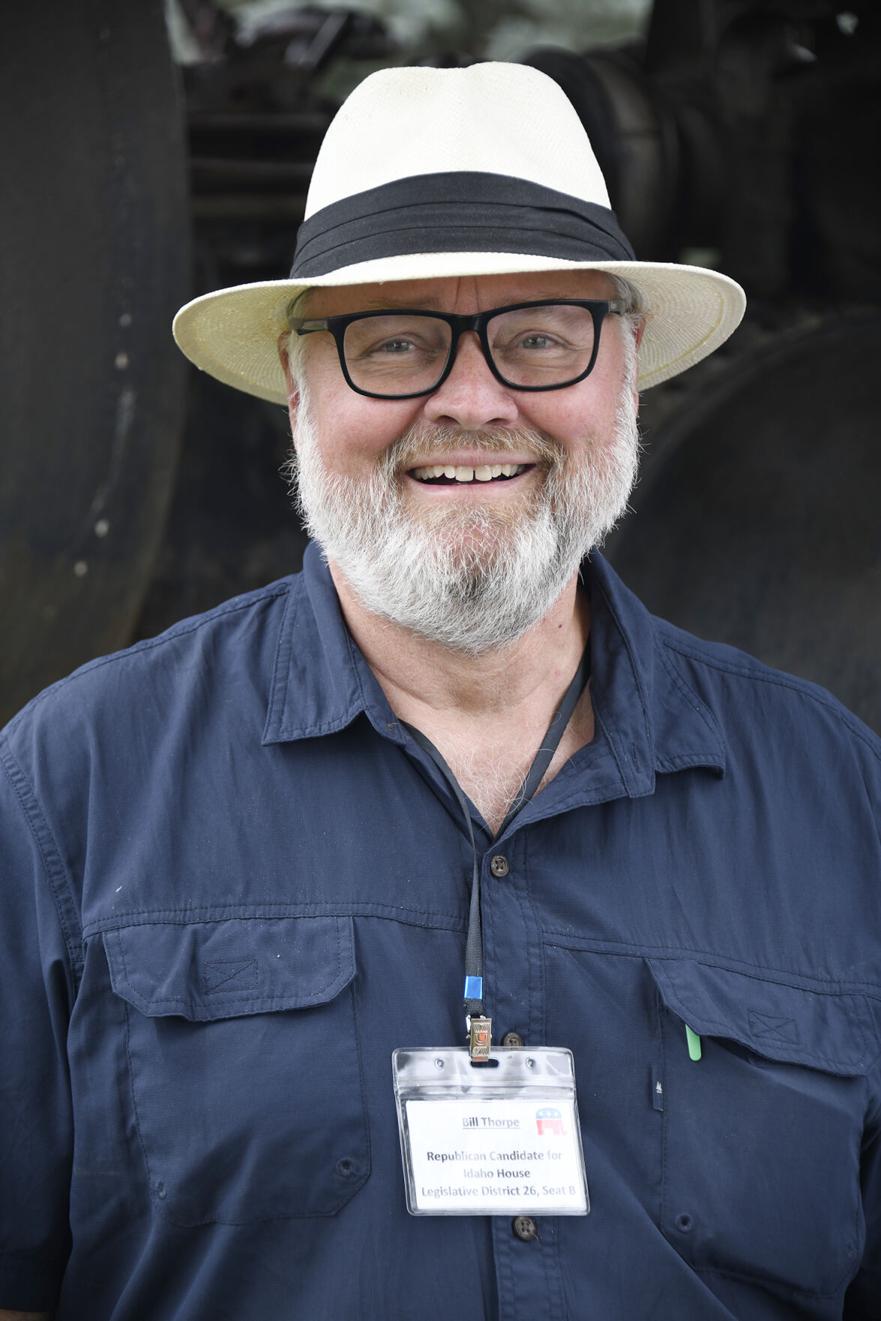 Black Lives Matter, 'antifa' and protests
Earlier in the day Saturday, Parker spoke at the "Freedom is the Cure" rally in Twin Falls as the founder and president of the organization Real 3%ers of Idaho. Speaking to the crowd in Twin Falls, Parker urged attendees to prepare to "defend" themselves and their neighbors.
"You don't have to know about guns, you don't have to know about tactics," Parker said. "This state is full of proud combat veterans and they will stand up and defend you."
He noted that 95 days remained until the November election.
"It's coming, win or lose," Parker said. "The history of a peaceful transition of power in America is slowly going down the drain. If you're not preparing for that, you're behind the curve."
Later in the day, at the Fairfield town hall, Parker responded similarly to a question about whether the candidates supported Black Lives Matter and "antifa," seemingly referring to recent protests in Portland and elsewhere.
"There's real leftist militias out there, and the thing about it is it's going to get worse before it gets better, I think," Parker said. "It's not that bad here yet, but it's coming here."
When asked by the Idaho Mountain Express to expand on his comments, Parker said he anticipates the kind of civil unrest and protests currently underway in Portland to escalate nationwide around the November election, particularly if there is confusion regarding the voting process.
In responding to the same question about recent protests, Thorpe said he did not support Black Lives Matter or "antifa."
"The leftists in the United States just took over the education system," Thorpe said. "They've educated a couple generations now of people that have no concept of American history and are all concerned about the 'feeling' of this. Well, they're going to feel great when they start marching them into camps, because that's where it goes."
---
Education and schools reopening
Education—a thoroughly debated issue in the Idaho statehouse each year—comes with new challenges in 2020, as school districts, state officials and health experts weigh options for the upcoming school year. The decision on whether to resume in-person learning has been left up to individual school districts, though some—including the Blaine County School District—have said they won't bring students back to school without the approval of the local health district. Gov. Brad Little, meanwhile, has said he expects schools to reopen as usual in the fall.
"I think the 'need to shut down the schools' is another fallacy," Thorpe said when asked in the town hall. "These children are going to be paying this for the rest of their lives. And the thing that bothers me about Black Lives [Matter] is who's going to be most hurt by this? It's not going to be the 1 percent kids. …. It's those kids that rely on the public education system to get them out of the poverty they live in."
Parker, a father to children in the Blaine County School District, described the online schooling system in the spring as "a dumpster fire."
"I think they should go back to school," Parker said. "I don't think they should be online."
Going forward, Parker said, Idaho should "get out of the box" when it comes to education and offer greater support to families who home school their children.
---
---
Police reform
"I'm not for defunding the police, I'm not for Black Lives Matter," Parker said. "[But] I believe that we need to start looking at de-escalation training. I like my law enforcement to be peace officers, and I like them to be able to de-escalate things."
"This is not Portland. This is not Seattle," Parker added, referring to District 26. "We don't have that type of law enforcement. But over the whole state, it wouldn't hurt to look at that training."
Thorpe said he believes "training can always be improved," but that he does not support defunding the police.
"Nancy Pelosi will always have protection," Thorpe said. "Tom Hanks will always have protection. Who do the police protect? They protect the people who can't protect themselves.
"99.9 percent of the police do a fine job every day. They like the job they're doing. And they're being bombarded beyond belief to me in such an unfair fashion."
---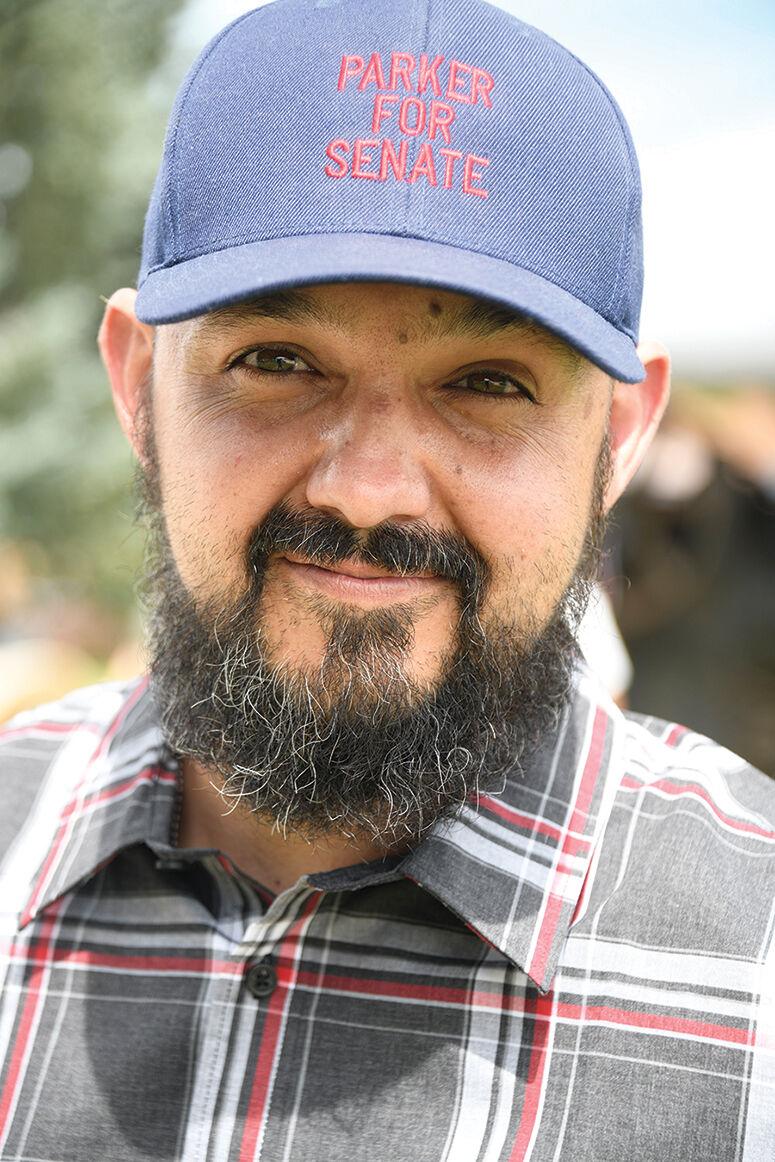 A call for GOP unity
McGeachin described the upcoming election as "a great opportunity" for the GOP to flip some blue seats red, calling on local Republicans to put aside policy differences for the benefit of the party.
"We need to work together and we need to put our differences aside," she said. "When it comes to [specific] policy, we can have that cordial debate."
Steve Miller, who served in the Idaho House of Representatives for six years before losing to Davis in 2018, urged town hall attendees to take a "grassroots" approach to the election.
"Each one of us need to be active," he said. "It's going to be neighbors talking to neighbors about what's important. There's so much divisiveness in the media that sometimes people don't talk.
"This is a classic statement, but this is the most important election we've ever had," Miller continued. "We've had about 10 of those in a row now. This isn't new, but we do need to be committed to it."