Dain Hamilton, owner and operator of Thunderpaws—a pet shop with locations in Ketchum and Hailey—says he's had a lot of disappointed and upset customers since a Blaine County sheriff's deputy and a detective from the Hailey Police Department confiscated a number of products containing CBD oil, derived from hemp plants, being sold at his shops.
CBD—cannabidiol—can be derived from both marijuana and hemp plants, and although few studies have been done on its effect on dogs, the minimal studies that have been done indicate that CBD oil is beneficial to dogs with osteoarthritis and epilepsy. In addition, Hamilton said his customers have reported that CBD had been helping their dogs with anxiety issues, arthritis or general pain, and even helped dogs going through chemotherapy to reduce nausea and pain. In general, Hamilton said, CBD calms nerves and eases anxiety in dogs. But Idaho state law still categorizes hemp, and all of its derivatives, as marijuana, making it illegal unless it comes from the mature stalk of the plant and contains zero percent THC—delta-9 tetrahydrocannabinol—the psychoactive component of marijuana.
Hamilton said he did his research prior to purchasing any products containing CBD oil, speaking with law enforcement to clearly understand what could be sold in Idaho while staying within the limitations of the law. With those guidelines, Hamilton went to manufacturers of CBD products for dogs and found three that he thought met the criteria. He began selling CBD products last May, including oils, biscuits and honey sticks. Then, the police showed up.
Law enforcement officers told Hamilton that a concerned citizen filed a report claiming that the products contained THC. Police confiscated all of the oils and some of the other products, telling Hamilton not to sell any products containing CBD until the products could be tested in a lab for THC. Currently, the Idaho State Police forensic laboratory does not have a method to test the percentage of THC in a product, only to test whether or not there is THC in a product.
At the same time, Hamilton contacted the product manufacturers and verified that the products he was selling contained no THC. One of the manufacturers agreed to do its own third-party testing on its products to verify the claims and discovered that the product contained .02 percent THC, not zero.
Now, Hamilton must wait to see what happens with a current House of Representatives bill making its way through the Idaho Legislature that will determine the legality of hemp products in the state, before he is allowed to sell CBD products to his customers. Hamilton says if he does, he could be charged with felony distribution of a controlled substance.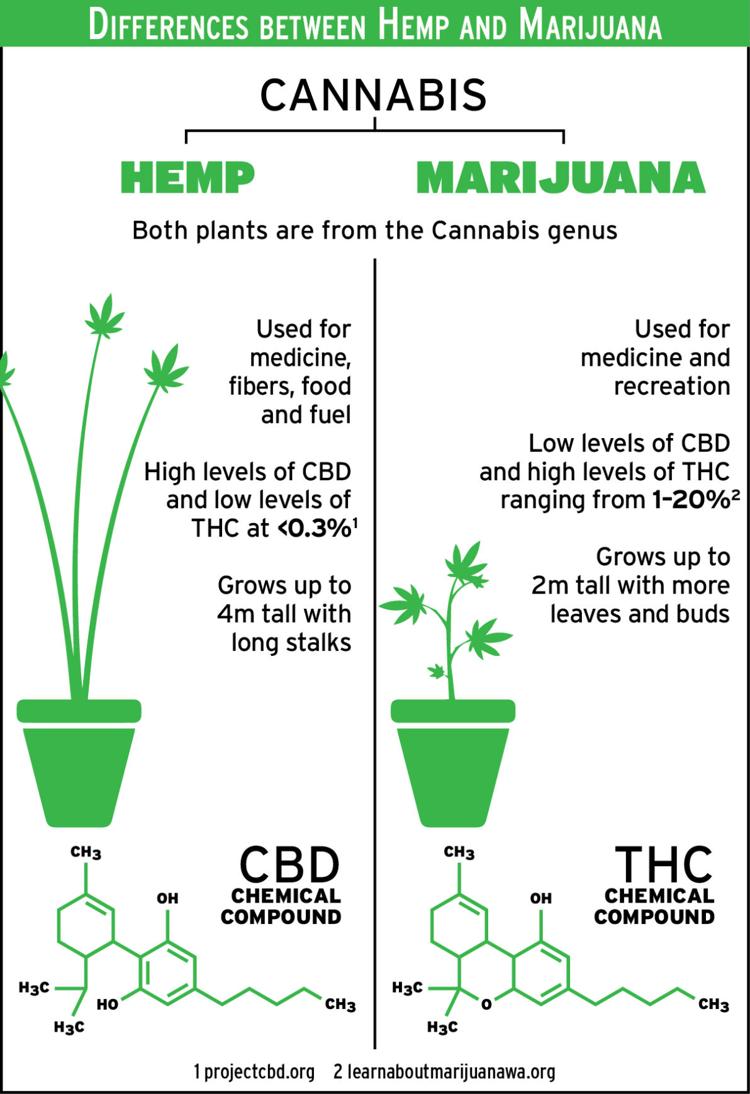 Legality of CBD products
According to current federal law, the 2018 Farm Bill, signed by President Donald Trump on Dec. 20, 2018, defines hemp as "the plant Cannabis sativa L. and any part of that plant, … with a delta-9 tetrahydrocannabinol concentration of not more than 0.3 percent on a dry weight basis." That means that hemp and its by-products, including CBD products, that contain 0.3 percent or less of THC, are federally legal.
In Idaho, House Bill 122 aims to legalize industrial hemp, which is currently considered a Schedule 1 substance.
"The drugs in this schedule are those that have no accepted medical use in the United States and have a high abuse potential. Some examples are heroin, marijuana, LSD, peyote," according to the Drug Enforcement Administration website.
On March 18, HB 122 passed the House with only seven lawmakers voting in opposition. The bill "amends existing law to provide legislative intent; to provide for research, production and regulation of hemp; and to provide an exception regarding tetrahydrocannabinols." The bill had 30 co-sponsors out of the 70 members in the House, according to the creator of the bill, Rep. Caroline Troy, R-Genesee.
If it passes, Troy says the law would make it legal for CBD production and sales for humans and their pets.
"We still have several steps to go through before we're out of the woods," Troy said. The bill had its first reading in the Senate's State Affairs Committee on March 18 and its second reading on Monday, at which an Idaho State Police major testified.
Maj. Charlie Spencer said that the state currently does not have a court-approved instrumentation procedure that tests for the amount of THC in a product, only whether or not the product contains THC.
Medical studies in dogs and humans
A study done by Cornell University's College of Veterinary Medicine and published in the journal Frontiers studied the efficacy of cannabidiol-based oil in dogs with osteoarthritis. The study used two different doses of CBD-enriched oil and concluded that a measured dose of CBD twice daily can help increase comfort and activity in dogs with osteoarthritis.
According to the American Kennel Club website, scientists have established that "cannabinoids interact with the endocannabinoid receptors located in the central and peripheral nervous systems, which help maintain balance in the body and keep it in a normal healthy state."
Based on anecdotal evidence from dog owners, CBD can treat pain, especially neuropathic pain, help control seizures, and can be used for its anti-inflammatory properties, cardiac benefits, anti-nausea effects, appetite stimulation and anti-anxiety impact, according to the American Kennel Club website.
The American Kennel Club Canine Health Foundation is currently sponsoring a study, through Colorado State University's College of Veterinary Medicine and Biomedical Sciences, that will evaluate the use of CBD in treatment-resistant epileptic dogs. The Canine Health Foundation hopes that this will be the first study to gain scientific data on the use of CBD in dogs with that condition.
A study by the World Health Organization, published in 2017, states that "in humans, CBD exhibits no effects indicative of any abuse or dependence potential," and "CBD has been demonstrated as an effective treatment of epilepsy in several clinic trails, with one pure CBD product (Epidiolex) currently in Phase III trials. There is preliminary evidence that CBD may be a useful treatment for a number of other medical conditions."
Epidiolex is now legal in Idaho to treat certain types of epilepsy in humans.
"To date, there is not evidence of recreational use of CBD or any public health related problems associated with the use of pure CBD," the study states.
Currently, a clinical trial sponsored by the New York University School of Medicine in collaboration with the National Institute of Health is trying to determine whether cannabidiol is effective in treating alcohol-use disorder in individuals with comorbid post-traumatic stress disorder.