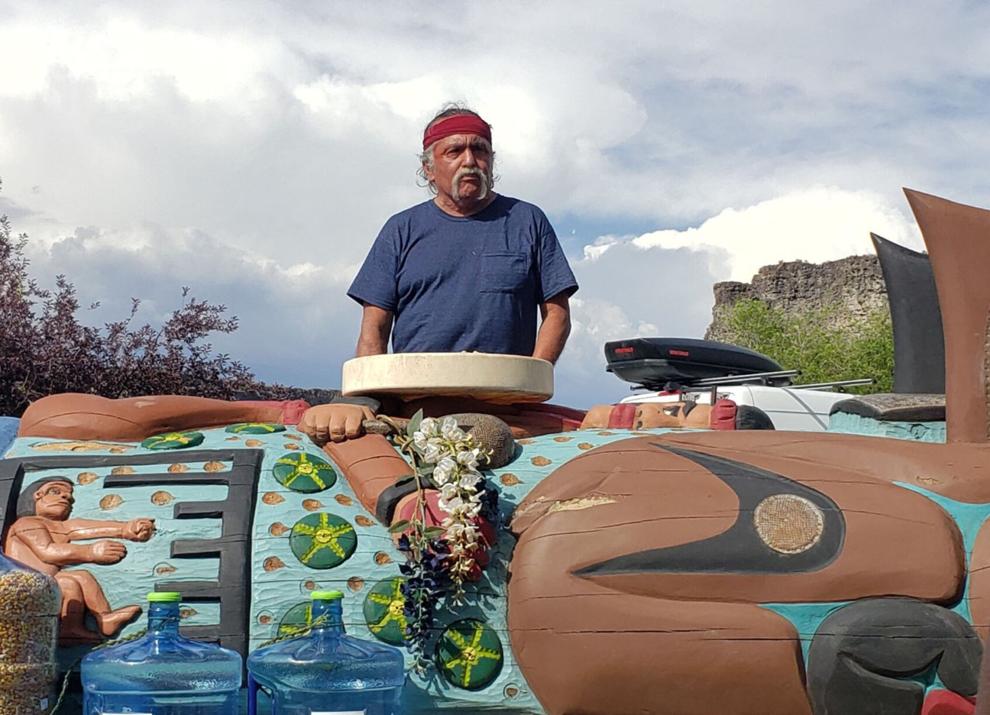 Lummi Nation wood carvers joined with Shoshone-Paiute leaders on July 1 for a public ceremony at Shoshone Falls to celebrate Native American customs—as well as call for the federal protection of sacred sites and salmon, a traditional food source.
Shoshone-Paiute Chairman Brian Thomas gave prayers in three local indigenous languages before a crowd of around 100 people. Then, he described his people's sacred connection with the area and ongoing work with federal agencies to protect salmon.
"The salmon is how our people survived here thousands of years ago, along with other wildlife, the deer and elk," Thomas said. "What you see here is spiritual. Very, very spiritual."
Totem-pole carvers from the Lummi, or Lhaq'temish Nation, had made 96 such stops before arriving at Shoshone Falls, the Snake River's natural upstream limit for ocean-going salmon, and where the Shoshone, Bannock and Paiute people used to gather for fishing and trading before being forced out.
For the past 20 years, House of Tears Carvers in northwestern Washington have created totem poles such as the 5,000-pound colorful and symbolically powerful one on display at the falls. It took master carver Jewell James and others two months to carve it from a 400-year-old Western red cedar.
The totem pole features creatures from Lummi history and legend, and a memorial to missing and murdered indigenous women, as well as symbols for water, and the use of peyote, described by one speaker as a "7,000-year-old religion."
"It's vital to unite and work towards peace and harmony upon our mother earth," said Shoshone-Paiute Tribal Councilman Thomas Arnold, of Duck Valley, Nev. "I have a responsibility to speak for the ones that live in the waters, crawl and walk on the earth and fly in the sky world. As an Indigenous tribal member of the Snake River region, my duty is to encourage all to make the choice to protect what the Creator gave us for our grandchildren, great grandchildren and all future generations."
Arnold called for political action to call for the revitalization of salmon, and the need to send letters to government officials to support Idaho Rep. Mike Simpson's initiative to protect the endangered species by removing four dams on the Lower Snake River.
"We as Idahoans need to step it up, or what are we going to leave for our children and grandchildren? We need to leave the beauty of this whole area for them," Arnold said. "All of us have a purpose. You came here because you care about salmon. We have answers as tribal people because we have been here since the beginning of time. We have wisdom about how to take care of the salmon, the water and trees, the eagles, and the hawks.
"It's not a tribal issue," he said. "It's a human being issue."
Arnold also called for the ratification of the treaties of Boise Valley and Bruneau Valley, in 1864 and 1866, respectively. He said tribal leaders, the U.S. government and political leaders of Idaho need to complete a project started more than 150 years ago.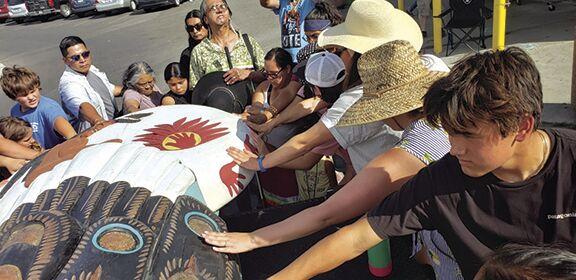 "They agreed that we were the original people of this land," Arnold said. "And after that treaty of Boise Valley was signed, the cavalry took our grandfathers and they hung them. Warriors were strung up on trees all along this river. It's a history we can't forget and where we don't want to go. It's been over 100 years, and we want to sit and discuss ratifying the Treaty of Boise Valley and the Treaty of Bruneau Valley. It's time."
House of Tears Carvers began the tradition of carving and painting totem poles just after the terrorist attacks of 9/11. The totem poles travel each year what is called "The Red Road to D.C. Totem Pole Journey to Protect Sacred Sites." The next stops for the Lummi totem pole include Chaco Canyon, Bears Ears and Standing Rock.
At the end of July, the totem pole will be given to President Joe Biden and erected at the National Museum of the American Indian on the National Mall.