A British mining company looking to revamp a historic copper mine outside Mackay into a $780 million, 10-year operation faced intense scrutiny from local residents at an informational meeting this month, prompting assertions from company executives that the project would have negligible impact on its surroundings.
Phoenix Copper Limited hopes to open an open-pit copper heap leach mine in the hills of Mackay by the end of next year, according to plans presented by CEO Ryan McDermott at Mackay High School on Dec. 1.
If built out, the Empire Mine campus would be situated about 3.5 miles southwest of downtown Mackay, with two connected open pits about 3,000 feet long and 350 feet deep. It would also have nearby waste-rock and explosives storage areas and a leach pad to the east, about 1.5 miles south of the city's Rodeo Grounds.
McDermott told the crowd that establishing a domestic supply of copper—a key ingredient in phones, household wiring and charging infrastructure—was crucial amid a global copper shortage and an ongoing push for electric vehicles.
The Empire Mine would also bring some some 140 jobs to Custer County and help stimulate the local economy, he said, with "only 13%" of company revenue flowing abroad to foreign shareholders.
"One would assume that a great deal of our $105 million [10-year] payroll is going to be spent here locally on rent and mortgages, fuel and restaurants," he said.
The mining process would entail blasting through the open pits into solid rock, crushing copper ore down into pebble-sized rocks, hauling it by tram down to a processing facility, heaping it onto a leach pad and irrigating it with a recyclable sulfuric acid solution, which would pick up copper as it percolates down through the rock. The valuable metal would then be extracted and refined into market-ready, pallet-sized sheets, McDermott said.
After 10 years, the mining campus would be revegetated to blend back into the landscape, McDermott said.
"The skyline's not going to change. We're not going to drop mountains. There will be surprisingly little visual impact," McDermott said. "We will get things back as close as they looked before we started."
Before the mine can progress, the Bureau of Land Management will need to craft an environmental impact statement, or EIS, based on a thorough review of the company's operational plans and public comments received.
"At this point, we can't confidently say what the environmental impacts are right now—that's the point of that the EIS," said Josh Johnson, conservation associate with the Idaho Conservation League, who has been tracking the mine's development. "It's the BLM's job to put in provisions to either minimize those impacts or to deny the permit."
McDermott said he hoped the mine would receive federal approval by the end of 2022 so the company could begin recruiting workers, half of whom he anticipated would come from Custer County.
"The idea is to have as many live here locally as possible. Once everybody in Mackay who is interested has been hired, then we will expand to Custer County—Arco, Challis and beyond," McDermott said.
Of the dozens of Mackay residents who turned up to the December meeting, many said they feared the impact a mine and its associated noise and traffic would have on the town's small-town culture and tourism sector. Some worried about vibrations from the mining activity, while others cited concerns about light pollution, excessive water pumping and acidic runoff.
McDermott said the hillside would act as a natural buffer to noise.
"What we're going to hear in town is about 20 decibels. To give you an idea, 60 decibels is very close to my voice right now," he said. "We will shoot or blast in 21 holes every day, four holes at a time, to minimize [impact]."
He added that the company would install a "state of the art" leak detection system and a clay liner underneath the leach pad to ensure no sulfuric acid enters Mackay Spring, the town's main drinking source. Hydrologists would also set up a network of sampling wells to monitor groundwater for any contamination, he said.
"This is a zero discharge facility. We will not have discharges of any kind from the process," McDermott said. "Secondly, if we lose any [sulfuric acid] solution, we lose revenue."
Another main point of contention from residents was Phoenix Limited's plan to use Main Street and Smelter Avenue as an access road. McDermott said the thoroughfare would see "between two and four" tractor-trailer rigs per day.
"That's one truck every two hours passing Main Street," he said. "That's not a significant amount of additional traffic."
One resident vocally objected to that statement.
"You're gong to be using tanker trucks with sulfuric acid and hauling explosives in 18-wheelers. You're telling me it's a good idea to haul that stuff through residential district with kids all summer long running back and forth?" he asked. "It doesn't make sense to run industrial equipment down a one-lane residential street."
Others expressed concern over the pressure that 140 employees would put on Mackay—population 440, according to the most recent U.S. Census—specifically, its emergency services and schools.
McDermott said the company had already agreed to pay the salaries of "at least" three additional deputies to join the two resident deputies stationed in town, and said he believed that an influx of students into the local school system could mean better funding.
"The way things work in Idaho is that the more students you have in the school, the more revenue you get from the state into this community," he said. "As people move in they buy houses, they buy property, and obviously more taxes are paid and those taxes are funneled down through the city into the county."
A Mackay resident who identified herself as a Realtor said there was "no rental market" for anyone making a minimum-wage mining salary. Out of the homes on the market, most cost over $400,000.
"I would love to hear a plan of what you guys are contributing to the lifeblood and people of town besides jobs that are not going to support being able to buy a house in our limited market," she said.
Mackay at center of mineral boom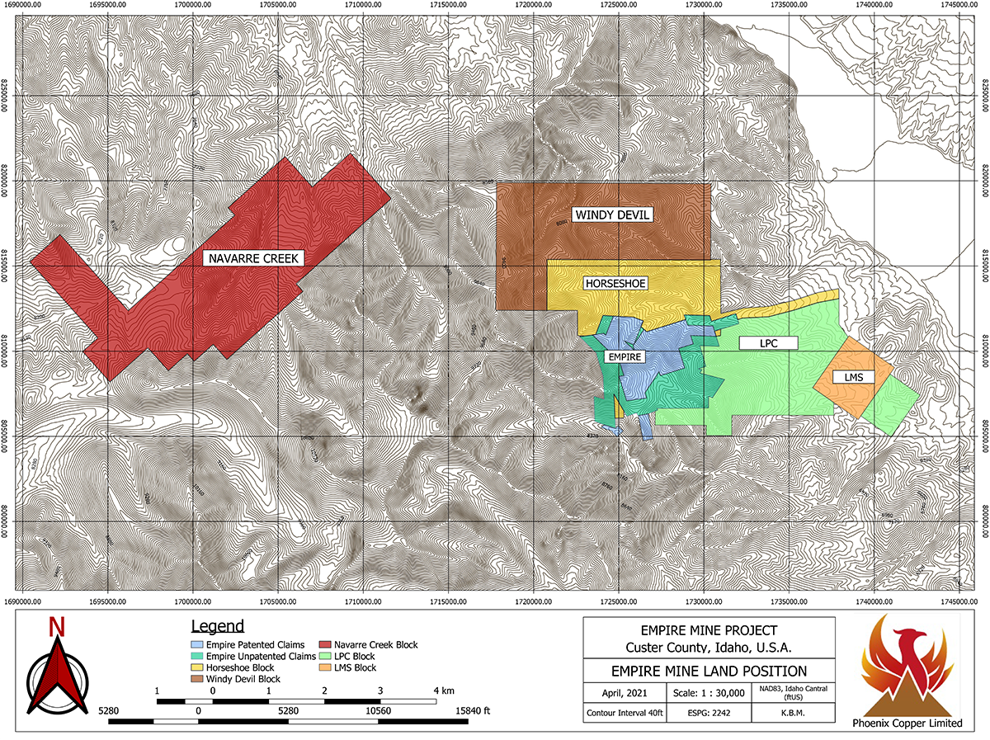 The Empire Mine could just be the start of development for Phoenix Copper Limited, according to slides shown at the Dec. 1 meeting and at previous shareholder presentations.
The company currently holds over 400 mineral claims near Mackay, including the historic 9-square-mile Navarre Creek gold prospect some 3 miles west of the Empire Mine. It also holds claims to the Red Star, Horseshoe, White Knob and Bluebird silver and lead prospects, all within a 5-mile radius.
Phoenix has two unpatented cobalt claims in Lemhi County, too, and is investigating a vein system underneath the Empire copper deposit that apparently contains tungsten and molybdenum—metals used in aircraft manufacturing, medical imaging equipment, and solar cells.
For now, though, McDermott said the copper deposit is the "low hanging fruit" that the company will focus on.
"If you read our website, in addition to developing the open pit we are conducting exploration activities in other locations," he said on Dec. 1, declining to comment on Phoenix's other mineral claims. "It's strictly exploration."
Several residents contended that exploratory drilling activities conducted around the Empire Mine site this past summer had discouraged tourists and fly-fishermen from returning to Mackay. Others said the company's closing-off of the historic Mine Hill area to the public had led to a drop in ATV tourism.
"As a homeowner here in the valley, we always have four-wheelers up on the mine hill and when it was shut down, it really did affect our tourism and the pleasures that we moved up here for," resident Dorie Sanford said.
"You already killed our tourism industry in the summer," someone interjected. "How do you replace that?"
McDermott explained that Phoenix Limited had decided to close off the historic Mine Hill area to the public because some recreational users had vandalized company equipment, causing "thousands of dollars of damage."
"We are entitled to private property rights, and I will not allow a member of the community to get hurt or killed on our property because we're running drill rigs," he said.
Longtime Mackay resident Max Bingham—one of the few proponents of the mine in attendance—said he was ready to embrace a change in industry.
"Without mining you wouldn't even have the town of Mackay," he said. "The population when I was a teenager was double what it is today and we used to have the railroad tracks going up and down and the train whistles blowing. A little noise ain't going to hurt.
"It's time to cowboy up and let them move ahead with this."