It's a bucolic scene at Unega Mountain Dog Rescue in Bellevue: The sun casts a warm glow on nearby Timmerman Hill and a sea of tall grass undulates with every wind gust.
Gary Tickner takes a quick water break by the shed, where six Great Pyrenees laze around in dog beds. Yards away, other sheep dogs cast long shadows in the grass as they play, pausing every so often to look left and right. Off in the distance, wood thrushes sing "ee-oh-lay."
It's a fleeting moment of peace for Tickner and his partner, Tiffany Larson, who began rescuing, rehabilitating and socializing Pyrenees and Akbash sheep dogs as a team in 2015.
Normally, the animals Tickner and Larson encounter are dogs left behind while guarding bands of sheep, or those found to be ill-equipped for the workload. Last month, however, Larson encountered a scene of neglect that will forever haunt her.
It began when Twin Falls-based dog rescuer Dave Wright alerted Larson to an elderly rancher in Buhl with severely neglected Pyrenees dogs on his property. For a while, the Twin Falls County sheriff had been receiving complaints about the man's sheep dogs running through neighboring cattle farms, Wright told her, but no one had been able to reason with the rancher. Larson gave it a shot anyway.
"On the phone, [the rancher] told me that he had shot a few dogs, that he didn't have any food for them and that he was feeding them rotting tilapia fish," Larson recalled. "He told me about a Pyrenees dog that was getting into his chickens about three days before we talked, probably because he was starving—well, he just shot it in the head. I changed my tactic at that point and told him, 'I can help you.'"
After negotiating with the rancher for a week, Larson obtained his address and arrived on scene with friend and fellow dog rescuer Ashley Stroebel-Haft, ready to wrangle feral sheep dogs.
"It was junkyard vibes," she said. "You immediately saw little puppies running around, huddled under cars. There were dead goats and cattle with bones protruding. And then, in a hole, you saw five tiny dead puppies."
On March 28, the women transported 18 sickly Pyrenees dogs to Unega—eight 8-week-olds, who were easy to scoop up, seven 16-week-olds and one newborn puppy. Stroebel-Haft swaddled the puppy to keep it warm, Larson said, but it died within 48 hours.
The 16-week-olds were nearly impossible to catch, she recalled.
"They were going everywhere and once we cornered them they screamed out like humans," Larson said.
Over the course of three more days, Larson used Tru Catch live animal cage traps—a larger version of Havahart traps commonly used for rodents—to capture and rescue nine more Pyrenees, adults this time. As she became more familiar with the property, she began making more gruesome discoveries.
"I started seeing this graveyard of bones, dead animals everywhere and the stench from death and decay," she said. "I had to hold it together to rescue all these dogs, but the minute I'd drive away, I'd start crying. It was out of a horror show."
Twin Falls Animal Control still has an open investigation into animal cruelty on the goat farm, Larson said. But sheep dogs are kept feral in order to do their job, she said, and Pyrenees dogs—if working to keep sheep or goats safe from predators—are classified as livestock in Idaho, meaning they're exempt from federal anti-cruelty laws that apply to pets. Larson said she doubts that anyone would be held accountable for their treatment on the ranch.
---
Care is a full-time job
On a recent afternoon, twelve-year-old Moose methodically dug a shallow hole with one paw, abandons his project and runs after the others.
Sierra, a young adult Pyrenees, sat still with eyes closed as Tickner patted her chest.
"Are you a pretty girl?" he asked.
After coming onto Unega property last month, the rescued dogs have officially transitioned classification. They're now considered companion animals. With their gentle demeanor, it's hard to imagine that the animals were feral just weeks ago.
Both Larson and Tickner, who own The Mill SV training center in Ketchum, say that feeding socializing and adopting out the "new crew" of sheep dogs has been a full-time job. After rising at dawn to feed them fresh elk meat, the couple takes shifts going between the gym and Unega.
"It's like being full-time parents—we literally sleep three hours some nights," she said. "Gary and I are like two ships passing in the night, switching off which dogs we sleep with."
In the past two weeks, the pair has adopted out 16 dogs. They're still socializing nine adults, who are waiting on their vaccinations.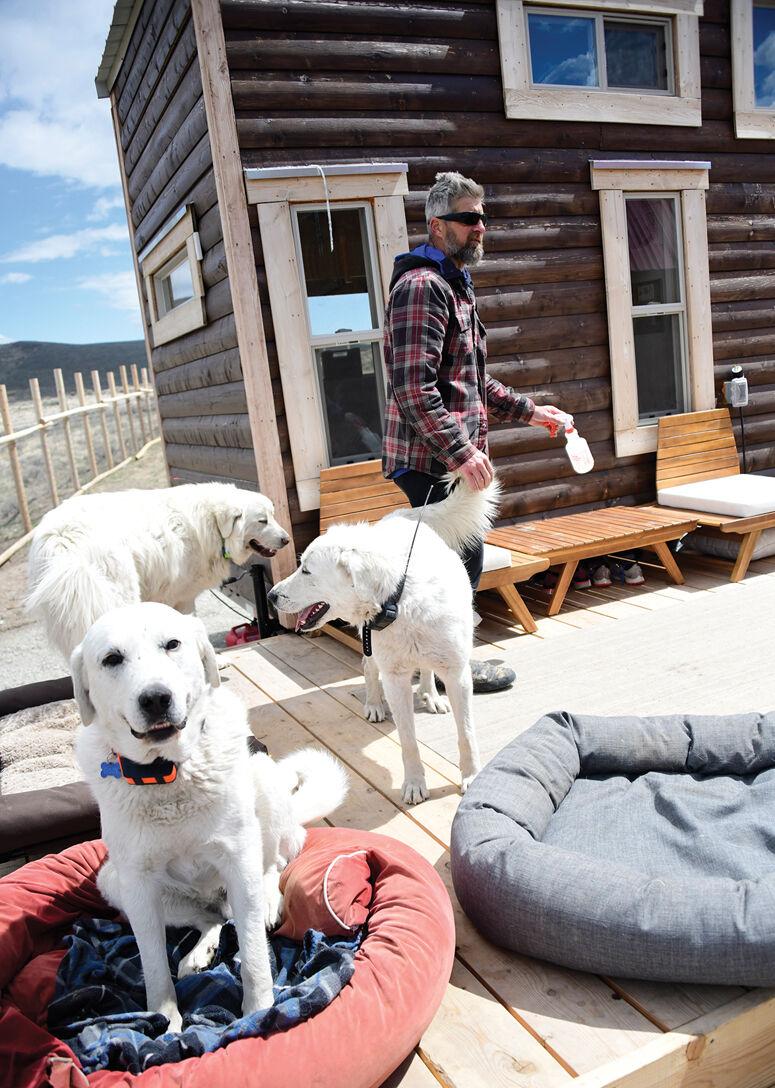 "It's amazing how far the dogs have come," Larson said. "It took two hours to trap one dog, that's how wild they were. But with some human touch, when we started to rub them, they were like, 'This is what love is like.' You could see it in their faces."
On Tuesday night, eight more puppies arrived. Larson said she just felt lucky they were born at Unega instead of the Buhl property.
Tickner, who calls the adults "the big kids," said he sees bright futures in each dog. As he watched them tumble in the long grass, a couple from Pocatello arrived to take young rescue dog named Belle to her forever home.
"Adopters know what they're getting into. These dogs are not going to remain small and cute—they'll be big and cute, but a lot of work," Larson said.
Since she and Tickner moved to the 20-acre Bellevue property last October—and the center received official 501(c)(3) status—she said she's been overwhelmed by support from across the country.
"People have dropped off food and blankets. People from New York, Florida, Seattle have sent in checks to pay for vet care," she said. "Of course, what we always need are dog beds."