The Sawtooth National Forest has moved to "high" fire danger due to dry conditions and abundant fuels, the U.S. Forest Service announced on Monday.
The Central Idaho Dispatch Zone, which includes the Salmon-Challis National Forest and parts of the Sawtooth National Forest, had already moved to "high" fire danger on Thursday.
The designation suggests that intense burning is likely to develop on slopes or in concentrations of pine needles, grasses and small twigs.
"High fire danger means all fine dead fuels ignite readily and fires start easily," the Salmon-Challis National Forest stated last week. "Unattended fires are likely to escape."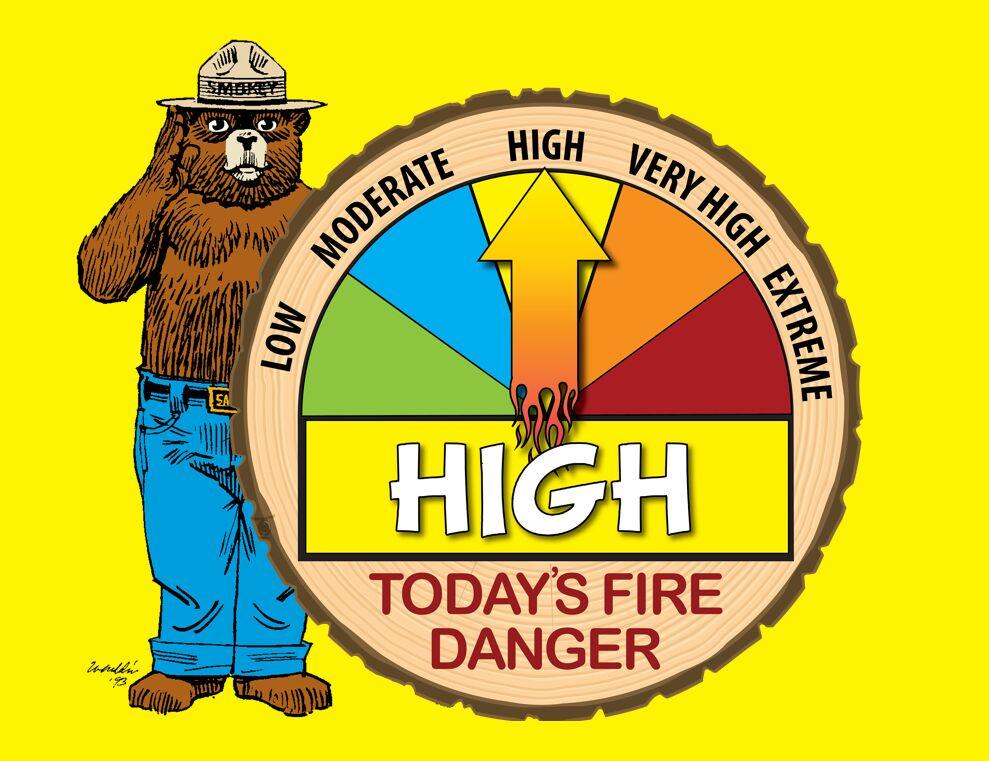 Favorable wildfire conditions in Idaho typically begin in June and extend into the fall. Fire season got off to an early start this year, however, with the 42-acre Elk Fire near Stanley and the 27-acre Wahlstrom Fire near Burley igniting on the Sawtooth National Forest in May.
Idaho's Elk and Wahlstrom fires are just two of the 32-plus wildfires that have consumed over 200,000 acres in the western U.S. since April 25.
The lightning-sparked Doagy and Johnson fires burned about 55,000 acres in New Mexico last month, according to federal incident management system InciWeb. In just the last week, the Telegraph and Mescal fires have consumed over 110,000 acres in drought-stricken Arizona and prompted evacuation orders.
Of the wildfires that have occurred this season, 10 have been sparked by lightning and at least three, including the Telegraph Fire, have been human-caused, according to InciWeb. Most wildfires have occurred on land classified by the U.S. Drought Monitor as "extreme" or "exceptional" drought areas, its second-worst and worst classifications.
Through its "One Less Spark Means One Less Wildfire" campaign this year, the Forest Service is asking the public to exercise extreme caution while recreating. One fire prevention advocate is Stevee Alletag, a wildland firefighter with the Sawtooth National Forest.
"The smell of a campfire and crackle of burning wood can make a memorable experience on the Sawtooth National Forest," Alletag wrote in an email. "The best way to keep those memories from becoming a horror story is to follow simple and important campfire safety tips."
She shared six fire-prevention tips to remember when camping:
Drown all embers, not just the red ones. "Pour until the hissing sound stops. Once it is completely drowned you need to stir the campfire," Alletag said. "With your shovel, scrape any remaining sticks and logs to remove any embers, making sure that those embers are not smoldering. Continue adding water and stirring until all material are cool. With the back of your hand, touch the campfire to make sure it is dead out—if it is too hot to touch, it is too hot to leave."
Don't burn trash in your campfire. "I have found many campfires with burnt cans in them," Alletag said.
Never leave a campfire unattended, and come prepared with a shovel and enough water to fully extinguish it.
Familiarize yourself with local fire restrictions. Campfires are prohibited anywhere in the SNRA's Cecil D. Andrus-White Clouds Wilderness above 8,800 feet, for example, and all campfires must be on a fire pan or gas stove in the Sawtooth Wilderness. Campfires are also prohibited within 200 yards of Sawtooth Lake, Goat Lake and Alpine Lake near Iron Creek, Alpine and Saddleback lakes in the Redfish drainage, Scenic Lakes and at Stanley Lake Campground. Possessing or using fireworks, exploding targets, steel-core ammunition or pyrotechnically charged ammunition on any BLM or Forest Service land is prohibited.
Use existing fire rings or a fire pan, making sure to clear out any surrounding logs, brush or needles first.
Don't start campfires on dry, windy days. Even with a sturdy fire ring and adequate vegetation clearance, high winds can blow embers into nearby brush. Refrain from smoking in wooded, grassy or brushy areas for the same reason. Vehicles should also be kept off dry grass and checked for loose safety chains or dangling mufflers that could send sparks into dry vegetation.