With drought emergencies declared in eight Idaho counties so far—including Blaine, Butte, Camas, Custer, Gooding and Lincoln—and over 1 million Idaho residents now living in drought areas, growers across the state are already reporting devastating crop losses.
That's especially true in south-central Idaho, where farmers and ranchers have been left reeling after Magic Reservoir was shut on June 10, just 26 days after the headgates opened.
The dam usually isn't shut off until mid-to-late September; last year it shut off Sept. 1.
Making their situation worse, according to a number of farmers in Shoshone, Dietrich and Richfield, is the fact that many growers operating in the Bellevue area have turned to supplemental groundwater wells to keep their pastures irrigated—and those growers have water rights 50 to 100 years junior to surface-water rights south of Magic.
The bottom line, they say, is that river water and groundwater in the Wood River basin, while intricately connected, hasn't been managed conjunctively as one source.
Carl Pendleton, a farmer based in Shoshone, depends solely on water from Magic Reservoir. With irrigation season brought to an abrupt end this year, however, he says his crops—alfalfa hay, corn, oats and small grains—failed to thrive. In normal years, the oats and grains would have been sold to local farmers and sheep ranchers across the Magic Valley, he said.
"We didn't even make small grain crops, and the hay crop was especially disappointing. It was too dry when we started and we had no ground moisture," Pendleton told the Express. "We didn't even get a first good cutting. And three days after Magic went off, the hay was starting to stress already."
This spring, Pendleton says his oat crop was "just lucky to get out of the ground."
"Then it just sat there. The plants were reading the environment and were getting the signal that it was darn dry out here, and they didn't respond," he said.
Pendleton said he's not alone.
"Our neighbors have been chopping barley the last three days to put it in a pile because they know they're not going to make grain," he said last week. "As you come south, the dairy [operations] before you get to Johnny's Country Store are chopping all of their barley, hundreds of acres."
Last month, Pendleton made the tough decision to sell his herd of cows.
"The drought was the trigger for that. It's been very costly to maintain the cow herds, and I'm getting older," he said. "But I feel lucky enough to be down the pike far enough that I'll survive. I sure worry more about our smaller, younger producers who don't have crop insurance."
Pendleton said many farmers and ranchers have responded to the water shortage by installing more advanced irrigation technology and leasing water. One example is cattle rancher John Arkoosh, who runs over 1,000 head of cattle between Shoshone and Gooding with his father and sons.
Arkoosh's 1,000-acre family ranch along the Little Wood River is mostly irrigated with water from a tributary of the Little Wood and supplemented with water from American Falls Reservoir. On Monday, a majority of the farm's Little Wood supply was shut off, and Arkoosh said he doubts that storage water from American Falls Reservoir will materialize.
To stay afloat, the operation has had to lease water from the Snake River.
"We got some commitments from neighbors for later in the summer—they might have some water to help us through," Arkoosh said. "But grain producers that would normally have extra water to lease and help us get by, well, they're going to be short, too."
Arkoosh's two sons recently joined the cattle operation and a third plans to join soon, he said.
"I'm really pleased the boys came back. We need the younger generation, because my [father] and I are getting older and more tired," he said. "I just hope there's something to come back to."
To help stretch their water supply, Arkoosh recently upgraded to a more efficient pressurized pipe irrigation system. Irrigation ditches have slowly become a way of the past, he noted.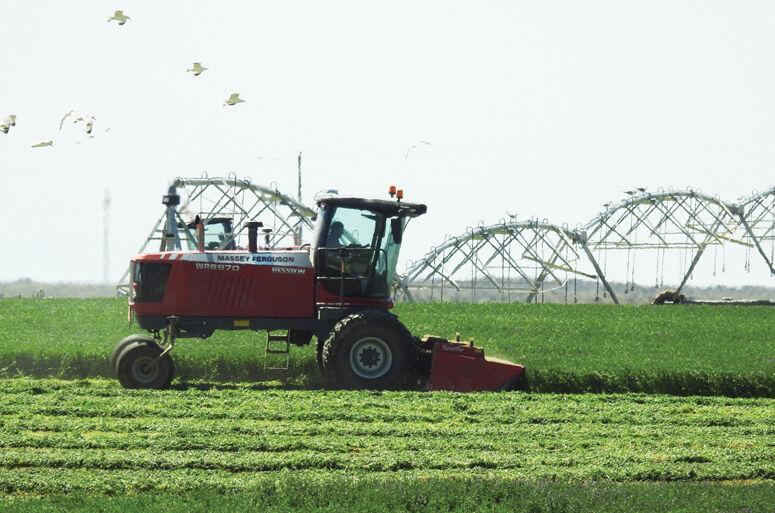 "I don't think people would have been out there digging ditches 100 years ago if they knew that they wouldn't have any water to put in them one day," he said. "Things have really changed. You just don't see as much water coming out of the Wood River Valley."
Arkoosh said he knows at least two other cattle farmers who are planning to sell or have already sold their cows due to the drought.
"When you have cattle to feed, you don't have a lot of choice on what you grow—you have to produce hay and corn," he said. "We don't plan to sell any cows right now, but that could change depending on how the summer plays out."
All of that was on Arkoosh's mind when he drove into the Wood River Valley for a graduation party on Saturday.
"In Shoshone, you drive past guys who are trying to salvage their crops, whose fields have already turned brown. And then you go over Timmerman Hill, and it's this big, beautiful green expanse," he said. "It's kind of heart wrenching when you see people down here struggling so much."