Anew Cold Springs chairlift is scheduled to be built this summer and be ready to run by the start of next ski season, opening up an additional 4,200 linear feet of novice terrain on Lower Broadway run as well as advanced terrain in Turkey Bowl and in two chutes dropping into the Cold Springs gully.
Sun Valley Resort announced its proposed Cold Springs expansion project in spring 2017, and the U.S. Forest Service and the BLM signed off on the plans in April 2018. However, the project was delayed due to a change in the proposed lift route, bringing the base 800 feet farther down Broadway.
The existing Cold Springs chairlift, which carries skiers from Lower Broadway to the base of the Christmas chair, was built in 1970 and partly refurbished in 1991. When it announced the project three years ago, Sun Valley said the fixed-grip double had become too old to maintain.
Sun Valley Guest Services Manager Mike Fitzpatrick said that when the project was conceived, resort managers decided that "if we're going to replace a lift, we need to add some terrain."
The extension of Broadway will create a 3.5-mile run from the top of Broadway Face. It will be the longest run on Baldy and add much-needed novice terrain to a mountain known for having few easy routes down.
The project will add 380 acres of new inbounds skiing, most of it accessible to the east from the top of Seattle Ridge in fairly natural terrain enhanced by some glading work.
"It really is going to add a whole new dimension to the kind of skiing we have here," Fitzpatrick said. "It's more of a sidecountry experience."
The new terrain will expand Bald Mountain's existing 2,054 acres by about 20 percent.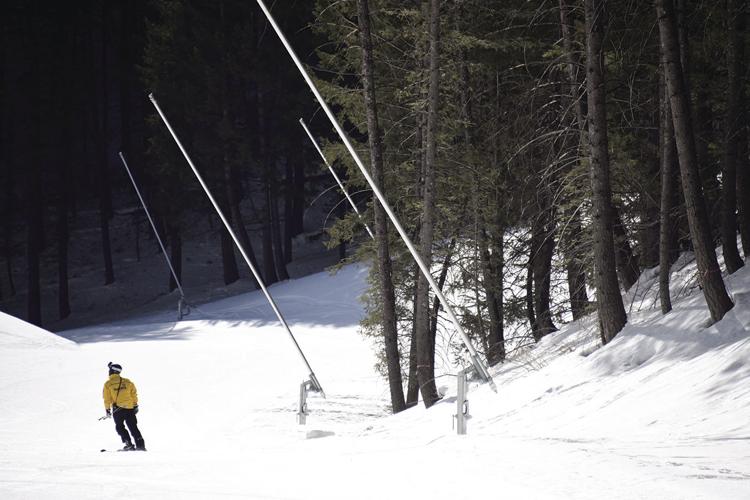 The new Dopplemayr high-speed quad chair will run from a point four-fifths of a mile below the existing chair's base and up Gun Tower Ridge to The Roundhouse restaurant. Fitzpatrick said the new lift will carry skiers and boarders about a mile in distance and 1,600 vertical feet in about six minutes, about three minutes less time than the existing nearly 3,000-foot-long chairlift does despite the additional distance.
Fitzpatrick said the existing lift has been sold to Dodge Ridge Ski Resort in California. He said Dodge Ridge representatives inspected the lift's maintenance records and concluded that its purchase would work with their budget.
In summer 2018, Burks Excavation graded and widened the Cold Springs gully below the existing chairlift base, to about the same width as Broadway above the Cold Springs lift.
Twenty-five new snow guns and associated water and air pipes were installed last summer, though the system is not yet hooked up, Fitzpatrick said. After being groomed, even without snowmaking, the low-elevation run had plenty of snow on a poor snow year to conduct tours for skiers last week to see the new section of Broadway.
Also last summer, the lower branches of fir trees on the skier's right side of Cold Springs gully just above the new lift base were cut off to create a glade for skiers to access the lift from the north-side ridge of Turkey Bowl.
Skiers will also be able to use an existing mountain bike trail to exit Turkey Bowl, as out-of-bounds skiers have been doing for decades, to get back to Broadway at the base of the existing chairlift.
Fitzpatrick noted that "there's not going to be any easy way down" from Turkey Bowl.
He said that additional glading work will be done this summer to open up entries into the two chutes that drop off Seattle Ridge into the Cold Springs gully. He said that work will be part of the Bald Mountain Stewardship Project, which involves thinning tree stands, cutting diseased trees and replanting areas to improve forest health in conjunction with the Sawtooth National Forest.
Fitzpatrick said there will be no grooming done in Turkey Bowl or the chutes, but they will be controlled for avalanches. He said the plan is to have those runs open on a daily basis, though closures will be enacted when snow conditions are deemed dangerous, as elsewhere on Baldy. On those days, the closed area would begin at the top of Seattle Ridge.
Fitzpatrick said construction of the new chairlift is expected to begin in May.
"We're ready to move on it," he said.